Bellingham business owner Nancy Leavitt of American Family Insurance has been supporting the Whatcom County community, local business and charities, and her family through the business of insurance for more than 13 years. She'll continue that streak this June when her agency will raise money for two area organizations during their second annual "Quotes for Community" campaign.
A History of Supporting Others
Leavitt is a Bellingham native. She was born here, astonishingly in the exact same room where her three daughters were born. As a child, Leavitt's family moved to Vancouver, Washington for a time but moved back in 1997. After graduating from Lynden High School, she attended Whatcom Community College in the Running Start Program where she earned her Associates degree. While attending Western Washington University, Leavitt got a part-time job as an office manager at a local insurance agency. "I'm one of those few people who actually loves insurance," she says. "Helping and protecting people, advising them. It's something I thrive on. I even love reading the details of insurance policies," Leavitt notes, laughing. Her boss was so impressed with Leavitt's talent for the business that they encouraged her to get her license and run the office.
"At that time in our lives, my husband Nathan and I owned a construction company and a house-sitting business. So owning and running a business, overseeing things, that was just natural for me," remembers Leavitt. "So I took the leap and left school. I got my license and eventually opened my own agency." Leavitt celebrated nine years with American Family Insurance in April. Her agency will have been at its current location at 3031 Orleans Street near Lowe's for five years this August.
Leavitt is proud that her business continues to provide steady employment for her and her three staff members. In addition to supporting the unique needs of each home and business owner as an insurance broker, Leavitt has also always made time to support local charities, organizations and fellow business owners. For many years, she served as the Board Secretary and the Charity Committee Chair with Whatcom Women in Business. Leavitt currently serves as part of the group's Banquet Committee. She has also held past board positions with Boys and Girls Clubs of Whatcom County, Women Sharing Hope, and Whatcom Young Professionals, a division of Bellingham Whatcom Chamber of Commerce. "Supporting local charity is near and dear to my heart," she says. "It's just part of who I am. So I am honored to have served these organizations and the local charities they support."
Local Philanthropy through Quotes for Community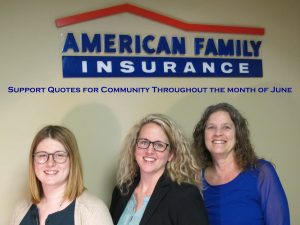 Leavitt's life has been extra full since she welcomed her third daughter in October 2016. But her predilection for giving back continues to march forward through her business. Each June, her office conducts a "Quotes for Community" campaign where $1 is donated to a local charity for every quote issued throughout the month of June. In 2016, she and her employees chose the Bellingham Food Bank as the recipient. They had a blast recording each quote they issued with a tally on an office white board and then posted the total each day on their Facebook and LinkedIn pages. Last year, community members got behind their effort by calling the office requesting new quotes for auto, home, business, life and other insurance. "Last year was our first and we raised $150," remembers Leavitt. "The community got really excited. They shared our daily posts and local realtor Jon Hansen saw it and matched our donation. It made our efforts even more meaningful to everyone in the office. We worked so hard and loved every minute knowing that it would bring security to policy holders and food to needy families in Whatcom County."
When it was time to choose the recipient for 2017, Leavitt turned to her staff. "I like to empower my employees by supporting their choices," explains Leavitt. They came back with two excellent—but very different—suggestions. "When I thought about how we would decide between them, they were both worthy," Leavitt recalls. "So we decided to just split it between them." Leavitt's employees chose Animals as Natural Therapy (ANT) and The Technology Alliance Group of Northwest Washington (TAGNW) to receive the spoils of their Quotes for Community campaign.
Animals as Natural Therapy (ANT)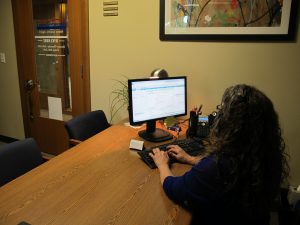 "Barb Lee, our Business Development Representative, has a horse and her daughter is into 4-H," explains Leavitt. "Animals as Natural Therapy touched Barb's heart so it was her immediate choice." ANT is a 501(c)3 non-profit that believes working with animals can teach humans important life skills that will help them heal, respect and trust themselves and others, and communicate more clearly. Its varied programs serve children, veterans, seniors and adults, many of whom are low-income, who are recovering in one way or another. Their work has served thousands over the past decade from a 5-acre, 100-year-old farm here in Whatcom County.
Technology Alliance Group (TAGNW)
Customer Relationship Manager Amber Blair has been with Leavitt's office for two years while working her way through school. She's working toward a technology-based degree at Whatcom Community College so she suggested TAGNW as a recipient.
TAGNW's mission is to promote, educate and advocate for Northwest Washington technology businesses at the local, state and federal level. They provide support, resources and community for tech professionals and companies to help them thrive in this growing, rapidly changing field. TAGNW also bolsters students by offering more than 50 scholarships in science, technology, engineering and math (STEM) fields of study and connecting them with potential employers.
Leavitt and her team hope to build on last year's momentum and—with the help of the community—surpass last year's donation by at least 25 percent. To get their $1 donated, community members can call the office or request a quote online anytime during the month of June.
Whether she's working up an insurance quote, communing with fellow businesswomen or spending quality time with her young family, Leavitt juggles it all with style, practicality and a sense of humor. "I feel so fortunate to be able to balance a busy family and provide protection to our customers while also giving back to our community," Leavitt adds. "My team and I work hard to pull it off every day, one quote at a time."
Nancy Leavitt Agency, LLC
American Family Insurance
3031 Orleans Street Suite 202
Bellingham, WA 98225
360-733-3626
nleavitt@amfam.com
www.insurance-agency.amfam.com/WA/nancy-leavitt/