Bellingham's Peter Gunn wakes up every morning thinking "How can I go out there and make somebody laugh today?"
When I first met Peter in 1999, I thought he had lived in Bellingham all of his life. He seemed to know everyone and everyone seemed to know him. I would soon learn that Peter has a way of ingratiating himself into every work and life situation using his own special brand of humor.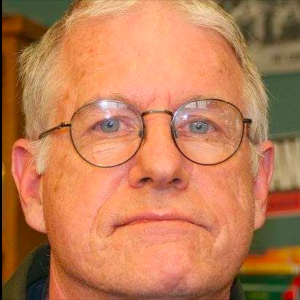 Peter was born in New York and has not lost one ounce of his distinctive east coast accent. Growing up, he had been told he was funny. He recalled that the first time he made someone laugh was when he was in high school. It was the pivotal moment when he knew he wanted to spend his life making people laugh.
Peter moved to California on Lincoln's Birthday in 1973 after getting his degree in Liberal Arts from Nassau Community College in Garden City. He spent that next summer in Colorado working. Then he hitchhiked back to Los Angeles where he spent the next 15 years working for the phone company.
When Peter was about to turn 40, a friend at work was also turning 40. His friend went skydiving to mark the occasion. To mark turning 40, Peter took his first comedy class, taught by Judy Carter, and started doing stand-up comedy at the Comedy Store in LA. Until then, he had never "gotten up" in front of an audience to do stand-up comedy because he was afraid of failing. "Guess what, you will fail," he laughs.
From 1991 to 1996, Peter's life went through a transition that resulted in his moving away from Southern California. He was out of money, the LA air was too smoggy, there was too much traffic and his neighborhood was being overtaken by gangs. He moved to Bellingham and for the first three years, he lived at The Lighthouse Mission.
A gentleman named Bill Cardinal who worked with the residents took a shine to Peter, noticing how Peter made everyone in his path feel important, not judged and worth talking to. Bill helped Peter create a resume and cover letter, shared knowledge and job skills that included using a computer and the art of being interviewed (and interviewing … a skill that would come in handy years later in his work at KVOS where he created "Peter Gunn, Man on the Street.")
Other than living, eating and working at the Mission during those early days in Whatcom County, Peter kept very busy, volunteering at many local non-profits. He also attended City Council meetings, spent countless hours in the library, bookstores and going to movies. He used all of these opportunities to network in the community while sharing his unique brand of humor, gradually putting the pieces of his life together.
Peter contributed articles for the Cascadia Weekly (then the Every Other Weekly) and other magazines. While still living at the Mission, Peter did standup gigs at the Cookie Cafe and Stuart's (now Bayou on Bay.)
When he was ready to move out of the Mission, Peter was hired to work part-time for the Downtown Neighborhood Association, now Downtown Bellingham Partnership (DBP) where he worked on and off for more than 15 years. He also worked at The International Newsstand for three years until it closed. Thanks to his connections in the community, he landed a part-time job at Pepper Sisters where he worked for almost 14 years until his recent transition into retirement.
Peter continued to hone his craft and performed at benefits and open mics all over Bellingham, incorporating humor when he regularly introduced films at the Pickford Film Center.
The first time I saw Peter do comedy on stage, he was the emcee for an event at the Mount Baker Theater the year actress Hilary Swank was nominated for "Boys Don't Cry." One of Peter's bits featured him on a treadmill. He and I agreed that the set was "a bomb."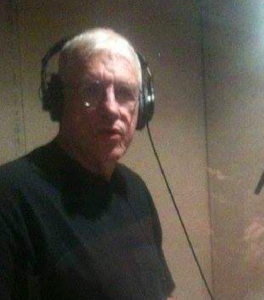 He still didn't give up his dream.
Years after that bad set at MBT, he did a set at another event at Poppe's (now B-town Kitchen and Raw Bar.) Again, it bombed. Six months later, he did the exact same set at The Upfront comedy club and the audience laughed like crazy!
Peter's humor is political and social commentary and observational comedy. "When somebody my age gets up on stage, the kids are really respectful," he says. "I don't get heckled. Or maybe they just assume because I'm so old I can handle it better."
Peter describes himself as being approachable, reflective and considerate. When I told some local business owners and politicians that I was writing a story about him for WhatcomTalk, they jumped at the chance to contribute their thoughts about their friend, Peter Gunn.
Max Kaiser from Hand Crank Films said, "Peter Gunn brings a sweet and very human warmth to all his roles that feels completely unique and original. Our films wouldn't be the same without him."
Jeff Margolis from Everybody's Store said, "Being somewhat of the same generation, my respect for fastidious working men enabled a casual acquaintanceship to arise between Peter and myself. When I last saw him he complimented me by remarking that I was looking 'good.' I'll tell you Peter, you should know, there are three stages of life – childhood, adulthood and 'you're lookin' good!'"
Norman Green from Threshold Documents said, "We can easily riff off of each other's material, which is all either of us is looking for in this world. He makes me laugh."
Susan Albert from Pepper Sisters said, "How many times in the midst of my crazy life did I hear jokes, crafted for his latest stand-up routine, and slow down and laugh, laugh with this warm funny, irreverent, fellow New Yorker."
Deb Slater, formerly of KVOS-TV said, "He always gave me something to smile about. Through the years, that hasn't changed."
County Councilman Ken Mann said, "Peter loves downtown and has worked hard to make it a great place. Best of all, he always makes me laugh."
Mark Asmundson, former Mayor for the City of Bellingham, said, "When I was mayor I used to have breakfast every morning with a group at the Little Cheerful Cafe. At least three days out of five, I would see Peter and chat with him on the corner. He always had a joke that was either really good or really bad. He is the human equivalent of the Bellingham Farmers Market, he is that important of a fixture of downtown Bellingham. Peter is a key anchor to downtown."
Peter recently retired from all of his formal work for DBP and Pepper Sisters. He plans to do more stand-up in his leisure time. And more volunteering, maybe at the Bellingham Senior Center. "If I make a joke about Adlai Stevenson, they'll laugh," he said.
You may see him downtown putting up posters or gardening every spring for Washington Federal Bank. If you stop and say hello, I can guarantee he'll have a joke or two for you.