As the weather gets warmer it's easy to think about spending time outside, basking in some sunshine and eventually firing up that grill. Trilby's just might be the perfect BBQ Sauce to add to those favorite outdoor snacks and smoked meats. Manufactured in Ferndale at the old Carnation building by Marilee Weber, Trilby's BBQ Sauce offers a select variety of mild and spicy bottles with a heartwarming history rooted in the Pacific Northwest.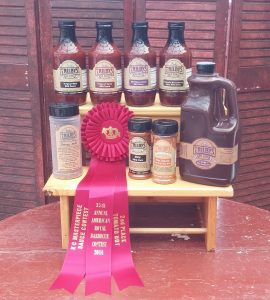 Trilby's BBQ Sauce began in the '70's with Trilby Wiedman. As history tells it, she developed the award-winning sauce to perfect the barbequed meatballs that she offered through her catering business down in Silverdale. After two decades, the sauce was known and desired by the community. After Trilby retired, her daughter, Laura, and Mark Joseph began manufacturing the product as it was no longer available through catering and customers still wanted it for their own home cooking.
The business grew from craft shows and farmers markets to being supplied at grocery stores and retail outlets. When the business grew large enough, a choice between time with family and time with production needed to be made. Naturally, a business that started out of love of family and community would make the choice to put family and community first. The Joseph's tried to find a buyer for a couple of years before Weber found their sales ad. "She was almost ready, she told me, to post the recipe on the website and say 'thanks for all the support all these years' and move on," Weber shares. "So I just totally lucked out."
For Weber, the opportunity to own Trilby's came at just the right time. Working as the production manager for the Lopez Island Creamery, a transition in ownership meant Weber's job would be lost and she would need to find a new life chapter. Having been the owner of her own candy business on Friday Harbor earlier on, Weber knew she wanted to be a business owner again. Trilby's happened to be just the right size for Weber to feel confident with taking it on as well as bringing it to the next level. "Literally I went from making pints of ice-cream to pints of BBQ Sauce," Weber shares. Since her ownership in 2011, Weber has developed the Chipotle Marionberry BBQ Sauce as well as creating additional rubs and seasonings, new dips and snack mixes.
When it comes to manufacturing, Weber is a one woman show. Sharing a kitchen with Barb's Pies, Weber works hard to produce and fill orders for retailers as well as the numerous local craft fairs and markets she attends throughout the year. Professing to never have been the sort of person who can be riveted to a 9 to 5 job, Weber enjoys the variety of challenges the business provides.
In the kitchen, she practices undivided attention to her sauce manufacturing and at fairs she is able to meet and greet directly with the customers who try out and cook with her products. "When I do shows over on the Kitsap, I love it because I get the Trilby stories from the customers," she says. "'Yeah, she catered my mom's wedding,' or, 'We used to live next door,'" Weber shares. "It is really fun and she had done a really good job of spreading good will. She was well received."
Trilby's is a good community and family fit for Weber as well. Her husband Christo loves smoking meats and has his favorites when it comes to seasoning and dipping into BBQ sauce. "My husband eats BBQ sauce on everything, always has," Weber shares. A sense of community also comes from the craft fairs Weber has been a part of over the years. "The community of show participants, we are like a tribe," Weber explains. "It's really nice to do the shows and keep running into the same people who kind of have the same approach to life. None of us color inside the lines very well, that's why we don't have 9 to 5 jobs."
Weber, who enjoys creating new products, finds it convenient to test out her ideas on her kitchen mate, Barb O'Brine and her staff. Barb, who praises Weber for her diligence, consistency and cleanliness also shop-shares with Weber at a retail location in Ferndale.
Wandering into the Checkered Apron gives you the best of both businesses. Here you can sample pastries from Barb's Pies as well as purchase Trilby's BBQ sauce, rubs and dip mixes. Barb's daughter, Melissa, who manages the Checkered Apron shares, "I love the garlic garden and I put it on everything." Weber's seasonings are even used in Barb's take-and-bake meat pies, available on site as well. Of course, when it comes to the award-winning BBQ sauce, you won't really know how good it is, unless you try it.
The Checkered Apron can be found at 5679 3rd Avenue in Ferndale.