It would be an understatement to say the Drayton Harbor Oyster Company has gone through a few changes. Steve Seymour and Geoff Menzies started the oyster farming operation in 1985 as a non-profit endeavor, and since then the company has shown many different faces. Poor water quality plagued the Drayton Harbor for years before Drayton Harbor Oyster Company could become the successful for-profit company it is today.
Seymour and Menzies were able to farm their 150 acres in Drayton Harbor for 10 years before water quality became an issue. In 1995, the Washington State Department of Health closed the bay to shellfishing. Septic placement, runoff from farms and other forms of pollution were the main culprits behind the bay's closure.
When the bay shut down Seymour left the company to go work for the Washington Department of Fish and Wildlife, but that didn't deter his partner Menzies. Menzies worked relentlessly over the course of the next 20 years to get the bay into the condition it is now.
"Geoff is the real hero in this whole thing," Seymour says. "He spent all his time while being pretty much unpaid to make this a possibility, and he worked side by side with agencies to make this a reality." Menzies enlisted the help of the Puget Sound Restoration Fund and tried to get the bay re-opened in 1995.
With the Puget Sound Restoration Fund and Menzies' energy they approached the state department of health and were able to re-open the bay and seed several areas of Drayton Harbor for two or three years, Seymour says.
In 2004, Drayton Harbor Oyster Company received approval from the health department to harvest seasonally, based on water quality and rainfall. Seymour says this operation occurred on and off due to the inconsistency of the bay staying clean.
"When there were dry spells the bay was okay. Everything had been fixed and over $30 million worth of work were put in over a 20-year time period," Seymour says.
In 2013, The Drayton Harbor Oyster Company LLC was born. Seymour had retired from Washington State Fish and Wildlife and Menzies was ready for a change of scenery. Ownership switched and Seymour regained the oyster farm.
This was the first time the company became a for-profit business, Seymour says. Previously it operated on a community membership system. Members would pay $100 and receive around 13 dozen oysters periodically throughout the year.
Seymour says he couldn't have imagined how popular the company would become. Last year they opened their raw bar in downtown Blaine and business has been booming. The raw bar ranks number one on both Yelp and TripAdvisor for the city of Blaine.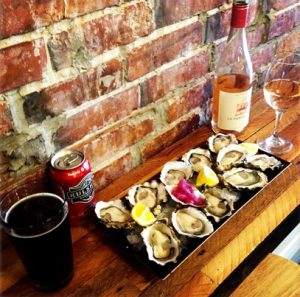 "Originally we just thought to make a small store offering some fresh product. But then, over time, the store became our best outreach effort in helping to keep the bay clean," Seymour says.
Customers who have been to the raw bar have become interested in learning more about the bay and how they can keep it clean, Seymour says. The fact that there is a spot in their own town where they can get delicious seafood has spurred them into action, he says.
"People have rediscovered the bay in Blaine and they have taken ownership over this little gem right in their backyard. People are seeing what a local and fresh product can do for them and we are a family business so people appreciate that part too," Seymour says.
Currently, the Drayton Harbor Oyster Company solely farms Pacific oysters. They tumble the product, which creates a deeper cup within the oyster, a main reason why their oysters are so popular on the half shell raw bar oyster market, Seymour says. He says he believes their oysters are creating their own special niche in the raw bar market.
Since opening in 2013 they had only been able to farm seasonally and were made to shut down during the winter months, but that all changed in December of 2016. The bay for the first time is now open year-round for shellfishing, the culmination of a 20-year goal, Seymour says.
To celebrate they threw a "shellabration." Over 150 people showed up to the plaza in downtown Blaine to enjoy raw and grilled oysters, while celebrating the efforts made to keep the bay clean and open year-round. Seymour says the "shellabration" could become an annual event, he hopes that it continues as the years go on and as the company staff gets younger.
"I've already retired once, now I kind of just want to play around. I want to see the company being run by my son [co-owner Mark Seymour] and these younger guys and gals; while I just sit back and smile."