While many people dream of becoming an author, local author Jeannette Dashiell literally wrote her first novel after experiencing her characters in a dream. She had no prior writing experience, even if writing her first novel was a dream come true.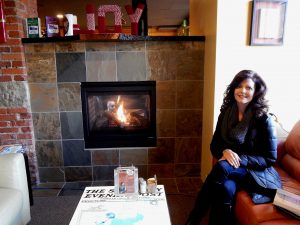 I met with Dashiell at Village Books. For someone who recently suffered the tragedy of losing a daughter, Dashiell appeared vibrant and even enthusiastic on her journey as an author. She says that writing the novel provided a healing experience. She channeled her grief into the creative process.
"I had never thought to write before this dream came to me. In fact, in the beginning, I wrote just to get through the day. It was my way of distracting myself from the overwhelming pain of losing my daughter. It wasn't until much later that I thought to myself, 'Why not give it a shot? Put the story out there for others to read. What's the worst thing that might happen? People might not like it, big deal. After what I've gone through there's nothing that can faze me,'" Dashiell says.
The characters, a group of women who formed a book club that met at Franc's restaurant in Manhattan, holds a resemblance to Dashiell's Books and Booze club that also meets on a regular basis. But the author says that the characters in her novel came to her through a different avenue—as dream characters.
"I wanted to see this group of book club women again," Dashiell recalls. "I wanted to join them in the booth at Franc's and listen as they told stories of their lives while drinking bottomless bottles of wine. I wanted the laughter and quips to continue. I wanted to know how they found resolution and triumph over their obstacles. I wanted to know the ending."
For most authors, it's not enough to dream about writing a novel which in fact is an arduous task in itself. Successful authors create space in their lives to piece a novel together or they carve out time in their day to sit down to the task. Dashiell is no exception and she fought with distractions.
"I'd like to say my writing process is pretty structured, but I can't," Dashiell says. "Don't get me wrong. I do set certain days aside each week for writing. However, a friendly head nudge from our older dog Molly or the pawing of our rambunctious younger dog Lola can quickly lure me away for a game of fetch in the backyard."
What began as a dream and a healing balm for the author's grief of losing her daughter Hannah, transformed into a delightful read that qualifies as quirky women's fiction.
"I am happy to say that I have heard from lots of readers that say they really connect to and like the characters in my book," Dashiell says. "And they wish they could be part of the book club seated at Franc's each month.
"Each character has attributes and quirks that I can relate to: Melissa with the challenges and rewards of parenting and Diane's journey to begin living again after the tragic of loss of her husband. Sarah's necessitate to have things in order, Kathy's strong will to defend those in need, Ali's fight against our society's obsession with youth and beauty, Rita's commitment to her marriage and Bette's realization that a woman can have it all."
Now that the writing bug has bitten Dashiell, she started writing her second novel following the character Franc and her family. It's part of a series.
"This next book also continues the story of third generation restaurateur, Frances Giuliani as she continues to struggle with her feelings for the general manager, Derek," Dashiell says. "Her strict rule to never get involved with someone she works with is quickly becoming less strict. The complexity of Frances' dilemma is compounded by her well intentioned, yet overbearing mother Sophia whose sole mission in life is to find her daughter a husband."
In the course of our photo shoot, I worked on recreating Franc's restaurant atmosphere at the Colophon Café and at Village Books. And while only some of the photos turned out due to the low-light ambiance, I enjoyed meeting the author behind the independently-published novel, "An Evening at Franc's."
It takes courage to grieve the loss of a loved one. And it takes courage to write a novel. But it helps to have cheerleaders on the sideline.
"With the encouragement and support from family and friends I sat down to the computer and began to write the story in my dream. My writing soon became a lifeline through my consuming grief," Dashiell says.
Check Dashiell's website for availability of her novel.