Mark Turner, owner Turner Photographics, recently discussed his path to becoming one of Whatcom County's premier environmental photographers. "My original career goal was to be a photographer," Turner says. "In fact, I still have the negatives from my high school days of working on the school newspaper."
Turner remembers taking his earliest photos when he was around the age of seven or eight years old. "I remember being in the garden with my dad and grandma," he says of the memory. Turner grew up in a family of gardeners.
His first camera was a box camera, the same camera he used when taking those memorable photos of his family in the garden. He describes his excitement when he upgraded to a camera with a flash when he was nine. This was the camera he used to create memories on a trip to Europe when he was eleven years old.
Turner has always had a love for nature that is vividly apparent in the way he photographs his outdoor portraits, native plants and gardens. "I'm really an interpreter of the landscape," Turner says. "It's about where you put the camera."
Turner began his photography business in 1993, producing note cards with images of Northwest landscapes. Eventually he grew the line of note cards to include 48 individual images.
Yet, with changing technology, the market for note cards diminished and Turner turned his attention to constructed landscapes and gardens, keeping with his love of nature. He began making important connections with gardeners and going on garden tours while connecting with book publishers. As a result, Turner's work appears in books from Timber Press, Audubon Field Guides, Lone Pine Press and Cool Springs Press. Turner also has a presence on stock photo sites.
Turner describes his love of the natural world as a place of peace and comfort for him. "I listen, breath and enjoy an understanding of the relationships among natural organisms."
When he's creating his work, whether it be nature or family portraits, Turner is continuously looking at compositional relationships. "For example, I look at the environment and the placement of the flower in the meadow," he explains. "Or the patterns between the old growth tree and the young tree in the light."
Some of his favorite projects have been creating the field guides, "Wildflowers of the Pacific Northwest" and "Trees and Shrubs of the Pacific Northwest." These were favorites because he enjoys sharing information and teaching. These projects were a way of teaching indirectly to interested readers.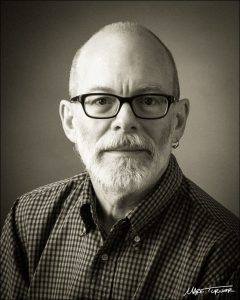 Turner immersed himself into the Native Plant Society of Washington and Oregon and went on field trips and study weekends where he cultivated relationships with experts. After two full years and 40,000 miles of driving for each book, the guides were complete.
As a self-taught botanist, Turner approached the creation of the guides from the perspective of an artist with the scientific knowledge necessary to understand these native plants. Often books like these are created by scientists whose photography may be hit-or-miss.
Along the way Turner learned that creating the books and photographing gardens was about solving problems by finding the best specimens and creating a space around them. It's that understanding of environmental relationships that helped create the end result.
Turner takes this same approach to the creation of family portraits. He is a firm believer in the idea that the environment chosen by a client must have meaning to them. This environmental relationship is reflected in the portrait he creates with them. Watching families in their favorite places, Turner works to capture the relationship between family members and the meaningful location. "You see the comfort level in people when they are in a place that has meaning to them," he says. "Generally, people are automatically uncomfortable with having their picture taken. I want them to feel good about themselves and feel comfortable and relaxed. Ultimately, I want them to have a good time."
That's where the understanding of the environmental relationship comes in to play. That comfort level is reflected most often when a family is in a place of meaning to them.
When Turner meets with a family for the first time, his goal is to get to know them, ask a lot of questions and understand what is important to them. With this information, Turner is able to translate that into a comfortable session. The connection between nature, family and environmental relationships is what creates the connection between a family and their portrait.
"It goes beyond the training as a photographer," Turner says. "I've really learned it is about the subject, whether it be a beautiful garden or native plant or a beautiful family."
For more information or to schedule a portrait of your own please visit the Turner Photographics Website.
Sponsored