Who doesn't love getting lost in the magic of the holiday season? Children dream of sugarplum fairies and leaping nutcracker princes. While local dancers perform in four productions of "The Nutcracker" this year, lighting up the Mount Baker Theatre, we forget the sweat and perfection that happens off stage.
A successful ballet performance requires an expert choreographer and tireless dancers, some as young as five-years-old. It requires lead dancers with grace, beauty and maturity.
Lead Dancer Emily Deschane performs the role of Princess Pirlipat in the 2016 production with Northwest Ballet Theatre. At 20-years-of-age, Deschane has performed ten seasons with Northwest Ballet Theatre. She has performed in "The Nutcracker" eight times.
"In all my years performing in 'The Nutcracker' I have played nearly every single role there is," Deschane says. "Some are as follows: a Rat, a Bonbon, Clara's friend, Jester, a Mirliton, Snowflake, Waltz of the Flowers, Candy Cane lead, Neapolitan lead, Snow Queen, Castle Fairy and Russian Dancer."
When I first arrived at the dance studio on Cornwall Avenue, strains of Tchaikovsky's famous "The Nutcracker Suite" greeted my ears. Meanwhile the swirl and blur of youthful dancers provided eye-candy. Deschane was recovering from a cold. However, she stayed for the entire rehearsal as the dancers worked out any kinks in the performance with their choreographer, John Bishop, who also stars as "The Nutcracker Prince" this year.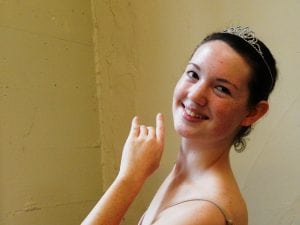 When I asked Deschane what inspired her to take ballet classes, she mentioned seeing a classic performance. "My inspiration for ballet started when I was about eight years old," Deschane says. "My eldest brother took me to see a ballet in Seattle. It was Pacific Northwest Ballet's 'The Nutcracker.' The moment I saw the snowflakes gliding across the stage, I knew I wanted to be on that stage one day."
Deschane was much older than other beginning ballet students. At the age of ten she had to catch up with the other dancers.
"I did have slight catching up to do when I began at Northwest Ballet Theatre," Deschane remembers. "The level in which I was placed was a bit advanced. And with the little experience I had, my instructor John Bishop and my mother both thought it would be wise for me to take a lower level class so I would not fall behind."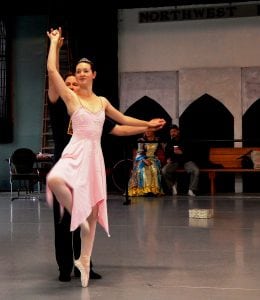 Since joining the local ballet studio, Deschane has performed in a variety of productions.
"When I was younger I performed multiple roles in the Corps de Ballet in a variety of productions including: 'Aladdin,' 'Emerald Bay,' 'The Little Mermaid,' 'Coppelia' and others," Deschane says. "More recently I landed soloist roles. I was Snow White in 'Snow White and the Seven Dwarfs,' the Candy Cane lead and Snow Queen in 'The Nutcracker,' the Crystal Fairy in 'The Sleeping Beauty,' Lily of the Garden in 'Alice in Wonderland' and a soloist in 'Paquita.'"
Besides performing ballet, Deschane also teaches other dancers, both young and old. During the dress rehearsal the youngest dancers decked in pink leotards and tutus surrounded Deschane, even sitting in their teacher's lap. Her older students, including the dancer, Dasha Smirnova who performs the role of Clara, expressed respect for Deschane as the two dancers worked on a scene.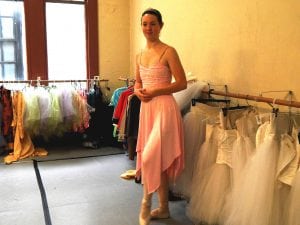 Deschane is a wonderful asset to the local dancing community, but she will be leaving us in 2017 to take her career to the next stage. The 2017 production of "Alice in Wonderland" will be her last performance with NBT.
"Ever since I began ballet, I had a dream to become a professional ballet dancer," Deschane says. "I had never considered it seriously until just recently. So next year, after 'Alice in Wonderland,' I plan to pursue ballet as my career. I am hoping to join a professional ballet company within the next couple years."
In the meantime, Deschane's advice to "The Nutcracker" dancers is to focus on their passion for ballet.
"I think it's wonderful how something so magical, so pure and beautiful can touch the hearts of little boys and girls and audiences of all ages," Deschane says. "Not only do the costumes or the story contribute to the experience but also the dancing. The energy from every dancer is what makes a production like this successful. To me, performing is like giving the audience a piece of the joy, freedom and happiness I feel from dancing. The key is encouraging everyone to dance their best, to be themselves on that stage and allow all other worries to float away and just to have fun!"
Northwest Ballet Theatre performs "The Nutcracker" at Mount Baker Theatre on December 23 at 7:30 p.m. and December 24, at 2:00 p.m. Tickets are $26 and $34. For more information call 800-840-9227.