Since the band was formed on New Year's Eve 2015, Baby Cakes has become one of Whatcom County's most in-demand funk, soul, and R & B bands. That acclaim is due in part to the incredible vocals of lead singer, Stephanie Walbon. But she is admired for more than her voice. She's appreciated by fellow band members, family, friends, and fans because she is also a stellar human being.
Having grown up in Minnesota, Walbon first visited Bellingham in early 2008 to care for her brother while he recovered from knee surgery after a snowboarding accident. Later that same year, after a relationship ended, she was ready for a change. "We watched the sunset after hiking up to the Oyster Dome, and I was convinced this is where I should be," remembers Walbon. Being embraced by Bellingham's music community and her love of snowboarding assured her she'd made the right choice. She and her boyfriend, Jordan, and dog, Kiko, have lived in the Maple Falls area ever since.
Health and fitness have also been a big part of Walbon's life. "I started doing gymnastics in Minnesota at the age of two. I practically grew up at the gym and eventually worked there as a coach for about 14 years." Walbon tries to practice clean living and has been pescatarian for several years for ethical, environmental, and health reasons. She and her family's concern for the ethical treatment of animals and long-term sustainability go back to the days when Walbon's mother, Annette, volunteered for many years in Minnesota's animal rescue community.
A focus on health continued into Walbon's adult life. "I remember a time when I was about 26 and my poor physical health controlled every aspect of my life. Kind of like being in jail, in a fog," remembers Walbon. "But I made small changes in my diet and supplements and that made a huge improvement. That's when I thought people need to know there's something they can do."
That experience led Walbon to become a certified health coach. "I love that I get to support and be a sounding board for people to reach their health goals," notes Walbon. "I specifically want to focus on food sensitivities and digestion."
Walbon's health coaching approach is multifaceted. "Our overall health and happiness are influenced by our lifestyle like pieces of a pie. Spirituality, creativity, physical activity, stress, career, and home life are all interconnected," explains Walbon. "The nutritional science company USANA has been a substantial part of my family's life for more than 20 years. Their products are a small piece of that bigger picture of helping people feel as good as they possibly can."
Walbon applies the tenets of health coaching to her own life, including her music. "I've been performing since I was six. When I was 18 I was invited to be in my first cover band. I did that for three years while recording an album that was released in 2006. I've always written a lot of songs," explains Walbon. "I was in another band in Minneapolis for a while but that didn't feel the same to me as Baby Cakes."
In addition to putting their own spin on classic covers of songs by their influences—like Aretha Franklin, Sharon Jones, Earth, Wind, and Fire, Michael Jackson, and Jimi Hendrix—Baby Cakes has also been writing their own. Walbon shares songwriting responsibilities with Baby Cakes guitar and male lead singer Miles Harris. "Miles knows some music theory and is a natural student. He's great at arrangement and I'm much more conceptual. I'm about the vibe of the song, the feel of it. I have an intuitive sense about music, rather than studied," explains Walbon of their creative process. "Writing more with Miles has made me listen to music in a whole new way."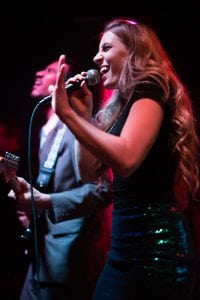 Baby Cakes appeal is due to both their dedication to the classics as well as their take on modern pop hits by artists like Beyonce, Bruno Mars, and The Weeknd. Walbon's vocals for Baby Cakes are continually impressive, reaching incredible heights with steady power. "We have a multi-generational crowd and have done several all-ages events, with kids and people our folk's age," describes Baby Cakes Drummer and Manager Kevin Chryst. "Our crowd goes to bed before midnight," jokes Baby Cakes Trumpet Jeremiah Austin. "But we also have something to offer the late crowd too," finishes Chryst.
With more than 70 years of combined experience among Baby Cakes nine core musicians, they play regular shows at Whatcom County haunts like The Green Frog, The Wild Buffalo, Boundary Bay Brewery and Bistro, and Downtown Sounds while also being a popular choice for Pacific Northwest weddings and corporate events.
A video of Baby Cakes original song, I'll Bring the Flame, was featured on the Seattle television show Up Late Northwest in April 2016. Walbon also appeared in Slow Jam for Christmas, made with The Staxx Brothers and Caine that appeared on the Band in Seattle television Christmas Special in December 2016.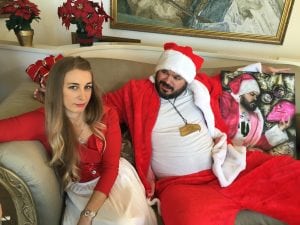 As for the future, Walbon will continue to pursue her interests in health, travel, and music. Baby Cakes is currently working on an album that they'd like to release in mid-2017. "I'm always writing and I'm trying to get better at guitar. I'll be playing some open mic nights around Bellingham as motivation," explains Walbon. "I love to learn new things and that help me write better songs and live healthier."
Follow Baby Cakes Band on Facebook, Twitter, and Instagram.  Contact the band at babycakesband@gmail.com or 206-818-0588 with any questions.