Submitted by: The Portland Ballet
Members of The Portland Ballet will travel to Santo Domingo, Dominican Republic, in a cross-cultural exchange to teach and appear as special guests in Ballet Concierto Dominicano's production of "The Nutcracker." Performances are Dec. 16-18. Travel dates are Dec. 11-22.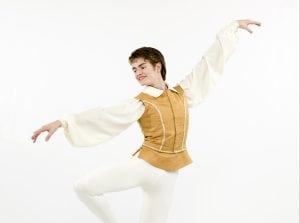 Nancy Davis, founder and artistic director of The Portland Ballet, will lead classes as a guest teacher and accompany two dancers, Lauren Kness and Henry Winslow, who will perform "The Arabian Dance." The piece, a divertissement in the traditional holiday ballet, was choreographed specially by John Clifford, an artistic advisor at The Portland Ballet. This "Nutcracker" production will have new costumes and sets, and will also feature special guests from the Ballet Nacional Dominicano.
Lauren and Henry are both in The Portland Ballet's top-level Career Track program, which trains students for professional dance careers. They recently performed in leading roles in "The Enchanted Toyshop" and "Gift Box" in the company's holiday show in November, which was mostly sold out. The Arabian Dance that Clifford designed for them is a sweetly seductive pas de deux that starts off somewhat seriously and becomes more playful as Lauren teasingly flourishes and drops scarves to entice Henry to follow her.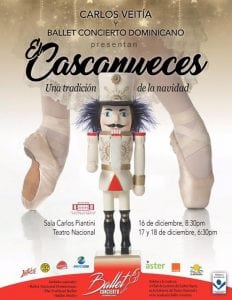 Carlos Veitía, artistic director of Academy Ballet Concierto, extended the special invitation after visiting The Portland Ballet in the spring 2015 and observing classes and rehearsals. Academy Ballet Concierto is a training ground for young dancers in classical ballet, modern, jazz and contemporary dance.
Davis said, "This is a wonderful opportunity, especially for pre-professionals to perform, and we're hoping it will lead to more. This will be a great thing for our dancers to have on their resumés. We haven't finalized plans yet, but we look forward to reciprocating and bringing Carlos and a couple of his dancers to Portland to teach and perform."
The Performers:
Lauren Kness, 18, from Hillsboro, Oregon, is a senior at Wilson High School. She has been studying ballet for 13 years and this is her fourth year at The Portland Ballet. She has participated in summer programs at The Portland Ballet, American Ballet Theatre, Milwaukee Ballet, Pacific Northwest Ballet, and Houston Ballet.
Henry Winslow, 17, from Bellingham, Washington, is a high school senior at Whatcom Community College through the state-run Running Start program. He has been studying ballet for seven years and this is his first year at The Portland Ballet. He participated in Juilliard's dance program last summer. He has trained at Britt Burton's The Dance Studio, Western Washington University and Bellingham Repertory Dance. He's also performed with Bellingham Arts Academy for Youth and Mount Baker Theater Summer Repertory Theater.
Nancy Davis founded The Portland Ballet in 2001 with her husband, Jim Lane. She has served on the faculty at Oregon Ballet Theatre and Northwest Academy, been a frequent guest teacher for Saint Louis Ballet, and done numerous teaching stints in California, Oregon, and Hawaii. She began studying ballet at age six with Natalia Clare of the Ballet Russe de Monte Carlo. She continued her studies at George Balanchine's School of American Ballet in New York City under a Ford Foundation scholarship. At 18, she joined the National Ballet of Washington, DC, touring extensively and dancing solo roles in classical ballets such as "Sleeping Beauty," "Cinderella," "Swan Lake" and "Giselle." In 1974, Davis returned to her Los Angeles home to become a founding member and principal dancer with John Clifford's Los Angeles Ballet.
John Clifford is best known as the founder and artistic director of the original Los Angeles Ballet, and as a principal dancer and choreographer with the New York City Ballet. He is widely considered to be George Balanchine's choreographic protégé. He has staged Balanchine works and choreographed for ballet companies around the world, including The Portland Ballet since 2003.
The Portland Ballet, led by artistic directors Nancy Davis and Anne Mueller, nurtures young dancers from age three to 22. TPB students are trained with professional intent by a faculty that includes some of the nation's finest dancers and choreographers, with experience at companies such as the National Ballet, the original Los Angeles Ballet, San Francisco Ballet, Oregon Ballet Theatre, Royal Danish Ballet, Trey McIntyre Project and BodyVox. Professionally produced performance experience is at the core of TPB training and TPB is well known for its annual Thanksgiving Weekend production. TPB graduates have gone on to professional dance careers with companies such as Grand Rapids Ballet, Pacific Northwest Ballet, Oregon Ballet Theatre, Nevada Ballet Theatre, Pittsburgh Ballet Theatre, Sacramento Ballet, Houston Ballet, St. Louis Ballet, Royal Swedish Ballet, Batsheva, LEV, Ballet Memphis and Ballet West.