Want local restaurant food delivered hot? Viking Food offers delivery service from over 50 Bellingham restaurants and coffee shops. Think lattes delivered for office meetings, a Reuben delivered for lunch on a day you can't break away from work, or pizza for the whole family delivered to your home. Deron Newman and Kyle Mattox have been bringing delivery through Viking Food to Bellingham since May of 2013 and have plans to expand the service to Ferndale and Birch Bay restaurants fairly soon.
Mattox and Newman first thought of starting a business when they worked together at another food delivery service on the East Coast. Newman had been working as a cable installer. It was the only work he could find after a job he accepted and quickly quit due to a hostile work environment caused a taboo work gap on his resume. For extra income, he began working for Bulldawg Food delivery as a driver and quickly realized he made more by driving. It inspired him to think about his own food delivery business and how he would do things differently. Before long, Newman heard Bellingham could be a suitable location and decided to fly over to check it out. "I fell in love with the town," Newman said. He moved out a couple weeks later to begin the start-up.
Mattox and Newman began modeling the company after their vision and values. They both wanted to only deliver for local businesses, favoring the positive relationships small businesses can have on community. "One nice thing about our business is that all the money that's generated for the restaurants stays in Whatcom County," Newman said.
Newman, who had experienced homelessness a couple of times as a single dad, also wanted everyone working for them to make a living wage so that no one has to work three jobs to try and make ends meet. In addition, they both implemented a wage cap to prevent disparaging wealth from occurring between themselves as owners and their employees.
Mattox's part in Viking Food involves taking care of the technical aspects of the business. Newman, who describes himself as the face of the business, connects with the restaurant owners. He works to cultivate a symbiotic relationship where restaurants decide what they would like to provide for delivery, while Viking Food figures out how to time it appropriately so that the food arrives hot. That perfect delivery time that can even get dumplings to your door tasting good is visible on the website before you order. Your food could arrive sooner, however, depending on how quickly the order is up. "We want everything to be perfect," Newman said. "We want our customers to get hot, fresh food."
One of the unexpected challenges when starting the company came from the name they selected. Other college towns Newman and Mattox had previously known had team spirit infused within the city, whereas Bellingham is a little more removed and doesn't tend to identify with the Western Washington University mascot quite as much. As a result, many people first assumed Viking Food was a delivery service solely for the college. Mattox and Newman always intended it to be a delivery service for the entire community. Families could order food delivered to their home or workers could have lattes or lunch delivered to their place of business. Ideally, food deliveries are within a four-mile radius of the local restaurant it was ordered from, though they do deliver further for an extra cost per mile.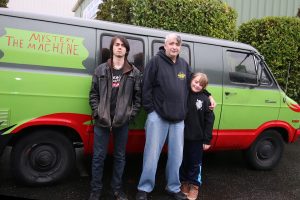 Newman, a fifth-generation Marine who has always been a very hard worker, genuinely enjoys where he is at with Viking Food. "It's a fun business," Newman said. "I love it. Honestly, I feel like a lucky dude. It's the happiest I've been in my life. My son's healthy and happy."
Growing up with 1980's punk rock on the East Coast, Newman's life began to change for the positive the moment he held his son for the first time. He works hard to be a good role model for his son and provide him with a good home life. When not at work, Newman spends time with his son, enjoying Pokemon Go, the Trampoline Zone or video games at the arcade together. They also enjoy driving around in their Mystery Machine van styled after the classic Scooby-Do comics. Finding home in Bellingham, Newman plans to keep the life he has created here. "One thing I am most happy about with Bellingham is the school system," Newman said. He appreciates how good things are going with his son at Cordata Elementary. Newman also wishfully hopes his friends and family will move or retire here as well. With regards to Viking Foods, Newman said, "I'd like to hand it down to my son someday."
To check out all the restaurants available for delivery and to place an order visit ordervikingfood.com.