Christmastime easily brings to mind that favorite jolly gift giver in the red suit, delivering presents without anyone ever catching sight of him. This year, you don't have to wait up late on Christmas Eve to try to get a glimpse of Santa out on a roof top or slipping down a chimney. Saint Nick, himself, is available all over Whatcom County this December.
Whether you want to ensure you are still on the nice list or have the comfort of handing him that wish list in person, there is bound to be a place and time that works for you. Round up the family for memorable holiday photos. This list of Santa Claus sightings will help you meet up in the nick of time this December.
Community Holiday Tree Lighting Ceremony in Ferndale
Enjoy acapella caroling by the Mt. Baker Toppers during the holiday tree lighting in Ferndale on December 2 from 5:00 – 6:00 p.m. Santa and Mrs. Claus will be there to meet the families. Enjoy cookies and cocoa while you visit.
Centennial River Walk, Corner of 1st and Main, Ferndale
Everson-Nooksack Winter Festival at Everson City Park
Meet up with Santa, elves and even the Grinch at the Everson-Nooksack Winter Festival on December 2 at 6:00 p.m. The celebration offers hot chocolate, limited goodie bags and plenty of Christmas items edible, readable and decorative for purchase. You can also enjoy wagon rides and $2 hotdogs.
Everson City Park, Main Street, Everson
Holiday Port Festival at the Bellingham Cruise Terminal
See Santa amidst the excitement of decorated ginger bread houses. The Holiday Port Festival on December 2 – 4 provides musical and dancing entertainment as well as free cookies and cider. If you are worried about whether you will make it on the nice list, you can make a donation to the food bank before getting that professional photo with Santa. See Santa on December 2 from 4:00 – 8:00 p.m. or December 3 and 4 from 1:00 – 5:00 p.m.
Bellingham Cruise Terminal, 355 Harris Avenue, Bellingham
Old Fashioned Christmas at Pioneer Park
Bring your own camera for a photo with both Santa and Mrs. Claus at Pioneer Park in Ferndale. Here you can write Santa a personalized letter and mail it in the Van Buren postal office. You'll also find 12 Christmas themed cabins and members dressed as pioneers from the Ferndale Heritage Society. Enjoy horse-drawn carriage rides, cookies and warmed drinks as well as music, games and crafts. Entry fees into the park are $3.00 for children and $4.00 for adults.
December 2 from 5:00 – 9:00 p.m.
December 3 from 1:00 – 9:00 p.m.
December 4 from 1:00 – 4:00 p.m.
Pioneer Park, 2004 Cherry Street, Ferndale
Photos with Santa Paws at Mud Bay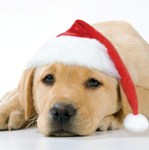 This season, celebrate your furry family member with a memorable portrait. The Humane Society offers a special photo opportunity of your cat, dog or small pet with Santa. On December 3 and 4 from 11:00 a.m. – 3:00 p.m., bring your dog on a leash, cats in a carrier to Mud Bay in the Lakeway Shopping Center and Santa Claus will be ready to hear all about their Christmas wishes. Take home a 4×6 and receive an emailed photo for a donation of $20 that goes to support the Humane Society.
Mud Bay, 1022 Lakeway Drive, Bellingham
Breakfast with Sinterklaas at the Lynden Community Center
Open to the community, enjoy breakfast for $5 at the Lynden Community Center from 8:00 to 11:00 am on December 3. But, you don't have to have breakfast to see Sinterklaas when he arrives at 9:30 for an hour-and-a-half of photo opportunity. Bring your own camera if you would like a photo together. There will also be a free craft activity available for children.
Lynden Community Center, 401 Grover Street, Lynden
Santa takes time to visit at the Blaine Pizza Factory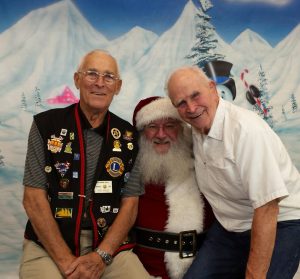 See Santa arrive while caroling during the Holiday Harbor Lights Community Tree Lighting in Blaine. Enjoy the lighting of the tree along with provided refreshments beginning at 4:30 p.m. on December 3, located where Peace Portal Drive meets H Street. Afterwards, head across the street to Blaine's Pizza Factory where Santa will be available for pictures and visits from 5:00 – 7:00 p.m.
Pizza Factory, 738 Peace Portal Drive, Blaine
Deck the Old City Hall at the Whatcom Museum
Santa awaits amidst the glowing of 20 plus themed Christmas trees on display at the Whatcom Museum on December 4 from 12:30 – 2:30 p.m. You can also look forward to decoratively hung wreaths, garlands and lights. Get a little Christmas shopping done at the pop-up-shop.
Whatcom Museum, 121 Prospect Street, Bellingham
Horse-Drawn Carriage Rides at the Fairhaven Village Inn
Meet Santa in the cozy lobby of the Fairhaven Village Inn on Saturday, December 3, 10, and 17 from 12:00 – 3:00 p.m. He will be there for family photos, just make sure to bring your own camera. You can also hop on a horse-drawn carriage ride and tour historic Fairhaven?this will buy you some time if you are still thinking about what you want to ask Santa for Christmas.
Fairhaven Village Inn, 1200 10th Street, Fairhaven 
Santa's Coming to Town at Yeagers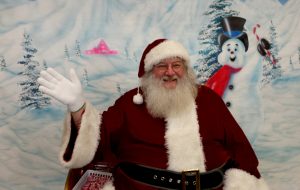 Settled snugly among a roomful of toys in Yeager's Toyland, Santa is ready in person to hear all your Christmas wishes. Here you can snap a free photo with Santa on your own camera or get a professional low cost photo delivered to your email. Provided by the Fairhaven Lion's Club, all proceeds raised at the event goes towards charities such as the food bank, emergency shelter, WWU scholarship contributions or Camp Horizon. And it isn't just the little kids that can have a photo of Santa, big kids and grownups can take home that special photo too.
Weekdays through December 9 from 4:00 – 6:00 p.m.
Weekdays from December 12 – 23 from 12:00 – 7:00 p.m.
Saturdays from 12:00 – 6:00 p.m.
Sundays from 12:00 – 5:00 p.m.
Christmas Eve from 12:00 – 3:00 p.m.
Yeagers, 3101 Northwest Avenue, Bellingham
Santa Train Ride at Miniature World Family Fun Center
Enjoy a Christmas lit train ride in Birch Bay. While promising over a million lights on this 20-minute adventure it's tough to outshine the man in the red suit waiting to meet passengers with cocoa and candy canes. Tickets ring up at $13.95 for adults and $9.95 for children ages 2-12.
December 2 – 4 and 9 – 11 from 5:00 – 9:00 p.m.
December 16 – 23 from 5:00 – 9:00 p.m.
Miniature World Family Fun Center, 4620 Birch Bay Lynden Road, Birch Bay 
Sleigh Bells Ring at Bellewood Acres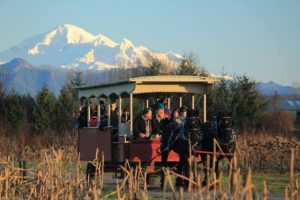 Bring the whole family to Bellewood Acres for a country visit with Santa. Enjoy that family photo together as well as a sing-along on a sleigh bell trolley ride through the orchard.
December 10 – 11 and 17 – 18 from 12:00 – 5:00 p.m.
Bellewood Acres, 6140 Guide Meridian, Lynden