How many miles did your holiday gift travel? Imagine meeting the craftspeople who produced the gifts you give to your loved ones. From luxurious personal products and gourmet food, to jewelry and art, the Home for the Holidays bazaar brings it all under one roof—the Bellingham Cruise Terminal from November 17- 19.
Expect a diverse array of gifts from over 60 vendors during the 35th annual event. Joyce Hill launched the holiday event in 1982, out of a passion for holiday decorating. She held the event in her home. The show would eventually land in several homes including the Lairmont Manor, Bloedel Donovan Field House and the Assumption Church before arriving at the Bellingham Cruise Terminal in 2004.
While the majority of vendors hail from Washington State, five travel here from Oregon and Utah. According to Hill, "This year promises a fabulous selection of seasonal creations to trim your 'Home for the Holidays,' distinctive gift items, a few antiques and delicious gourmet foods. The vendors who participate have been hand-picked for their very special creativity. They are a collection of some of the very best in the Northwest."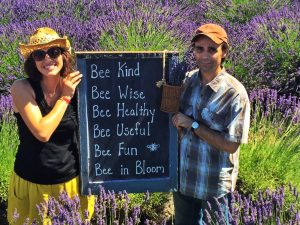 One of those vendors is relative newcomer Bee in Bloom. "They have created a line of bath and body products that they hope will comfort your skin and that you will enjoy the essence of the lavender and honey every time you open a Bee in Bloom product. Sara is in her booth the entire event and welcomes you to stop by and try her products," Hill says.
To get a better appreciation of the work that goes into vendors offering their products, Sara Whitehead, co-founder of Bee in Bloom describes her preparation for the holiday event. "I start working on holiday gift ideas as soon as harvest wraps up in August," says Whitehead. She and her husband, Brent Whitehead offer a product line of honey and lavender products year-round that they grow on their Lynden farm.
"Joyce told me, when we first met, that I should always have a lot of stock on the shelves," says Sara Whitehead. "She said full shelves of product sell. Empty or sparse shelves don't. I stock up on all of the products that we make. The list is quite extensive, so that means a lot of time. I am also making bar soap with our lavender essential oil and honey and lavender buds specifically for Home for the Holiday. I like to have something unique for each show that I come to. I make holiday gift sets that range from $10 to $30."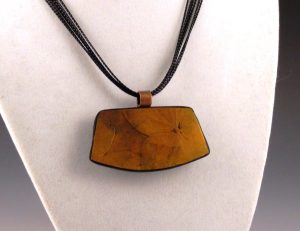 A Home for the Holidays veteran, Artist-Jewelry Maker Carolyn Oltman also began preparing for the event earlier this year.
"I'm always working on polymer clay jewelry throughout the year," Oltman says. "My new work each year is the result of experimenting with clay and pushing it beyond the usual methods used by others. I like to have several new lines of jewelry ready for the Home for the Holidays Show. No matter how early in the year I start, I am always working on more new ideas the night before the show opens."
Unlike the Whiteheads, who offer product lines, Oltman offers unique jewelry. "I avoid making mass quantities of pieces of jewelry," Oltman says. "I'm more interested in keeping new pieces coming. I may have 25 pieces in a certain collection. When they are gone, they are not duplicated and a new design will replace them. Only one necklace, my Big Bead Necklace, is continuously available but the beads are never the same. I sell enough jewelry each year to keep me very busy."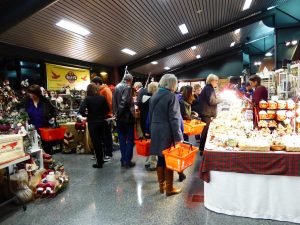 When asked about her participation with the annual event, Oltman mentions that she looks forward to the Home for the Holidays show. "The people attending the show are interested in meeting the vendors. I enjoy talking to people about my work as there are always a lot of questions about it. The number of people who attend make it the best show I have been in," remarks Oltman.
Hill agrees. "Home for the Holidays is an annual shopping event that I hope you'll enjoy as much as we love putting it on for you. This year's show is holding a drawing for six gift bags. Each contains an assortment of gifts and décor provided by the vendors. Also tucked inside are several gift certificates from local merchants for dining, merchandise and spa treatments."
Home for the Holidays
Thursday, November 17 from 5:00 to 9:30 p.m.
Friday, November 18 from 9:30 a.m. to 9:30 p.m.
Saturday, November 19 from 9:30 a.m. to 5:30 p.m.
Admission and parking are free.