Home is where the love is. It's the place memories are made, friends and family gather and day to-day life happens. It's also a place many people imagine growing old in. Cindi Landreth, design manager and co-owner of A-1 Builders & Adaptions Design Studio, helps people to do exactly that. Working hand-in-hand with clients and universal design solutions, Cindi and her team strategize to find the best suited changes for home owners to help them live comfortably and confidently at home throughout their aging years.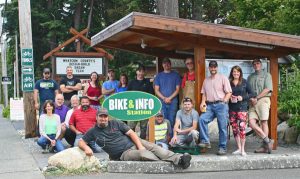 A lot can go into the comfort and care of a home suitable for aging family members. And there can be a lot to consider from a community level all the way down to a minor interior change to a home. When it comes to community, an individual's ability to age comfortably can depend on ease of travel and close proximity to senior centers, cultural centers or simply access to those particular things that make each person uniquely happy. For aging drivers, safely and easily getting in and out of the driveway and around town can be a huge help. While some driveways and remote home locations might not be entirely alterable for everyone, adaptations such as having an indoor garage built or a carport installed can help provide comfortable and safe conditions for getting in and out of vehicles no matter the weather. For someone who cannot drive, it can make a huge impact to have safe paths and maybe even a bus stop nearby. Pathways from the home to neighborhood sidewalks without challenging level changes or breaks between steps and with hand rails can really help individuals get around more independently. It can mean the difference between still being able to run their own errands, get themselves to doctor visits and pick up groceries versus having to rely on someone else to get them there.
It's known that the potential for falling can be a tremendous concern when it comes to aging. "Falling is a big issue – the texture of sidewalks and whether there's a lot of lumps in the sidewalk, that's prohibitive to someone who can't pick up their feet very well," Cindi explains. Fortunately, quite a bit can be done in and around the home to create safer day-to-day situations. Smooth well-lit paths are a good choice for the outside of homes. One level floors with all the necessities on it such as a kitchen, bedroom, bathroom and laundry provide easier access and lower risk when accomplishing daily needs than a first floor with level changes or a multiple story home with stairs. One story homes can even have safety features installed that smooth out transitional changes between rooms so there isn't an extra element to trip on. If a home does have steps or stairs, features such as a sturdy weight bearing wall hand rails, lifts and even elevators can be installed to make aging in place more feasible.
There are also a lot of modification options for adding lighting to a home to help with security or anxiety caused by diminishing vision or just the tendency to become more anxious as we age. Thoughtful placement and selection of light switches can be installed to keep anyone from having to walk down a dark hallway or into a dark room where there may be tripping hazards. Plenty of lights around the home can help people feel safer and less vulnerable as well. Light can also help with mood. "Natural light is amazing at how it affects a person's happiness," Cindi shares. "As we age, a lot of people can get depressed or sad and maybe are more sensitive to seasonal affective disorder. Having a lot of natural light and having it come from more than one direction is a really good thing to add." Natural light solutions can come in many forms such as skylights, solar tubes and by adding extra windows.
While most hope to age well, and many people do, there are also many instances where more extensive care may need to be provided. Someone who may need a walker for daily assistance or a wheelchair may find that in order to stay at home, movement related modifications to the house might need to be made.
"With the goal of keeping a person as independent as possible, for as long as possible, wide hallways and doorways are an advantage. Turning corners into rooms or even just turning around in the hallway when using assisted mobility devices requires more space. Ideally, doorways will become 36" and hallways 42" wide." Cindi explains. "It also helps when a person needs assistance with their mobility." Having plenty of room around furnishings is also a big help. Walk-in tubs, curbless showers, washlets, and grab bars in the bathroom can really improve self-care. Even a small change in faucet handles can mean the difference of being able to turn on or off water when needed.
Through Adaptations Design Studio and A-1 Builders (they are the same company), a designer can discuss aging needs on a personal level. Clients can access a checklist where they can go through and decide what the must-need alterations will be based on their own perception and experience of their home. "Most people, when we first meet with them when they want to do an aging-in-place consultation, are very much focused on low-maintenance of the house," Cindi shares. This involves focusing on changes that can make the home easier to manage as a whole. Cindi or one of her team members can do a walk-through to determine potential problem areas related to aging or even problem areas associated with the general health and wellness of the house. A-1 Builders can even provide a realtor to discuss the potential value that remodel plans can add to the home.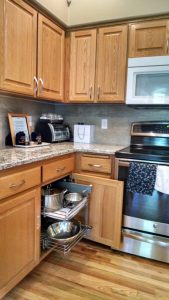 Bellingham is a popular area to retire and home remodeling can give an advantage to an on-the-market home that already provides aging-in-place adaptations. While aging is often something people think about for the future, remodels and feature changes can take time and it is best to have those changes in place well before they are actually needed.
To learn more about aging-in-place, visit www.a1builders.ws. For an aging-in-place consultation with one of the designers, Cindi Landreth, Maggie Bates or Sharon Petker, call 360-734-5275 and ask for Rick Dubrow.
Sponsored