Connie Shannon, owner of the Fairhaven Village Inn says, "I never know why people are walking in these doors. People come with a reason and a purpose. Sometimes it's to relax and rest and sometimes it's to see everything. But we always need to be ready to meet that reason and purpose."
Fairhaven Village Inn, known for its small, charming, intimate and family-friendly environment is conveniently located in Historic Fairhaven close to great shopping, dining and trails.
And, although the building was built in 1999, it was definitely constructed with the spirit of the turn of the century.
Located with a view of the working harbor, the small hotel features such sights as the Alaska Ferry cruising in early morning to Coast Guard vessels docked and a train rolling through the trees as it passes the water heading into town.
Fairhaven Village Inn has seen a lot of changes since Gene and Connie Shannon purchased it in 2004. From going to a managed property to now being an independently owned and operated hotel, they've continued to add their own special touches as well as utilizing their own experiences to make the adjustments necessary to keep up with the changes in traveling, economics and habits of guests.
"A lot has changed in the industry," says Connie. "We have to be nimble and stable with the people in place to do what we need to do to be flexible and move fast."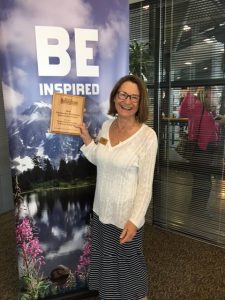 Recently, the hotel began a series of remodeling projects to update and freshen the already existent charm of the hotel creating subtle impact with impressive results.
With the help of local business partners including movers, painters and flooring experts, the process began with blocking off one floor and moving one side of the rooms of furniture to the other side so carpet could be torn up and replaced.
"So far everything is going like clockwork!" said Connie of the remodel process to date.
Over the summer, the outside of the hotel was freshened up with a coat of paint to get the remodel started. And with changes including new carpet, paint and upholstering of the chairs and couches in each room, come new color schemes and new art for the walls.
Expect to see the classic green and red colors of the artwork, chairs and bedding to be replaced with the relaxing and serene neutral tones of grey and blue, and patterns replaced to houndstooth check, paisley and grey and charcoal dots.
Along with the guest room remodel, there are also plans to expand the hotel on the main floor to include a lobby bar. This is a change that's sure to attract locals as well as be an added benefit and service to hotel guests looking for a convenient place to relax or meet friends.
Purchasing the hotel was an emotional investment says Connie. They didn't just buy a hotel and inherit some staff. The couple loved the location and could see the potential in the hotel. And, on January 1, 2004, they entered the Fairhaven Village Inn with one full-time employee. Now they have a team of hospitality professionals including nine full-time employees and a part-time seasonal crew. Four of the team members have been with Connie and Gene for five years.
Connie and Gene have built relationships, made friends and have even seen one-time guests choose to move to Bellingham, much as they did over ten years ago. They've enjoyed the experiences and the people that have crossed through their doors.
"I remember once seeing a grandfather with his granddaughters playing Twister in the library," laughs Connie of the fond memory. "It was nice to know he was so comfortable in his surroundings."
Since they have owned the hotel, the changes they have instituted have actually become a part of the experience for their guests. In fact, many guests have stayed for a business trip or to visit family and have returned for vacation, making Fairhaven Village Inn a tradition.
"There is a sense of common purpose," says Connie of the Fairhaven neighborhood. "We do the things that interest us and it turns out it's the same thing others are interested in as well. It's fun to share those experiences with our guests."
She specifically points out the annual carriage rides with Santa and says several guests now return annually just for that experience.
When it comes to change, the Fairhaven Village Inn has certainly made those changes that have expanded and delighted its customers.
As Connie says, "Fairhaven Village Inn is an experience for our guests. For us, it's about creating the best experience possible for our guests."
To make a reservation at the Fairhaven Village Inn, call 360-733-1311.
Sponsored