Down on State Street in Bellingham is Whatcom County's only emergency housing shelter for homeless youth. Here youth ages 13-17 who are currently experiencing homelessness or escaping an unsafe situation can stay at Northwest Youth Services' PAD House. During their stay case managers work with them individually to find a stable housing option. "We can house up to 16 kids at a time," shares Jesselyn Krolicki, a PAD House Case Manager.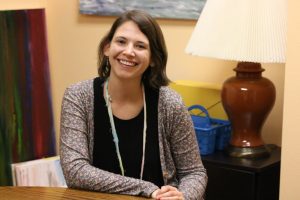 "The umbrella goal with each of our kids is to find them a long term safe housing option. So when they are with us we are working together to figure out what support systems they already have in place, what resources are available to them and determining their basic needs," Krolicki explains. "We're their temporary guardians so we coordinate school meetings, medical and dental services and just let them be kids. They don't get to experience being a kid very often with all of the challenges and barriers that are set in place to begin with. So it's fun to be able to offer them a safe space to be themselves and do age appropriate activities."
The PAD house is co-ed and individual rooms are set up dorm style. Depending on the particular bed a youth qualifies for during the screening process he or she may stay 21 days, 30 days or long-term until the age of 18. House members have access to a fully stocked kitchen, restrooms and showers as well as laundry supplies. "Staff provide three meals a day and outside of that the youth get to make whatever they want if they are hungry," Krolicki shares. "We offer a lot of independence with our program so our youth are able to come and go as they please. We have a sign out process to keep tabs on where they are going and when to expect them back. They have curfews and are expected to follow the PAD agreement which is a group of rules that all of our youth are expected to follow." One of the rules states that youth members staying in the house must pursue some kind of education whether it is attending high school or working towards a GED.
"The official mission is to collaborate with youth to foster self-reliance," shares Heather McGuinness, Community Relations Coordinator for Northwest Youth Services. "The vision is that all youth have a place to belong and to feel safe, heard and valued. We don't tell youth what needs to happen. We collaborate with youth to help them identify what their goals are and what their strengths are."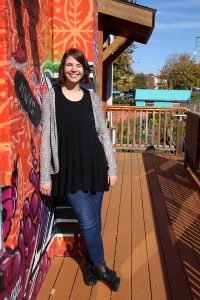 This strength-based, youth-centered program is what Krolicki really loves about working for NWYS. Before she began working with the PAD program, she led adolescent girls on extended wilderness expeditions in northern Canada and the Arctic where she put to good use her BA in outdoor recreation from Western Washington University. When it came to looking for work at a non-profit, Krolicki was drawn to the values NWYS had in place. "I had worked with kids for most of my life but I had never worked with kids who were experiencing homelessness," Krolicki shares. "I was definitely very intrigued to learn more about this population. You meet the kids and you realize how incredible they are. They are some of the most remarkable people I've ever met. They are incredibly resilient and they deserve the best."
In addition to working with kids to find long term safe housing options, staff members at the PAD house value the importance of community involvement and time for kids to just be kids. Each youth has a membership at the Whatcom Family YMCA and access to recreational outings through "We Go" such as snowshoeing at Mt. Baker or kayaking at Lake Whatcom. "We also have a lot of activates up at the PAD like board games, movies, art supplies and things like that," Krolicki shares.
Much of the work of a case manager is spending time connecting with each youth, building a safe and trusting relationship and a sense of belonging. Often these youth have had trust broken by adults. To open up to a stranger requires a lot of risk on their part. Learning that they can rely on an adult can be a new and powerful experience. "A lot of the kids that come through our program are very mature and calm to begin with just because they have had to be. They've had to grow up a little faster to survive," Krolicki explains. "I think the more that they get to know us, the more they can begin to rely on us as adults who they can trust, confide in and be vulnerable with. We see change in that respect."
While after care follow-ups are part of the program, Jesselyn Krolicki and her co-workers often experience youth members reaching back out to them to say hi or share the goals they have accomplished. "I feel like all of our kids need care and they all deserve unconditional support. That is something guaranteed from us- that we're always going to care for them, while they are with us and afterwards."
Northwest Youth Services
1020 N. State Street in Bellingham
360-734-9862
Donations like clothing items, tents and tarps are always appreciated.
PAD 24-Hour Hotline: 360-393-0116