The Community Boating Center, a Fairhaven-based educational non-profit focused on safe, small-boat recreation in Bellingham Bay, successfully administered a new Youth Enrichment Program aimed at getting at-risk and underserved youth from Whatcom and Skagit Counties out on the water.
"Bellingham Bay is the largest bay in the Salish Sea and the majority of Whatcom County lives within a few miles of its shore," explains Community Boating Center Executive Director Steve Walker. "Yet a large percentage of the community doesn't participate in boating. Part of what we do as a non-profit is to foster people's access to maritime experiences."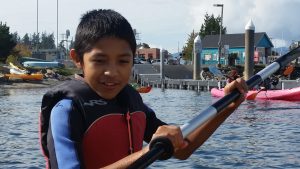 Through its shared-economy model, the Community Boating Center already allows people who might not otherwise have the resources—like those living in small urban housing where storage or transport of a kayak or rowing shell isn't an easy proposition—to incorporate boating into their lives. In addition, for many years, the Community Boating Center has offered youth programs and classes that teach many area students water safety and conservation and enable them to appreciate one of Whatcom County's greatest resources, Bellingham Bay. But this year, the Community Boating Center wanted to take their non-profit one step further.
"We have noticed that there is still a barrier for some of our youth to getting out on the water," explains Community Boating Center Education Coordinator Andrea Reiter. "Each has a different reason, and we wanted to help some of the youth in our area overcome that barrier, whatever it is."
This year, the Community Boating Center received a Whatcom Community Foundation grant to develop a pilot Youth Enrichment Program, expanding those they serve to include at-risk and underserved youth throughout Whatcom and Skagit Counties. Included in the grant were funds to hire a seasonal Youth Outreach Assistant, this year held by Makenzie Graham, to help develop the new program.
"Our main goal was to bring kids out for a day of fun on Bellingham Bay. Most of the kids we served had never had that opportunity," explains Reiter. "We also taught them how to safely recreate, including about the use of life jackets and wet suits to protect them from the cold water." By giving the students this experience, the Community Boating Center hopes to build student confidence and foster a desire to do it again, safely, in the future.
Together, the Community Boating Center's team of coordinators and boating instructors was able to offer eight days of boating safety and skills programs using kayaks and paddle boards with 97 local youth considered at-risk or underserved, totaling 439 educational hours on Bellingham Bay. Thanks to the grant, the skills and time of coordinators and instructors, as well as the use of water craft, were given free of charge to a number of local youth organizations.
"Rather than identifying these populations on our own, we partnered with a number of local organizations that are already serving at-risk or underserved youth," explains Reiter.
The program brought something different to each group of kids, based on their situation. The Mount Baker Chapter of the Sierra Club included kids who were residents of the eastern part of Whatcom County, without maritime access due to where they live. ReBound of Whatcom County's Ray of Hope, a day summer camp program for kids who have experienced traumatic events in their life, focused on providing kids a safe space to help them cope, have positive experiences, and feel confident, where ever they were at the time. The lesbian, gay, bisexual, transgender, queer/questioning (LGBTQ) Queer Youth group from Northwest Youth Services came out for a fun day of safe, respectful social activity. Kulshan Creek Neighborhood Youth Program, which engages youth ages 5 to 18 from two neighborhoods in Skagit Valley, increased their knowledge of the natural world while enhancing their self-confidence and encouraging positive social interactions. Explorations Academy, an alternative high school with a curriculum that is more active and hands-on than traditional public or private schools, focused on outdoor experiential learning.
Over 30 hours spent with these groups of kids included service learning, meaning that students provided a service to the community by picking up marine trash, while learning about protecting the health of our oceans and its inhabitants.
"Because of the success of the pilot year, we would like to see this program continue, and we plan to include more partner organizations as well as bring in more community support to make this a permanent program for the Community Boating Center," notes Reiter. In addition to direct public support and fees from their livery and dry moorage marina, the Community Boating Center is funded through competitive grants and tuition from youth programs and classes. Use by non-motorized watercraft up to 26 feet in length is supported at their location on the Fairhaven waterfront near the Fairhaven Transportation Station.
"Boating is a transformational activity on both a micro and macro scale. Just 50 yards off shore the world is a very different place, a watery space that we kind of all know at our core, but I think lose touch with. There is just something magical about floating," describes Walker of the more subtle value of being out on the water. "The Community Boating Center is proud to share non-motorized use of this valuable shared natural resource with the youth in our community."
The Community Boating Center
555 Harris Avenue
Bellingham, WA 98225
360-714-8891
www.boatingcenter.org