If you have walked down Railroad Avenue in downtown Bellingham, chances are you have seen a sign that says Man Pies. If you haven't gone in and tried one, you are missing out on Chef Bryce Sharp's culinary take on the Australian meat pie.
Bryce originally invented his Man Pies for the Bellingham crowd after a long trip to Australia. "I stayed there for almost two months and one of the things they made a ton of there was meat pies," Bryce explains. "I was eating meat pies at gas stations, pubs, restaurants, sports stadiums and all over the place. And I liked them." After an evening of bowling, Bryce walked through downtown looking for a bite to eat when he realized that what he really wanted was a meat pie. "I missed them," Bryce shared. It was then that he got inspired to come up with his own recipe and eatery for the downtown.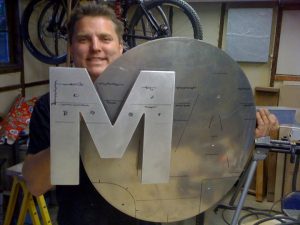 "An old chef I worked for made a seafood variation of a French dessert. The dessert was called Pithivier and it's an almond French pan desert with puff pastry which is roughly in the shape of the upside-down Man Pies," Bryce shares. "I thought it would be a nice shape for a meat pie." The crust is a traditional butter pastry and the filling for each pie is infused with Bryce's years of cooking as a French Chef. Even the curry pie is "Indian cookery tempered with French cooking," Bryce shares.
Originally starting with the beef pie, braised beef chuck alongside local potatoes and carrots, Bryce worked on the menu for the eatery in the first six months of business by fine tuning recipes and trying out, as well as, taking off certain menu items. One in particular, the caramelized onion pie with Kalamata olives and goat cheese feta, was a favorite when the shop first opened. Bryce reminisces about onion parties where staff and himself would line up to prep for the five pounds of onions that would go into each pie. Between staff and customers crying from the onions upon entering the shop and the sugar content that Bryce felt was higher than he wanted his friends to consume regularly, he made the decision to no longer offer it.
The turkey pie was also one that came and went due to the fluctuations of turkey as a seasonal product in the market that often affected the consistency in the pies. Bryce, who aims specifically for consistency in his recipes settled on the current menu that would provide exactly that.
Another change was with the original lentil curry pie. To meet the high customer demand for a yellow curry sauce within the pie, Bryce altered it completely. "I took the lentil pie off and added a vegetable curry which I think is a tremendously good pie," Bryce shares. "I love the sweet potatoes in it. I love the colors when it's done correctly. It is really excellent. My curry sauce is probably the best bit of cooking in the kitchen. It is proper and that's to say it's not just some curry powder put in some milk and then thickened up right. It's legit."
The steak, bacon and cheddar pie was born out of the competition found at the Bite of Bellingham. Bryce came up with the winning dish specifically for that event and continues to offer it on special due to the high demand.
One day, while sitting down with a chef, Bryce calculated he had handcrafted over 80,000 Man Pies. While he still currently oversees the production of his pies, he works full time as a software developer. One of the challenges of stepping back from the kitchen, over the years, is finding a cook that will make his recipes in the way that he originally created them. "I had a cook who instead of using one teaspoon of fresh grated nutmeg was using three tablespoons of ground nutmeg," Bryce shares. "I got a phone call from a friend, thank goodness." His close proximity to Man Pies means he can check in regularly to make sure all is in order. Bryce's mom is also currently on site seeing to day-to-day operations.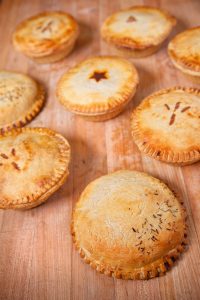 In addition to Bryce's culinary inspired pies, both meat and vegetarian, Man Pies also serves an apple pie stacked with layers of Fuji apples. There is also a caramel brownie definitely worth tasting. Enjoy Man Pies on site, the tables are casual seating and the eatery offers coloring pages that cover the walls with artists of all ages filling in a picture of what their "Man Pie is…" to them. Man Pies can also be ordered frozen at a discount for cooking at home or ordered hot and delivered from Viking Food. And if you have a favorite pie you are hoping to pick up, you can always call ahead 30 minutes to make sure one will be ready for you.
Man Pies
1215 Railroad Ave. in Bellingham
360-306-8805