Submitted by Lighthouse Mission Ministries
Lighthouse Mission Ministries is opening an 80-bed emergency homeless shelter in Bellingham on Oct. 17, responding to the community's increasing homeless population just as cold weather approaches. 
Lighthouse Mission Ministries is converting its daytime Drop-In Center at 1013 W Holly St. to also serve as an overnight emergency shelter for up to 80 men. Emergency shelter guests will be asked to follow some basic behavioral expectations and accommodations will be made for people who have pets. As with most Mission programs, there are no religious requirements to receive services.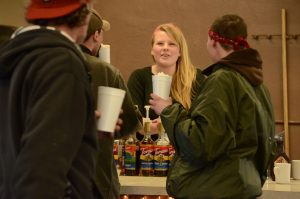 "An easy-access shelter is Bellingham's most pressing need when it comes to our most vulnerable populations," said Hans Erchinger-Davis, Executive Director of Lighthouse Mission Ministries. "This will be the first step for many people who are chronically homeless. The goal is to get them into the Mission's continuum of care and out of homelessness."
According to the 2016 Whatcom County Homeless Census in January, 719 homeless individuals were counted, a number steadily rising since 493 were counted in 2012. Also, the number of unsheltered households soared 40 percent since 2015.
The Mission's Drop-In Center opened in 2008, giving guests a warm and dry place to spend afternoons while giving them a chance to connect with other service organizations. Previously operating from 12:30 – 5 p.m. weekdays, the Drop-In Center will be open 24 hours a day, every day starting Oct. 17 to people who are homeless. Breakfast, lunch and dinner will be served.
Erchinger-Davis said use of the Drop-In Center as an emergency shelter is a temporary solution and Lighthouse Mission Ministries is seeking a more suitable long-term location.
The annual cost of operating the emergency shelter is estimated at $200,000. Lighthouse Mission Ministries, a privately funded, local 501(c)(3) organization, is seeking donations from individuals, faith communities, clubs, and organizations to cover the additional expenses.
"Whatcom County has been generous in supporting the Mission and I hope that continues as we take a step of faith to meet this serious need," Erchinger-Davis said. "Donations to Lighthouse Mission Ministries provide 'wrap-around' services that cultivate healing and total life transformation."
Lighthouse Mission Ministries also will continue to operate a 40-bed emergency shelter in its chapel. The space was previously used by both men and women, but now it is just for women, resulting in a total of 120 Lighthouse Mission emergency shelter beds.
Lighthouse Mission Ministries has been helping people who are homeless since 1923. It serves more than 300 hot meals daily and already had been providing shelter for approximately 150 men, women and children each day. To make donations or learn more about its services, call 360-733-5120, or visit www.thelighthousemission.org.