Many of us love movies because they are a temporary escape from reality. But documentary film is its own art form, instead showing us a glimpse of the real world, of people and places we might not otherwise experience, through the eye of the filmmaker. These films take us on far away journeys, perhaps to the bottom of the ocean, to the top of a mountain, and into the lives of strangers. Each October since 2008, Pickford Film Center (PFC) has celebrated the art of documentary filmmaking with their curated Doctober film festival, this year sharing more than 50 films throughout the month. The subjects range widely, from environmental and human rights issues throughout the world to arts and music. A few are presented in partnership with Whatcom County organizations that aim to raise awareness and inform local audiences.
"We encourage our patrons to suggest films to us throughout the year, but for the most part, our programming team, led by Program Director Michael Falter, seeks out our selected films," explains Pickford Marketing Manager Lindsey Gerhard of how films are chosen. For some of the films with a narrow subject, the Pickford has partnered with a local organization with a similar niche audience to help promote the film. Many will offer pre-screening receptions or be followed by a panel discussion, local expert question and answer sessions, and filmmaker visits afterward to extend the film's impact. "Our audience really likes when we can connect Doctober films to something at the local level," adds Gerhard. "There are a lot of surprising connections between what we see in these films and what's happening here in our town. Our audiences can learn how our community is dealing with that issue."
Other films in this year's selection are more serious. "We have a number of very thought-provoking films about serious issues like gun control and prison reform," says Gerhard.
Although each film is unique, many of the films fall into a group or category. Of course we can't include them all here, but we've sprinkled some to give you just a taste of Doctober.
Our Fascination with Animals
A number of films focus on our furry and feathered friends or the wild ones we rescue. From funny to touching, there is something for most any animal lover to enjoy.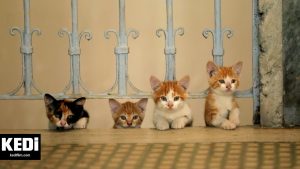 Yes, our culture is obsessed with cats. Kedi is not about your typical house cat, but instead about the generations of felines that have wandered freely in Istanbul, owned by no one and somewhere between wild and tame.
For the horse-lover, Harry and the Snowman follows the journey of the post-World War II relationship between a Dutch immigrant and the rescued Amish plow horse that went on to win the triple crown of show jumping.
S.M.A.R.T. follows people who put the lives of animals before their own, the Los Angeles' Specialized Mobile Animal Rescue Team, as they save stranded and injured animals from the most harrowing of situations.
Seasons [Le Saison] is a French film that travels throughout Europe to film brown bears, wild horses, wolves, and other animals in their natural habitat.
The PFC wouldn't leave out our insect friends either. Mindport will host a pre-screening reception with live insect demonstrations as they sponsor Learning to See, a film about a photographer who spent his life capturing images of undiscovered insects of the Amazon rain forest.
Music and the Arts
Sunday mornings in October will feature documentaries about a range of subjects connected to the genre of Jazz including Sound of Redemption: The Frank Morgan Story about a musician and the band he formed while in San Quentin prison that went on to fame in the Bay area of San Francisco.
Women's Issues
A number of films focus on women and the struggles they face. Every Row A Path focuses on five teenage Skagit Valley women in migrant agricultural worker families who must balance school, work, and relationships in rural America.
Speed Sisters focuses on the first all-woman race car driving team in the Middle East.
On Being Human
There are many more films than we can include here on a variety of subjects including sustainable agriculture, the environment, and living and dying on our planet. Peruse the full list to find your favorites.
PFC is also expanding their broad education program again this year with their Doc-Ed Program which will invite every middle school student in Whatcom County to attend a Doctober film chosen by their teachers. "We worked hard to fundraise so that we can provide transportation and free attendance to all students at no cost to parents or teachers," notes Gerhard. Middle school students will see one of three films chosen for their age appropriateness and relevance in the lives of young teens. Each film will also be available for screening by the general public.
What Tomorrow Brings follows the lives of the first class of girls allowed to attend school in a small Afghan village from 2009 to 2015. "Historically, the education of women there has been frowned upon," adds Gerhard. "We're offering a range of choices to teachers." Their third option is Elder in the Making, a film set in the Aboriginal communities of Alberta, reviewing how history has led them to where they are today.
None of the film's show times overlap, so it is possible that one could see all 50. The PFC's Doctober Challenge punch card will allow anyone seeing more than eight documentaries to win secret, exclusive Doctober prizes, some of which will go on display in the PFC lobby once Doctober is underway. "Every year we have one or two people who try to see them all. It's pretty impressive," adds Gerhard. "Another way to save while supporting the theater is by becoming a PFC Member to receive big discounts on ticket prices over general admission."
Pickford Film Center
1318 Bay Street
Bellingham, WA 98225
360-647-1300
www.pickfordfilmcenter.org
Sponsored