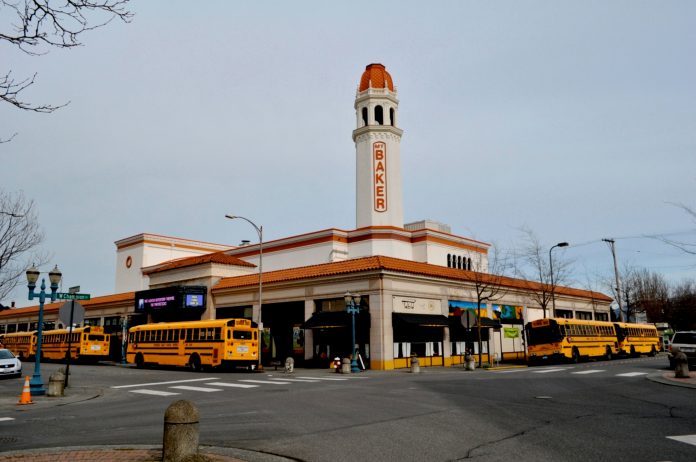 The incredible costumes, fantastic performers, innovative sets, and professional spectacle of live theater aren't just for grown-ups. Mount Baker Theatre (MBT) wants every area child to experience the wonder found in culturally diverse live performing arts. Through Mount Baker Theatre's educational programs, MBT provides access to professional arts curriculum for more than 17,000 Whatcom, Skagit, Island, San Juan, and upper Snohomish Counties' public, private, and home school communities each year. More than just a field trip, this season's shows will allow children to explore different subjects, cultures, and points of view in a safe, immersive, and memorable environment.
As funding for the arts has been cut over the years, MBT's education program experiences have become even more important to area children. "Children gain many things from seeing a live theater performance, even without a connection to their classroom curriculum," explains MBT's Program Manager, Alison Terry Storms. "For many students, it's their only exposure to the performing arts, particularly on the scale that we are able to present to them on our incredible stage. We are able to offer them access to really high quality work at a rate that's affordable to schools and the students."
The hallmark of MBT's education program is the Wade Bennett King Education Series whose focus is to enrich school curricula while providing students with the cultural experience that comes from early exposure to professional live performance. This season's series includes ten shows for a range of audiences. Nine of the ten are geared toward elementary school and middle school children. Many are stage adaptations of well-known children's literature. This season includes "Skippyjon Jones Snow What," "Mufaro's Beautiful Daughters," and "Junie B's [Jones] Essential Guide to School," to name a few.
Providing young people an opportunity to look at reading and stories in a whole new way can have an impact on how they see the world and what they choose to read. "Last year I got to see "The BFG" and they had a humongous paper mache model of the giant's hand that reached onto the stage to grab Sophie," Columbia Elementary School 3rd grader Lucy Guerra recalls. "I've read the book so many times. It was good to see it on stage and remember all the parts of the story. I like the way it all played out with real people."
Kids will also get the chance to see dynamic motion, too. "'Collision of Rhythm' is going to be so exciting for the kids. Bronkar does rhythmic juggling, body percussion, and beatboxing with a tap dancing marimba master named Aaron," Storms explains. The Peking Acrobats will also return to the theater and are always a crowd pleaser. "They are a window into a new culture, popular with both kids and teachers," Storms adds.
A special program will perform for four days in the more intimate Walton Theatre within MBT as well. Portland-based Tears of Joy Puppet Theatre will present a piece from their Masterworks series, "The Toad Prince," a revival using the vintage puppets of one of the company's first shows.
Middle schoolers will enjoy Doktor Kaboom in "It's JUST Rocket Science." "He teaches the physics of rocket science through a theatrical presentation. It's his second time at MBT and he's very funny and exciting and does comedy experiments on stage," Storms explains.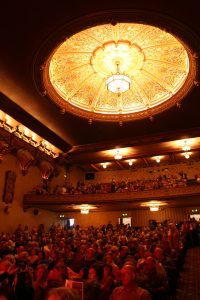 Middle school exposure to cultural history will also be shared through "Wings of Courage," which is the story of Eugene Bullard. "He was the first African-American fighter pilot during World War I in France. He wasn't allowed to be a fighter pilot in the US during that time, so he traveled to France with a minstrel show. While there, he ended up in the armed forces and became a fighter pilot," Storms explains. "But when he later returned to the US, he wasn't allowed to fly anymore. It's a fascinating story that needs to be told. We're so excited to have it here."
High school students won't be left out either. Produced by Seattle Shakespeare Company, "Romeo and Juliet" will take the MBT stage for the second year in the row. "Many students read it in our area school districts. Part of the reason I chose the show is because I know from my own experience that when you see Shakespeare on stage, it makes a huge difference in your understanding versus just reading it," Storms shares.
Several of the productions also have associated study guides that MBT makes available to teachers to use in the classroom before and after their field trip to MBT. "We get great support from teachers. We also want parents and administrators to know that the program has real value. Bringing the kids to the theater isn't just a single field trip, it is an experience that carries forward into life and you really never know the impact it will have long-term," Storms adds.
In addition to the Wade Bennett King Education Series, MBT also hosts Missoula Children's Theatre in the summer, teaching theatre arts to children of all ages in a weekday summer camp format. The touring production company arrives at MBT complete with costumes, scenery, props, and makeup — everything it takes to put on a play, except the cast. "Missoula is unique because it gets up to 60 kids with a range of ages in a fully-formed production in just five days, which is unheard of," Storms explains. "It gives students a chance to check it out in a short amount of time."
The summer program was a joy and hands-on learning experience for Lucy Guerra and her friend and fellow Columbia 3rd grader Lucia Costello. "It's super fun to dress in fun costumes and get up on the stage and do the big show," Guerra explains, beaming. "I was a Swamp Turtle in "The Frog Prince" this past summer. Lucia was a Swamp Mosquito. We were the Frog Prince's swamp friends. So much fun."
Mount Baker Theatre's education programs strive to bring the arts and culture to all children in our area. "For non-traditional learners or those who might not gain as much from a book, MBT is giving kids another window into a new subject. You never know what is going to spark that passion in a kid and flip that switch to engage them," Storms says. "Seeing a show might make them want to learn more about a subject outside the theater, or learn a musical instrument they saw on stage, or try a new science experiment. Giving kids new ways to look at things might not help them solve a math problem, but it reinforces individuality and gives them some cultural competency and compassion that the classroom alone just can't give them."
Tickets to the Wade Bennett King Education Series performances are currently available to schools and individuals by contacting the Mount Baker Theatre Box Office.
Mount Baker Theatre
104 North Commercial Street
Bellingham, WA 98225
Phone: 360-733-5793
Tickets: 360-734-6080
www.mountbakertheatre.com
Sponsored