Have you visited Bellingham's breweries lately? One local company is making it easier than ever to discover local brews in the 'Ham.
There's no doubt that independent breweries are booming in Bellingham. Since 2012, the veteran breweries in town (Boundary Bay and Chuckanut) have been joined by several newcomers, with even more in the works. Structures and Gruff recently opened up downtown and Stones Throw is now brewing in Fairhaven. With so much happening in Bellingham's beer scene, it can be tough to keep track of it all. Fortunately, Bellingham Tap Trail has you covered.

Not to be confused with Bellingham's multitude of hiking trails, the Bellingham Tap Trail is a different type of trail experience. Launched during summer 2014 by four partners (Scott Pelton, Mindy Pelton, Shannon Larkin, and Brian Seales), Tap Trail promotes Bellingham's beer scene to locals and visitors. According to Tap Trail Creative Director Brian Seales, "Our goal is to make Bellingham a destination for beer lovers all over the world, and our amazing breweries are helping make that a reality."
The Tap Trail uses a variety of promotional tools to achieve its goals. Its website is full of useful content including news (brewery openings, new beer releases, etc.), reviews, and related articles. Want to know why Bellingham was ranked the "Snobbiest Beer City in America"? Or perhaps "How Jimmy Carter Made Craft Beer What it is Today"? Check out the site.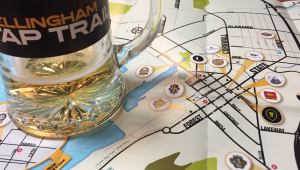 While Tap Trail does a great job of keeping Bellingham beer lovers informed online, its printed map and passport are what inspire many imbibers to hit the trail. "Anybody can pick up a Tap Trail Map at any brewery or tap house in town," Brian explains. "They'll be presented with a map to the many places offering an amazing craft beer experience, and a Passport that allows them to collect stamps when they order a pint at any of the participating locations."
Once you collect enough stamps (redemption starts at 4 stamps and goes up to 22), simply trade the passport in for a reward. From leather brewery coasters and bicycle keychain bottle openers to silipints and t-shirts, there are plenty of prizes to be had. Pick up the latest passport — now with 22 beer destinations around town — to get started.
The idea for Tap Trail began with a conversation between partners Brian Seales and Scott Pelton. With beer towns like Bend, Oregon running successful ale trails, it was only a matter of time before Bellingham had its own beer map. "Because of our respective skill sets, it just made sense that we become the team to do it," Brian says. "We put the plan into action and here we are, now on our fifth season and growing rapidly."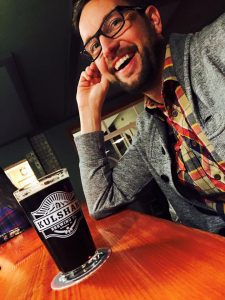 Brian attributes the success of the Bellingham Tap Trail to the community here. "We didn't choose Bellingham to be the first city for Tap Trail," he says. "It chose us, and I think a measure of our own personal success is truly based on how well the local breweries work together to make Bellingham even better."
This year, the Bellingham Tap Trail is excited to take on even more responsibility in Bellingham's beer scene. Tap Trail has acquired Bellingham Beer Week, and they've been busy organizing and promoting the 10-day long annual celebration. A wide range of events will take place September 9 – 18 in and around Bellingham, including special releases, beer olympics, trivia, a food-pairing experience, and much more. Check the schedule for details.
When he's not running Tap Trail, Brian Seales can be found "building up the Ketchup+Mustard empire." As tasty as that may sound (hot dogs, anyone?), Ketchup+Mustard is serious work. "Ketchup+Mustard is a call-to-action design agency and all the work we complete is focused on creating some engagement between our clients and their customers," Brian says. "We really have to put ourselves in the shoes of our target. In a way, it's like method acting. One day I'll be a 'Bellingham tourist who likes beer,' and the next day I'll be a 'business developer looking for capital investors.' I love that every day is different."
Brian's colleague Shannon says that he's like a shark. "If I stop moving, I'll die," Brian explains. "While I hope this isn't literally true, I do like to keep myself busy with home projects, meeting new friends downtown, and doing everything I can to help make Bellingham an amazing city."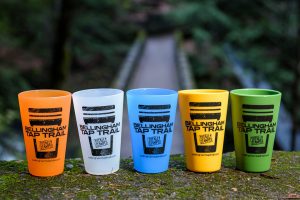 With Brian's creative energy and expertise behind Tap Trail (not to mention his talented partners), it's no wonder the maps, passport, and website are beautifully designed. So what are you waiting for? Pick up a copy of the latest map and passport, get stamped, and collect those not-so-hard-earned prizes. See you on the trail!
For more information about the Bellingham Tap Trail, visit the Tap Trail online. For a look at the schedule for this year's Bellingham Beer Week, click here.