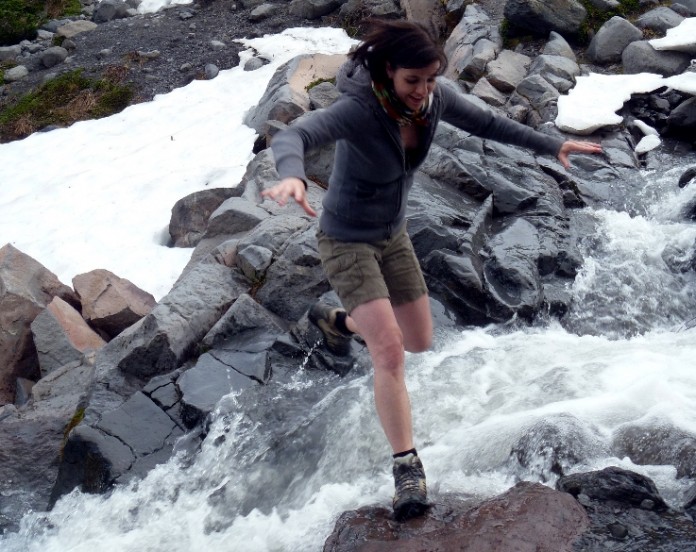 What do hikers crave most after a long, strenuous outing? A hot meal and a cold drink. Most brewpubs provide both, making the nearest brewery a natural stop for post-hike beers. And fortunately for Whatcom County, there's no shortage of peaks or pints in our backyard.
From Baker to the bay, you can summit mountains in the summer and stroll lowland trails year-round. Literally hundreds of trails dot the map. Meanwhile, breweries are popping up seemingly everywhere (the latest count for Bellingham-Whatcom County is 10). So next time you're out on the trail, support a local brewery on the way home. Here are a few trail and ale pairings to get you started.
Raptor Ridge and Stones Throw Brewing
The Chuckanut Mountains provide endless opportunities for outdoor recreation year-round. And while everyone knows and loves the classics — Oyster Dome, Fragrance Lake, Pine and Cedar — there's so much more to be discovered out there. Next time you're looking to get off the beaten path, try Raptor Ridge. This 4-mile (each way) trek begins at Arroyo Park and gains 1,500 feet before coming to an abrupt halt atop a rocky cliff. From this uniquely positioned overlook, peer deep into the Chuckanuts and far across to Oyster Dome.
After your hike, try Bellingham's newest brewery. Stones Throw Brewery in Fairhaven opened in April 2016. As WhatcomTalk reported last year, Stones Throw has been in the works for a while, and the Fairhaven community is ready to embrace it. Steps away from the Interurban Trail, this brewery is indeed a "stone's throw" away from adventure in the Chuckanut Mountains. For an extended hike, start in Fairhaven and walk the Interurban to Raptor Ridge via Arroyo Park. Enjoy the views of Blanchard Mountain, then head back to the brewery to try their Blanchard ESB.
Whatcom Falls Park and Kulshan Brewing
A conveniently located city park with miles of walking trails, Whatcom Falls is a worthy destination in any season. Visit during winter or spring when the falls are their most impressive. To get some miles in, start at one of the park's western entrances and hike all the way through — past Derby Pond and the fish hatchery — to Bloedel Donovan Park. Here at Lake Whatcom, the source waters of Whatcom Creek flow into the city — and likely your pint glass. Much of Bellingham's drinking (and brewing) water comes from Lake Whatcom, so treat these waters with respect.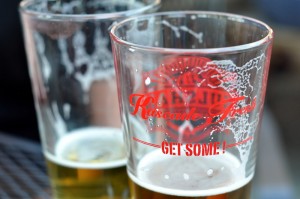 Kulshan Brewery is now closer to the trailhead than ever. K2, the brewery's second location, is just half a mile from the nearest entrance to Whatcom Falls Park (at Woburn and Iowa). The only Bellingham brewery to operate two locations in Whatcom County, Kulshan was an instant hit when it first opened in 2012. Today, they offer a selection of big, unfiltered ales to wash down the various cuisines available from rotating, on-site food trucks. Try their deep, dark Transporter or the citrusy Bastard Kat IPA.
Baker Preserve Trail and Chuckanut Brewing
Take the ferry out to Lummi Island for a quiet getaway hike. The short Baker Preserve Trail is relatively steep, gaining 1,000 feet in 1.6 miles before reaching a 1,050-foot island overlook. Gaze out over the San Juan Islands to spot Orcas Island's Mount Constitution rising high above the rest. Even the Olympic Mountains are visible on a clear day.
Back at the car, you have a few options. Those who can't wait to refuel should stop at Beach Store Cafe, just in time for happy hour (4:00 p.m. to 6:00 p.m., Thursday through Monday). Back on the mainland, Chuckanut Brewery is the nearest place to grab a freshly brewed pint and some excellent food. This award-winning brewery needs no introduction. Chuckanut won the Small Brewpub of the Year title at Great American Beer Festival in 2009 — just one year after opening their doors. Try any of their many German-style ales, especially the Kolsch.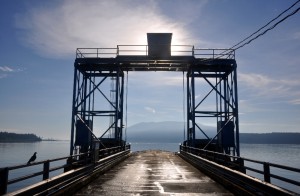 Heliotrope Ridge and North Fork Brewery
Experience Mount Baker's Coleman Glacier up close and personal at Heliotrope Ridge. At just over 2.5 miles one-way, this trail is relatively short but feels like an adventure due to multiple creek crossings. Come prepared with trekking poles and an extra pair of socks. Read the latest WTA trip reports for seasonal conditions and exercise caution on this potentially dangerous trail. Northwest Forest Pass required for trailhead parking.
You've earned your beer(s) after trekking to Heliotrope Ridge. Stop in at the North Fork Brewery and Beer Shrine, located right off Mount Baker Highway. This funky brewery is decorated floor-to-ceiling with beer memorabilia and offers some of the best pizza (and beer) in the county. Try one of their rotating barley wines or the smooth nitro ESB.
Still thirsty? For additional trail and ale pairings in Whatcom County, visit Beers at the Bottom.