Submitted by D'Haitre' Guitars
Memories of Prince, the iconic musician who passed away Thursday, are still reverberating among millions of his fans throughout the world. But a Bellingham luthier has a special connection — Andy Beech made a Symbol guitar that Prince played for "Purple Rain" during his acclaimed halftime performance at the 2007 Super Bowl.
"The music world lost one of its most creative entertainers ever," Beech said. "I'm humbled that one of my guitars is associated with one of Prince's most memorable performances."
Beech made a total of 31 guitars for Prince during the 1990s — 27 Cloud guitars, which have their own unusual shape and an elongated top horn, and four Symbols.
"Prince knew exactly what he wanted and his crew sent the designs to me," Beech said. "I knew a bass tech who did Prince's guitar work and he put in a good word for me."
Beech's custom guitars for Prince were made from mahogany and maple. Maple is particularly appropriate since Beech started crafting wood guitars when he was 13 years old in Maple Falls, a hamlet about 30 miles northeast of Bellingham where the luthier was born and raised.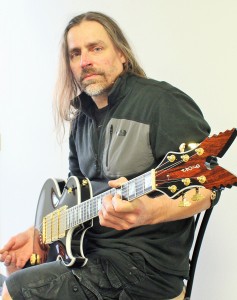 After graduating from Mount Baker High School in 1983, Beech went to Hollywood looking for fame and fortune. He was just getting by until a chance meeting with Zack Wylde, who had just become a guitar player for Ozzy Osbourne's band. Beech became the guitar technician for Wylde when the band went on the road, leading to five years of shows from 1991–1996 at sold-out venues throughout the world.
Beech also made guitars for Wylde, including The Glory. Its eye-catching shape created a buzz among fans and has been praised as an addictive, standout, beautifully crafted instrument that is stunningly versatile. Beech also created the Steel Dragon, which Wylde played in the movie "Rock Star."
However, a life in Los Angeles and on the road wasn't what Beech wanted forever, so he moved back to Whatcom County. He began doing finishing work on high-end homes being constructed. But his passion is crafting guitars, so Beech opened D'Haitre' Guitars (www.dhaitreguitars.com) in Bellingham. He's currently partnering with Richie Faulkner of Judas Priest in launching Janus Guitars, which will introduce a line of high-quality custom guitars.