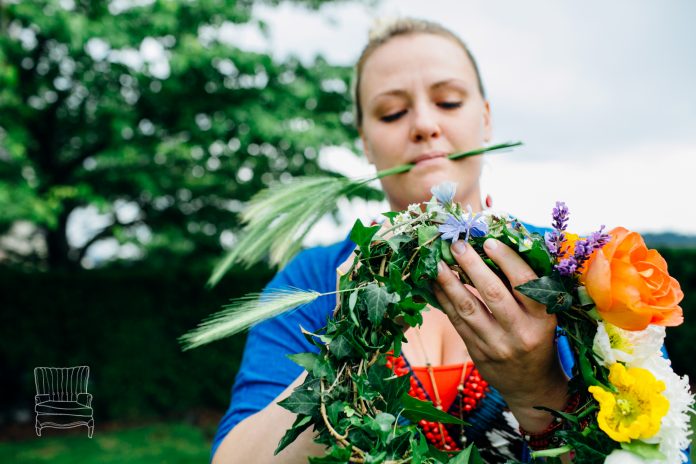 Bellingham-based florist Natalie Ransom of Pozie by Natalie has been putting her own bold spin on Pacific Northwest weddings, events, and photo shoots for the past 15 years. Her hard work, confidence, and creative, unique style — as well as her efforts to mentor fellow business owners and support local charities — have inspired a loyal following that is helping her achieve her dream, taking her business to the next level.
When you first meet Natalie, you would never guess that she grew up as a farm girl in Houghton, Michigan in the rural Upper Peninsula. Her polished, modern look, simple blond locks, and beautiful smile perfectly fit her sassy personality. "I don't own more than one pair of pants. In my work, I have to dress up for every event, so maxi dresses are my uniform," explains Natalie, who still considers herself a die-hard Yooper.
"I've loved flowers for as long as I can remember. When I was a kid, one of my earliest memories is that when I was sad or upset, I would crawl into the baby's breath bushes around the farm," recalls Natalie. "My father, Chip, later taught me how to forage around the farm and use what was around to create beautiful things to sell at farmers markets and craft fairs. Flowers have always been a part of me," adds Natalie. "From him, I learned to love nature and the joy of sharing that beauty with others."
Natalie first moved to Bellingham in 2001. "I always knew I wanted to live on the West Coast and first considered Montana. Someone I knew had moved here, so I searched on the internet and found Turner Photographics. I thought, 'Wow, I want to live in that beautiful place,'" explains Natalie. "So I moved here and what's funny is that now Mark Turner and I are friends!" Natalie also frequently works with another local photographer, Katheryn Moran Photography, on weddings, events, and stylized photo shoots. The breathtaking Pacific Northwest and Bellingham have become the place that Natalie calls home.
Using what's in season from local growers as much as she can, Natalie pours her imagination and inspiration into both her wedding and event work and the unique pieces she donates in support of local charities and businesses. Augmenting with succulents and exotics, adding fiber, metal, glass, fruit, vegetables, and other elements, Natalie creates arrangements like none other. "I know most of the farmers in Whatcom County because I am active in Sustainable Connections Food and Farming Program and also volunteered at the Farmers Market for two or three years at the information booth," notes Natalie. "A lot of people don't realize that there are a number of organic and sustainably-grown flower farms right here." Natalie currently does the bulk of her work from her flower studio, a remodeled part of her residence in the Columbia Neighborhood.
Natalie's also well-connected in the community and adored by her devoted social media followers. She donates her time reaching out to fellow business owners as a Chamber Ambassador for Bellingham Whatcom Chamber of Commerce and Industry and is on the board of Whatcom Women in Business (WWIB). She donates her creations at gala and awards events in support of small and female-owned business organizations including the Chamber, the Women's Professional Network, and WWIB.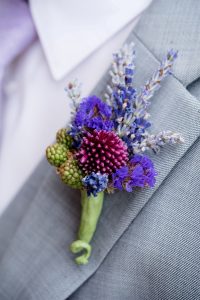 "There are so many incredible things that we can all learn from each other," shares Natalie. "My parents always instilled in me that I can do almost anything, but I know that not everyone grew up with that or has that confidence, so it's important to me to send that message that you can do anything. If you work hard, anything is possible."
Natalie also shares some of her more lasting creative work in one of her favorite local shops, The Bureau of Historical Investigation. "I sell succulent and Japanese marimo ball terrariums and occasionally succulent jewelry there," notes Natalie. "The jewelry can be worn for weeks and then potted as a house plant." Natalie also recently donated a succulent terrarium as a prize for Sustainable Connections' Think Local First Independents Month.
Another creative way that Natalie supports local business is through her social media-based Treasure Hunts. "I'll make a floral display or unique terrarium and then post a picture of it inside a local business on Instagram and Facebook. The first follower that can identify the business and pick it up gets to keep it, free of charge," explains Natalie. "It's a fun way for everyone to benefit, and I have some really dedicated, happy followers."
Natalie also donates her work in support of several Whatcom County charities including providing floral styling for events, galas, and auctions for non-profits like Lydia Place, Boys and Girls Clubs of Whatcom County, and the Alzheimer's Society of Washington. "My mother, Cindy, was a nurse and philanthropy was always a part of our life. My mom still volunteers at a hospice house in her retirement. My parents and I did Meals on Wheels together in Michigan," explains Natalie. "It delights me to be able to be charitable through my floral work. I feel like if we were all generous with each other it would be pretty wonderful."
Natalie's floral art is fresh and extraordinary, whether it's living jewelry, a bouquet, a centerpiece, arbor, or crown. She is thankful that her work is also her joy. Her efforts are helping her get closer to her own dream of one day owning her own farm right here in Whatcom County. Not unlike her childhood home, Natalie would like to grow her own flowers and food, but also do so much more. "I want a place where I can also work and continue my 'floralanthropy,' teach classes, and develop a community space that's also my home where I can invite groups to come out and learn about how things grow, how they are made, and just visit," explains Natalie. "I want to help people realize that they can do things too, they can find their own creativity."
For more information about Natalie's floral art, visit Pozie by Natalie online or contact Natalie directly by giving her a call at 360-927-1286 or by email at PozieByNatalie@gmail.com.