If you like cheese, Twin Sisters Creamery in Ferndale has a white and blue just for you. Husband and wife owners Jeff and Lindsay Slevin make about 170 wheels a week — a process that can be viewed by the public through the window of their Cheese Shop on Portal Way every Tuesday.
Open since July of 2016, Twin Sisters Creamery's Cheese Shop, located at 6202 Portal Way in Ferndale, offers between 60 and 70 varieties of cheese in two brightly lit cases, dividing local and imported cheese. "I think it's a total gift because we can invite the customers in to meet us," Lindsay says. "Right off the get-go, the community support, and the tourists and the RV park — people just coming in to check us out — has been really great."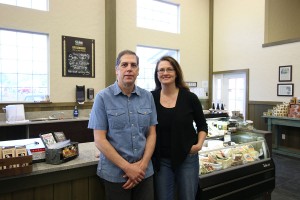 The spacious shop also provides ample room for Lindsay's cheese tasting and pairing classes where specialty cheeses can be sampled with a variety of accompanying beverages.
Lindsay's route to cheese manufacturing started with retail and distribution. "I have been in the grocery and retail industry for 18 years," she shares. "I was a food service director. One of the categories I was responsible for was cheese, and not on a specialty cheese level at all — but I really was interested in cheese."
After working for the large-scale cheese importer and distributor DPI Specialty Foods for nearly 10 years, Lindsay's passion began to grow. She was able to take a variety of internal cheese classes and programs through DPI Specialty Foods, Town and Country and Whole Foods. In 2012 Lindsay became a Certified Cheese Professional through the American Cheese Society. She then connected with Willapa Hills Farm, a diverse creamery that allowed her to do test batches. Jeff's background in manufacturing and computer programming from a system analyst perspective complemented his and Lindsay's desire to go into business making top-notch cheeses of their own.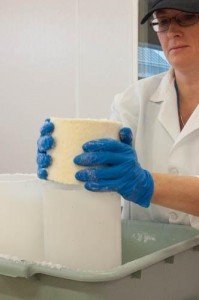 For Lindsay, the decision to make raw milk cheese came from her desire to go back to basics and the roots of cheese making. When it comes to cheese, she's somewhat of a purist. But the decision also came from being in the industry, working for an importer and knowing the safety of it. "We age for 60 days because we are a raw milk cheese producer and it does take that long to make blue 'blue,' as well to get the creaminess that we like," Lindsay says. "Raw milk cheese is a very safe product and the regulation is aging 60 days. The key to safety is the cleanliness of your facility. That's why we have the windows and that's why we have the drains that we chose and the flooring that we chose."
In addition to cleanliness, Lindsay feels safety is also in knowing the herd the milk comes from. Lindsay and Jeff specifically chose Jersey milk from Twin Brook Creamery in Lynden. Testing takes throughout several stages of the cheese making process, as soon as when the milk comes in all the way to when the cheese goes out.
The creamery's blue cheese, Whatcom Blue, is mild, approachable and creamy, though not as sharp as some blue cheeses can be known for. Lindsay shares that people who think they don't like blue cheese often end up enjoying theirs due to its creamy texture and flavor. "It's fun to see the flavor coming through in our cheese because of Larry's milk," Lindsay says "Jersey milk has a high level of butter fat to it. It's just beautiful milk and you can feel that coming all the way through the cheese and its color and its creamy texture and flavor."
Lindsay and Jeff named their creamery after their two twin daughters, Lexi and Maddy. "The twins are our daughters and they truly are our inspiration," Lindsay explains. "Spending years talking about wanting to do your own thing and then finally getting the courage to go ahead and say 'let's do it,' — they inspired us," she adds. "You want the best for your kids and you want them to follow their dreams, so we really thought the best way to show them to find true happiness and whatever they are passionate about would be to actually do it. It's kind of like leading by example."
Currently, Twin Sisters Creamery cheese can be found at the creamery's cheese shop and at area retailers including the Community Food Co-Op, Haggen and Whole Foods. Several restaurants in the area also incorporate Whatcom Blue in their menus, including Eat Restaurant in Bellingham, Drizzle in Lynden, Keenan's at the Pier, Bob's Burger and Brew at Birch Bay, Pizza'zaa and Ovn.
Twin Sisters Creamery's Cheese Shop is open Tuesday through Saturday 11:00 a.m. to 6:00 p.m. For more information about Twin Sisters Creamery, including a full list of products, upcoming classes, a mouth-watering cheese gallery and more, visit Twin Sisters Creamery online.