Karisa Stapp gave the advice little, if any, attention at the time.
Two years ago, as an incoming freshman, Stapp's father suggested she try out for Western Washington University's women's rowing team.
She had just graduated from Mount Baker High School, where she competed in both cross country and track. Her athletic skills were certainly obvious, but everything else – boats, oars, sculling – would be foreign to her.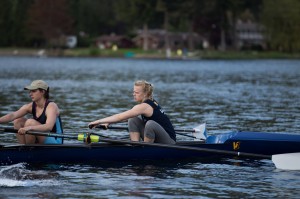 "I had no experience at all with anything like rowing," Stapp said. "I wanted to find something to keep me active and, I guess, he thought that was something I should try."
In less than two years, Stapp has made the transition from simply wanting to try something new to leading the Vikings back to the NCAA II National Championships.
This weekend, Western's women's rowing program will compete for a NCAA II National Championship for the 15th time in the past 16 seasons.
Stapp has played a large role in helping the Vikings challenge for another national crown. The sophomore was named a first-team selection to the All-WIRA team (Division II/III/Club), along with freshman coxswain Rachel Dalthorp.
The honor comes just two years after Stapp inquired about turning out for the team.
She initially figured it would be far-fetched, but what harm was there in rounding up a little more information on the program? It was that thinking that led Stapp into a conversation with Fuchs, who was named the 2016 Western Intercollegiate Rowing Association Women's Coach of the Year.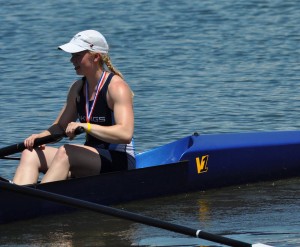 "I had a great conversation with him," Stapp said. "It was after talking with him that I was convinced I wanted to try it."
And then everything immediately clicked, right?
"That first week or so I don't think I did anything right," Stapp said about the start of her freshman season. "I had never done anything like it before. Rowing is kind of awkward when you first start."
Not long after, however, everything started to make sense for Stapp, who is one of 11 sophomores on this year's squad which features just one senior.
The young Vikings improved drastically throughout last year, but missed out on a national championship berth at season's end.  Those results fueled this season's success.
"It was disappointing (not going to the national championships last year). We didn't think about it as a streak ending because each season is so individual," Stapp said, "but it definitely served as motivation to get back here."
WWU is scheduled to race in the second heat of both the Varsity 8 and Varsity 4 race on the first day of competition. Winners of each heat advance directly to the Grand Finals on May 29, while those who fail to qualify will compete for a chance to advance on May 28.
"If everything goes our way Friday, we can take Saturday off," Stapp said. "Everyone has put in a lot of work to get to this point. Hopefully, we can start a new streak of national championships this year."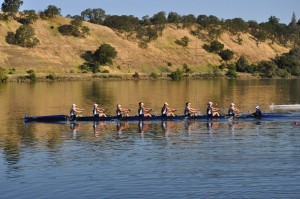 The Vikings are one of four teams selected to compete in the national championships, which will be held May 27-29 at the Sacramento State Aquatic Center in Gold River, California.
The Division II National Championships ran its inaugural event in 2002.  After seeing its streak of 14 consecutive trips to a national event, including 13 straight at the national championships, snapped last year, WWU is back following its one-year hiatus.
The Vikings are seeking their eighth national title. The program won seven consecutive national titles from 2005 to 2011 and were national runner-ups in 2002, 2003 and 2012, and finished third in 2004, 2013 and 2014.
Four teams will compete for the national championship with each team required to field one boat of eight and one boat of four rowers. Joining WWU at the event is defending national champion Barry University, University of Central Oklahoma and Mercyhurst University.
"We are excited to get back to the national competition and keep this great season going," said John Fuchs, in his 18th year as Western's head coach. "We have had nice progression since last spring and really shown steady improvement on the water. The team has worked extremely hard to get back to nationals and I am looking forward to the Vikings putting together a strong showing."
For championship information and results, including live streaming of championship racing, go to www.ncaa.com.
In a minimal amount of time, Stapp could go from newcomer to national champion. Dad, apparently, knew what he was talking about.
"He tells me all the time how right he was," Stapp said. "I guess he was."