Kids Vending Day at the Bellingham Farmers Market has been providing families and children an opportunity to see economics in action for about 15 years. Kids Vending Day occurs on the last Saturday of the month at the downtown market and on Wednesdays from June through August in Fairhaven. Kids Vending Day is a great opportunity for enterprising youngsters to learn about entrepreneurship, regardless of their chosen craft. In past seasons, kids have offered goods such as flowers, produce, jewelry, cards, and original art.
"Children can learn about profits, pricing, and selling," shares Market Director, Caprice Teske. Plus, Kids Vending Day is educational for children and parents alike, giving participants insight into what it means to run a small business at the market. "They also get an appreciation for what it takes to be at the farmers market all day long. The set up, tear down, weather, and variable crowds are all things that our vendors deal with every market day."
And kids tend to make more than a little pocket change, helping them build-up their own savings accounts to spend as they see fit — or invest back into their budding business venture. No matter how children decide to spend their money, young vendors gain a new appreciation for the value of things we purchase every day.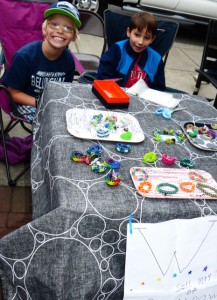 "Understanding where the products you purchase came from and what it took to get them there are valuable lessons that become hardwired when children can experience the process themselves," shared Teske. And these valuable lessons give children the confidence to become regular vendors.
"We have one jewelry maker that has been doing Kids Vending Day since she was 11, and she will graduate from high school next year," added Teske. While the Bellingham Farmers Market is hopeful that some of the kids will become the future generation of regular vendors, children can participate based on what works for them. "With vacation and sports schedules, we have a lot of kids that will only vend a couple times a season," Teske said.
You'll be amazed at the quality and creativity of the products some kids are producing, so you'll want to be sure that you bring cash with you when you stop by. But Teske encourages bringing smaller bills. "Kids often underestimate the need for lots of change!"
If you know a child who might be interested in vending, there's no need for them to pre-register for Kids Vending Day. Kids just need to arrive early — between 9:30 a.m. and 9:45 a.m. for the Saturday market, or before 11:30 a.m. for the Wednesday Market —sign in at the Information booth, pay the $5 fee, and set-up to be ready when the market opens. Kids are responsible for set-up and teardown of their booth, so they should bring everything they need, including tables, chairs and displays. Kids should also be prepared to stay until the market closes. Buskers, under 18 years old, are also welcome to entertain for free on Kids Vending Days, as long as they comply with the market rules and regulations.
Sponsored