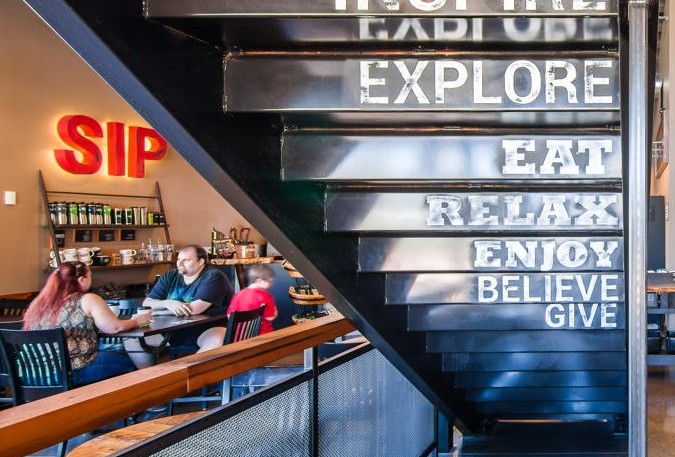 By Stacee Sledge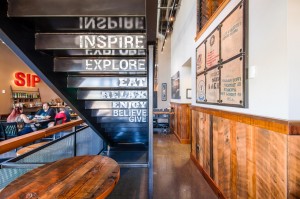 When Wes and Diane Herman began to bat around business ideas in 2001, they landed on a unique way to kick-start what would become The Woods Coffee: make it a family affair alongside their four children, who then ranged in age from 13 to 19.
"For a two-year period, I was a national sales manager for a product development company that put me in every coffee shop across the United States," says Wes, who was born in Canada and grew up in Colombia, South America, before moving to Southern California as a young adult; he and Diane moved to Whatcom County in 1993.
Wes traveled during the week and came home on weekends to his four coffee-loving teenagers.
"They were spending lots of time in coffee shops and I was experiencing the business side of it," Wes continues. "One day my wife said, 'What if we started a coffee shop?'
The Herman kids were homeschooled, so Wes suggested they use it as an educational piece and open several shops, not just one. As a team, the Herman family crafted business, branding and marketing plans. Natalie, their oldest, came up with the name.
"We had a lot of fun with it," Wes says. "We opened our first store in 2002, and the second just six months later."
The first three Woods were in Lynden, because the Hermans couldn't find a suitable retail space in Bellingham.
They learned of a viable spot at Bender Plaza, which, back in 2002, was in the middle of nowhere. "There were no houses and the park was half the size it is now," says Wes. "The location was not set up for success."
But hard work, resolve, and those solid business plans moved things forward.
Six months later, the second shop opened next to the Lynden Safeway store. "We were losing money in one store, so why not lose money in two?" Wes says, laughing.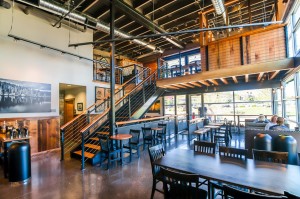 The family kept focused on the bigger picture, striving to open a number of stores in one small community to see if they could dominate it — and they did.
"Then we came to Bellingham," Wes says, smiling.
We're chatting in the downtown Flatiron location, which opened in 2009 — one of 10 stores now sprinkled across Bellingham. Walls of windows look out on the Arts District and the décor is in the same, welcoming vein of all the shops: warm woods and natural elements mixed with rustic and industrial touches — so very Pacific Northwest.
The first Bellingham store was on King Street, near the I-5 State Street exit, followed by a fifth in Bakerview Square. The sixth location, in Boulevard Park, is assumed by many to be the first, since it quickly became an even stronger magnet drawing people to the already popular waterfront area.
"It's been called one of the finest coffee shops in the world, because of its location," says Wes. If you've been there, you can see why, with its stunning views of the islands — and an equally lovely interior.
Taylor Herman, who works with his dad on the interior design of every Woods location, perfectly connected the inside with the out, bringing in natural elements. A favorite spot is the see-through fireplace overlooking the water.
There are now two Woods Coffees in Skagit County, as well, with stores currently in the works in Snohomish County and Canada.
Aggressive expansion was the plan from day one. "We could be from Canada all the way to Mexico, no problem," Wes says.
The Woods remains a full-on family project, with three of Wes and Diane's children still involved. Daughter Kelly heads up day-to-day operations, while Natalie works part-time in community outreach. Taylor designs and builds the stores, as well as sources all products. The Woods employs 220 locals through its shops, roasting facility, bakery and distribution positions.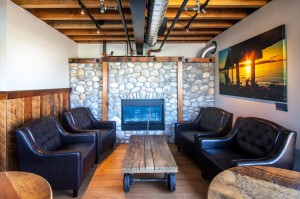 Diane Herman has a once a week route — along with her 83-year-old father Robert — picking up Bagelry bagels and delivering them to the shops. "She's also a support to our kids, because we have six grandchildren now."
Baked goods are made from scratch daily at the Woods' own bakery and coffee beans are roasted  on-site at its Lynden roastery. Once a day, a truck hits all 17 sites to deliver everything.
"We're selling the entire experience," says Wes, "from fresh bakery items and the freshest coffee you can possibly get, to the welcoming environment."
The Woods strives to treat everyone as a guest, not a customer. "We're inviting them into our space and are taking care of them," says Wes. "We want them to experience something that's unique."
The upcoming move into Canada is big news for the Woods, but that's not all they have in motion.
"We're going to bring a new coffee experience here to Bellingham," Wes says. "We're moving our roasting facility here and will open it to the public, a lot like a microbrewery."
At several locations, small areas are set aside for casual, closed-off meeting space. "It's free," says Wes. "Anyone can sign up and just use it as a community space. It's all about connecting the community."
Spinning into a related story, Wes describes the experience of leasing a Birch Bay building that Starbucks backed out of before completion.
"When we got the plans, we saw they had it designed for just 16 seats," says Wes. "They don't want people staying; they want constant turnover. We adjusted that to 40 seats. We want the Woods to be a place where people come and enjoy. I mean, isn't a coffee shop where people want to meet and connect?"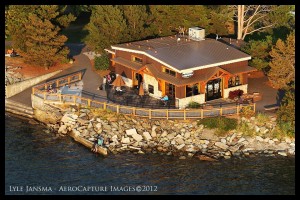 Wes is often asked if it bothers him when a patron sits at a table for hours on end. "We have no problem with that," he says. "We want our stores to be full and serve our guests."
People also often ask how large he wants the Woods to grow.
"We don't have any numbers in mind, but it wouldn't surprise me if we have a hundred stores. And now it's at a place where we're building a sustainable model and can fund everything we're doing as we want to do it."
Clearly, the Woods hopes for continued caffeinated domination — and the next generation already has their eyes on careers in coffee.
"All of my grandkids talk to me about when they'll work at the Woods Coffee," Wes says, smiling. "We work together and see each other all the time, we travel together — and we all like each other." It's no wonder the next generation already dreams of joining in.