By Marla Bronstein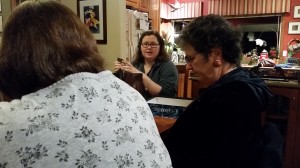 On any given Sunday evening in Bellingham, Rudy's Pizza on State Street plays host to the group Bellingham Gaming Meetup (BGM), where anywhere from 10 to 30 gamers will show up. I arrived shortly after the 6:00 p.m. start time. Five different groups of four to seven people were already playing card and board games, none of which I recognized or had ever played before. Enthralled in the games before them, I didn't see a single cell phone in sight during the event.
I was there at the invitation of Beth Sobel, a local Bellingham artist and game illustrator.
Beth is an enigma to me as both a gamer and an artist. She and her college-sweetheart-turned-husband, Daniel, settled in Bellingham settled in Bellingham about 10 years ago. Beth has her MFA in painting from Savannah College of Art and Design, with a focus in oil painting. After growing up in Bristol, a small town in the Appalachians, Beth lived all over the country. Beth says she didn't have a lot of toys growing up. "I only wanted crayons," she says. Luckily, there were always crayons, and drawing and coloring came second nature. As a child, Beth played games like "Monopoly," but she wasn't introduced to hobby games until about five years ago.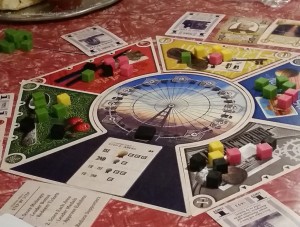 After receiving her MFA, Beth became an oil painter. But she didn't like the business side of being an artist, which included marketing herself or being the center of attention — both major stumbling blocks to selling her work. She found lucrative work in Arizona doing custom framing, which helped pay the bills while Daniel was finishing law school. Unfortunately, she was forced to give up her job after contracting Valley Fever, a fungal infection caused in part by the Southwest desert dust.
To help manage Beth's condition, the couple decided to move. Daniel had previously lived in Bellingham and loved it. Daniel prepared for the Washington Bar Exam, but Beth was unable to work a regular 9:00 a.m. to 5:00 p.m., so she began to brainstorm careers that she could do physically and enjoy. She decided on illustration because she says it was "all the parts of art that I really love, and none of the parts that I'm not comfortable with."
Beth didn't set out to become a game illustrator, but her new path quickly led her there. After illustrating a book cover for a friend, the friend recommended her work to a game designer. Beth had never illustrated a game in her life, but after her first project — a card game called "Chaos and Alchemy" — it was clear that she had found her niche.
Soon after "Chaos and Alchemy," Beth's picked up her first board game assignment: "Viticulture." Both "Chaos and Alchemy" and "Viticulture" became successful sellers, skyrocketing Beth's career. "Art careers are not easy to find," says Beth. But talent, hard work and determination have landed the Bellingham artist right where she wants to be.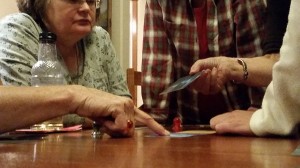 Today, Beth is most widely known for her work on the game "Lanterns: the Harvest Festival," a recipient of the Mensa Select Award. Wil Wheaton, host of the popular gaming show "TableTop," has admitted his love of Lanterns and has even been featured playing it on "GameTheGame."
Since her first assignment, Beth has built an impressive portfolio, which includes her work on "Between Two Cities," "Snow Tails," and several Living Card Games and Role Playing Games like "Legend of the Five Rings," "Lord of the Rings LCG," "Firefly RPG," and "Star Wars RPG." Beth is currently working on the illustrations for for Foxtrot Games' "World's Fair 1893" card game. The company recently completed a Kickstarter campaign to fund the project. It raised just over four times its goal.
Today, hobby games are obviously a big part of the Bellingham artist's life. But she doesn't just provide illustrations for the games — she enjoys playing them, too. As a self professed gamer, Beth feels fortunate to have found a way to combine her love of art and games. Beth and Daniel are currently working together on a game called "Wildwood," a two-player/two-team card game. Daniel is the game designer and Beth is the illustrator. Friends who have tested the games have already given feedback and suggestions, and now the game is available for pubic comments through the couple's "Wildwood" Facebook page.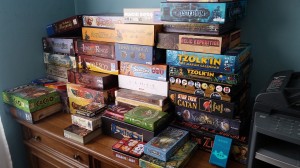 A successful game illustrator, Beth continues to train and further develop her skills. One way she does this is through "one hour studies," a one-hour block of time she sets aside each day to start and finish a project. Beth uses photos she takes herself as well as images she finds on Creative Commons as her guide. Once the hour is up and the illustration is completed, she publishes it online. The practice allows her to push her boundaries in another direction. Beth feels she is continuing to grow as an artist and notices her improvement. She finds value in sharing the best work that she can do in an hour and hopes that she inspires others who might be willing to show what they can do, even if it might not be perfect.
Spending time with Beth and her gaming friends was inspirational, and it made the idea of a hosting my own game party less daunting. Beth loaned me a trivia card game that I played with a few friends later that evening. We all had a great time. And no one pulled out their cell phones once.