First things first: let's clarify the name of downtown Bellingham's Garys' Men's and Women's Wear.
"When we started Garys', we had another partner, whose name was also Gary," explains Barb Lupo, who co-owns the specialty retail clothing store with her husband Gary Lupo. "There were two Garys, hence the spelling."
In the store's tenth year, in 1988, the environment downtown began to change as the Guide pulled major stores away. "To remain viable we had to add women's clothing," says Barb.
"Our partner at the time didn't want to make that investment," she continues, "so we bought him out, blew through the wall, and started our women's collection."
The well-established name stayed.
Garys' has always been at the bustling corner of Holly and Commercial Streets, its windows reflecting the fantastic city outside and the fashionable delights inside.
"I was born and raised here and Gary came to attend WWU," says Barb. "We both loved retail and were working for the same organization as buyers and department managers — him for men's and me for women's."
The couple worked there for over a decade and was married before launching Garys' in October 1978.
"We were the eighth independent men's clothing store [downtown] at the time, but we felt we had a different take," Barb says. "Ours was a bit younger and more modern."
The couple jumped in with many years of experience and an attitude of "let's give it a try."
"And, well, that was 38 years ago," Barb says with a laugh.
Back in Garys' early days, business owners didn't craft mission statements, but the ethos has remained the same from the start: offer modern fashion, great style and unparalleled service in a retail environment that focused on listening to the customer.
They still ask the same questions today when traveling to trade shows in Los Angeles and New York, curating the store's selection: Would our customers wear this? Where would they wear it? How will they wear it?
Browsing through Garys' is a quite different experience from one you often find at a mall or chain store.
"We are a downtown kind of business," Barb says proudly. "This is a specialty retail environment. You can come in, be comfortable, feel like you're in a friendly place, and just look around.
It's the polar opposite of a corporate-owned store, which usually involves a space crammed full of merchandise alongside a self-serve, meet-you-at-the-register vibe.
"Our customers like to walk around downtown and be entertained; go to the movies or the museum a good restaurant — and shop specialty stores," Barb continues. "They are not looking to just grab something and put it in a bag."
Customer service has always been important to the Lupos. "It's not a difficult thing to learn, but it can be a challenge to sustain," says Barb. "It's a constant topic of conversation among our staff."
The store's biggest competitors are outside of Whatcom County — mainly in the Seattle area, where other specialty stores might carry similar lines.
"But we choose from them differently," says Barb. "You can come in and see a whole collection from VINCE sportswear for women — and many stores carry VINCE in Seattle — but we choose pieces that suit where we are, what our market will support in terms of style and value."
"Our customers like clothing, they pay attention to fashion," she continues. "They also want really good service."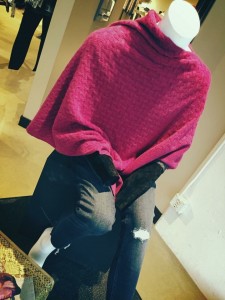 On the flip side, new customers often pop in looking for a simple dress shirt or just a tie. "They have heard that we have great customer service and know we'll listen and lead them in the right direction," says Barb. "We love that!"
The store currently has a rotating staff of seven, including store manager Brianne Trafton, who has been with Garys' for many years.
"At this point in our store's history, the person who's been with us the longest has been here for 15 years. We have had a terrific group of WWU students that have stayed with Garys' through their university years, and until recently a woman who was part of Garys' for 20 years."
That says a lot about a company.
Barb and Brianne travel to Los Angeles and New York several times a year to buy women's clothing for the store and Gary travels to trade shows twice a year to do the same for men's. Their passion for the industry remains — and it shows in the merchandising and layout of their sophisticated, original store.
The Lupos have purposely extended the store's environment through the plate-glass windows that line the space and welcome passersby.
"We spend a fair amount of our marketing dollars toward window themes, materials and installation," says Barb. Garys' has worked for 20 years with Blair Hunt Designs to create imaginative window displays.
"He does a killer job at interpreting our ideas and his own," she says. "We also have a great new graphic artist on staff and she helps pull things together."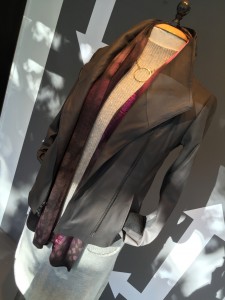 Like so many local Whatcom County businesses, Garys' strives to give back to the community.
"We focus our community efforts on half a dozen fundraisers each year," says Barb. Regular events include Glassybaby shows, and "sip and shop" opportunities, which offer a private after-hours shopping event with wine and nibbles for two dozen ticket holders. A percentage of all proceeds goes toward local organizations such as Whatcom Center for Early Learning, Agape House, the Cancer Center, Hospice, and many more.
Garys' throws a big fashion show every year, donating the ticket price to a local organization in need, plus 10 percent of sales from the popular event.
"I can safely say that we have raised more than $40,000 over the past 15 years, from the fashion show alone," says Barb.
When asked what her favorite thing about owning and operating Garys' has been, Barb takes a long, thoughtful pause.
"It has provided us an opportunity to stay where we love, raise our family, and do what we love, in a community that has been super supportive of what we do," she says.
And, at the end of the day, Barb and Gary both still get an immense feeling of fulfillment from serving customers.
"Helping someone who knows exactly what they want can really be fun, but helping someone who comes to you and doesn't know what to wear to a special event? Working through that with them is very satisfying, particularly when you see that they're satisfied."
Garys' Men's and Women's Wear
128 W. Holly Street
Bellingham WA 98225
360-733-2180