Sure, you can spend hours on Pinterest and risk feeling overwhelmed and underequipped to throw a fantastic at-home birthday party. But why not leave it to the plethora of awesome party places throughout Bellingham to do all the heavy lifting? There's something to make every child smile on his or her special day.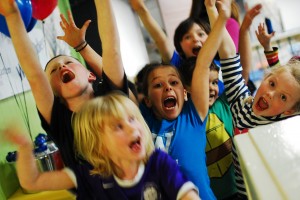 Pool Party and/or Climbing Wall
The downtown YMCA offers two options for birthday pool parties¾the small pool or the large¾and also includes a party room for out-of-water festivities.
Is your little one more interested in scaling the Y's impressive climbing wall? Book a private party, complete with instructors to provide instruction and belaying. The Y sets kids up with harnesses and gear; rental shoes are available for an additional cost. For an extra fee, you can send guests home with goodies bags holding a carabiner and t-shirt.
If you'd like to combine a pool party with the climbing wall experience, look no further than Western's Wade King Student Recreation Center, which offers a party package that includes one hour in the pool and another on the climbing wall.
Another pool party option is Arne Hanna Aquatic Center, which delights the little ones with its beach-entry pool and amazing 135-foot slide.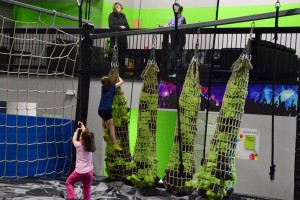 For a different rock climbing option – and a place that offers bouldering-only climbing, which can be more straightforward for younger kids – head to Vital Climbing Gym. Their party package includes two hours of climbing, rental shoes, a party space – complete with party host to help you out – and much more.
Getting Every Last Wiggle Out
Sometimes the best parties are those where the kids can simply jump, move, dance and explore.
Trampoline Zone offers wall-to-wall bouncing in a wide-open leaping wonderland with different areas that include dodge ball, climbing, basketball, a foam pit, and more. Party packages include two hours of jump time, a party room, water bottles for the sure-to-be-parched partygoers, plus a party host to help out.
Perch & Play is perfect-o for the younger kids who want to be free to run around and explore the lovely indoor playground. Party options run from basic to deluxe to exclusive (giving you run of the entire playful place), and range from 90 minutes of play to 120. Each option includes a festively decorated private party room, dedicated host, a craft or game, and much more.
Sporty Parties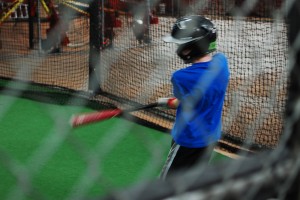 Soccer, baseball, gymnastics and more – if your kid likes sports, there's a party option that's right up their alley in Bellingham (bowling or not).
One of my son's favorite birthday parties took place at Inside Pitch, where he and a few buddies took batting practice in the cages, and then played a rousing game of dodge ball. An upstairs party room was ideal for pizza and cake before they grabbed their helmets, bats, and buckets of balls to get in a few more whacks. Check out Inside Pitch's variety of party packages (and extras, like baseballs and mini wood bats for autograph sessions) here.
The Bellingham Sportsplex offers a multi-use sports facility where kids can have parties centered around ice-skating, field games (soccer, football, dodge ball – you name it), or a bouncy castle. You can also combine a field games party with concurrent bouncing. Learn more here.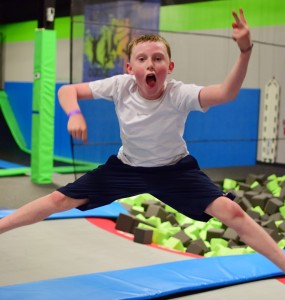 Want a gymnastics party? My kids have both had blasts attending parties at North Coast Gymnastics Academy, Bellingham Bay Gymnastics, and Gym Star Sports Center just up the road in Ferndale.
Bellingham Athletic Club offers a variety of activities (from party games to dodge ball) and takes care of everything from decorating to clean up. Learn more here.
Yes, I made a cringe-worthy bowling pun earlier in this article – please forgive me. Bowling is always a hit, and Bellingham offers two fun options at downtown's 20th Century Bowl and Park Bowl on Meridian. Learn all about 20th Century Bowl's parties here and Park Bowl's options here.
Artsy Parties
When I recently picked up my daughter from a celebration at Gabriel's Art Kids, her face had been gorgeously painted and she was happily dancing around the room, dressed up as a fire-breathing dragon. The two-hour party included painting and drawing, which took place both indoors and outside. Peruse all the different party options here.
The Birthday Boy or Girl can choose from a variety of party packages at Whatcom Museum's Family Interactive Gallery, all of which include time in the colorful, hands-on museum plus the shared combination party room/art studio. Look through all the options here.
Launching Success has been selling fantastic, inventive educational gifts to Whatcom County since 2003, so they know what kids like. A birthday party at Launching Success can have nearly any theme you dream up, including bugs, robots, dinosaurs, crafts, authors (think Eric Carle or Dr. Seuss), and more. Learn more here.
Something A Bit Different
Renaissance Adventures brings an imaginative party theme to you, including storytelling, an engaging adventure quest, sword games, and treasure hunts. Name the location, and they'll show up in costume with a party customized to any child (or adult!). Learn more about this creative program's party options here.
Whether you're child loves sports, dress-up, art or non-stop go-go-go, there's a Bellingham party venue just waiting to help you create a memorable birthday party for them. I couldn't list every option in town, so please share any favorites I missed at submit@whatcomtalk.com.