By Stacee Sledge
Creativity abounds for the window dressers dreaming up and crafting displays in several spectacular Bellingham spots: Greenhouse, ModSock and Mi Shoes, just to name a few.
WhatcomTalk spoke to the folks behind some of our area's most memorable windows, as well as a local woman who was inspired to change her career focus after a stint working on HGTV.
Greenhouse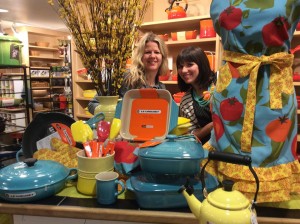 With a fine art background and experience at Mikasa and Restoration Hardware, Carmen VanderWerff has been in visual merchandising for nearly 18 years – much of that time working for Greenhouse owners Chris Foss and Foster Rose.
"Chris always has a vision for each season as far as product and color and how that plays out in the store," says VanderWerff. "She's so great at finding the balance between what's trending and basic, everyday items. I just run with her vision."
VanderWerff enjoys a lot of creative freedom when working on Greenhouse displays.
"I love to take core household items and crank them up a notch by layering in the fresh new seasonal product," says VanderWerff. "Most people can't afford to redecorate every season, but by adding a pop of a new trending color you can freshen up your space."
Inspiring the customer inspires VanderWerff, whose favorite displays are those that people tell her are inviting enough to want to climb into.
"That, to me, is the best compliment ever," she says. "We are a team here at Greenhouse and hopefully, if we've done our job, you'll want to move in."
Part of that team now includes Sam Stephens, who collaborated with VanderWerff to recently win Greenhouse another Le Creuset Best Holiday Display national contest.
"Le Creuset is a large focal point in our gourmet department," says VanderWerff. "When you walk in, you're greeted by this happy color pallet – which helps when coming up with creative ideas for a larger display and the windows."
ModSock
ModSock owner Urania Shaklee and her team create window displays that are an extension of the shopping experience – conveying a vibrant and welcoming feel.
"We have a lot of window to work with, so we tend to get creative when it comes to filling the space," says Shaklee. "I've always had a passion for visual expression and design, and the windows are a good outlet for that."
Inspiration comes from all directions. ModSock's Christmas window started with an employee's suggestion that they make a leg lamp à la "A Christmas Story." The resulting window display included a dozen leg lamps aglow, using lighting kits Shaklee's husband put together from components found at Hardware Sales.
"I collected a variety of lampshades from local thrift stores and we added various trims, like fringe and lace, to achieve the appropriate level of kitsch and give each one personality," she continues. They stenciled "Fragile" and "This End Up" on cardboard boxes to resemble the box in which the movie's iconic leg lamp was delivered and used those as risers for the leg lamps themselves.
"Once the idea for the theme is there, I like to take it over the top," Shaklee says.
One favorite window display, from last fall, took months to complete.
"We had an underwater-themed display," Shaklee says. "One of my employees, Andrea, made the key component – a giant squid that could be dressed with five pairs of socks – and discovered a way to turn garbage bags into very realistic seaweed."
Shaklee fashioned giant jellyfish using paper lanterns and ribbons and gathered stuffed individual socks at one end to form fish.
"To recreate the look of coral and barnacles, we attached hundreds of coffee filters to the platforms we use to elevate product in the windows," she continues. "I really love using commonly found items in such an unexpected way that it changes how they are perceived."
Mi Shoes
Mi Shoes owner Michelle Millar has designed and created the window displays in her Railroad Avenue shop for more than a dozen years – but shares creative control with her employees.
"It's a collaborative effort," she says.
Millar doesn't know where her knack for window design came from, but clearly has a natural eye for it. "I'm not saying there wasn't a learning curve," she says with a laugh. "I've had a few very wise teachers along the way."
The MiShoes team finds inspiration in the seasons, trends, current events, and travel. "Colors inspire me," Millar says. "And collaborating with my staff is very helpful. They're full of new ideas and fresh inspiration."
One of her favorite window displays was a springtime design that conveyed the freshness of the season.
"Everything is green and new, coming out of a long winter's sleep," she says. Millar took dozens of little crystals (leftovers from the store's giant chandeliers) and tied them up over the window with fishing line to look like it was raining in the window.
"I put artificial grass and some fun spring heels under a little umbrella," she says. "It was magical."
Valarie Billings-Swayne
Valarie Billings-Swayne designs windows for several Bellingham shops, including 12th Street Shoes and Belle Flora. Her company, Boutique-Boost.com, also works with stores in the greater Seattle area.
After a decade-long career as a decorative painter and designer in Texas, Billings-Swayne landed a gig on the set of HGTV'd in Austin, where her tastes moved toward a more commercial style.
"About three years ago I moved back to Bellingham, my hometown, and it was the perfect chance to change the direction of my work to focus on store windows and merchandising," she says.
Billings-Swayne says window merchandising is a chance to tell people passing by what a business is all about. "Something clean and eye catching will draw attention and bring in foot traffic," she says. "A front window is also an ideal place to spotlight new items."
She, too, is inspired by the seasons. "I also like to use recycled and up-cycled items; it's fun to dream up new ways of repurposing old materials."
A favorite window that Billings-Swayne created was Belle Flora's bridal window last year. If you saw it, you remember: it was a striking design with a three-dimensional horse and bride made of moss, the wedding dress fabric and flowers cascading down.
The next time you stroll through downtown Bellingham, take a moment to search out a few of the many fabulous window displays on offer – you won't be disappointed.
Greenhouse
1235 Cornwall Avenue in downtown Bellingham
360.676.1161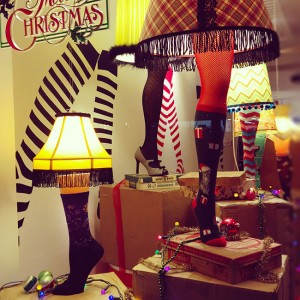 ModSock
1323 Cornwall Avenue in downtown Bellingham
360.778.2532
MiShoes
1315 Railroad Avenue in downtown Bellingham
360.715.2046
Boutique-Boost
www.facebook.com/BoutiqueBoostStaging