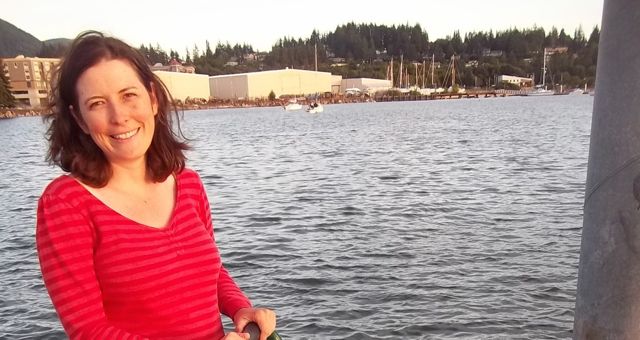 By Stacee Sledge
When Christen Mattix began her project "For Longing" on May 1, 2012, she couldn't know how long it would take to complete or how it would change her and those who followed its progress. 
"I really expected it would take me a month," she says, "or three months, at the most."
The idea sounded simple: Sit for at least an hour each day on a former bus stop bench at 16th Street and Taylor on Bellingham's South Hill and knit a blue rope of yarn down to the bay. (Read all about the project and how Mattix dreamed it up in this previous WhatcomTalk interview.)
"I look back over my journal entries from May 2012 and I just laugh because they're so ludicrous," she says, laughing. "I was so naïve!"
And yet, over four summers spent knitting on the bench (Mattix generally knit each year from May to November, until the weather grew too wet and cold), her commitment to the endeavor never wavered—in fact, she found deeper meaning the longer it continued.
"It was like the knitting provided this basic plotline for the rest of the story that was unfolding," she says. That wider story became her connections with neighbors and passersby through spontaneous social interaction—something that didn't initially come easily to Mattix, an admitted introvert.
The knitting ended on the evening of Thursday, July 16, 2015, three years and two-and-a-half months after it began—though Mattix didn't realize it when she sat down on the bench that evening. "I just had this itch to know how far I'd gotten, so I decided to unwind it," she says.
Mattix unfurled the rope from its hose reel at the top of the hill and guided it straight down to the bay, as she'd done periodically for so long. This time, the rope stretched all the way down to the floating dock.
"I just kept having more and more line on my hose reel and I couldn't believe it," she says, smiling at the memory. "Lo and behold, I was done."
In retrospect, Mattix felt it was the perfect night for finishing the knit. "It was the first night for crab season," she says of the busy scene down on Taylor Dock. "There were so many people out walking and enjoying the evening, and many asked what I was doing. The energy was fantastic."
Finally finishing the knitting project brought on a mix of emotions. "I was so happy when I finished, I was glowing," Mattix says. "And then I was just like, 'Oh, wait—I'm done.'"
This doesn't mean the end of the project.
"I don't really think of it as being finished," says Mattix, who is now mulling a book or art installation. "I have a feeling the work has just begun. To have closure, I have to find a way to share the experience with others so that it spreads and continues to have a positive impact." 
For Mattix, the project was about making connections—knitting as a metaphor for community, among other things. "Art always has more than one meaning," she says.
The key for Mattix, rather than the act of physically knitting, was the knitting of the neighborhood.
"The whole project was really about showing up and being vulnerable," she says. "And I did that at the bench, but also on the blog, where I wrote about my day and what I was thinking and feeling. That was really new for me."
In fact, Mattix met her boyfriend John through the "For Longing" project.
"He started following my blog 11 months ago, and sent me an email to ask if he could meet me at the bench," she says. "He's been really instrumental and so supportive. People respond when you have an open heart. It's incredible."
What's next for Mattix?
"I realized through this project that my passion is connecting with the community through my art," she says. To that end, Mattix is currently working on a two-person painting project with a nonverbal woman who has Down syndrome and autism, along with her two caregivers.
"It's very collaborative," Mattix says of the process. "The caregivers are helping her paint and we're selecting the painting titles together."
The group is coming together for a common purpose: "We're raising money to buy her a service dog, because hers died a few months ago." They hope to raise enough funds to get a dog through Brigadoon Service Dogs.
"Bringing together people of all different backgrounds around art and getting them to communicate with and enjoy each other—that's what floats my boat," Mattix says. "The genre or medium doesn't really matter."