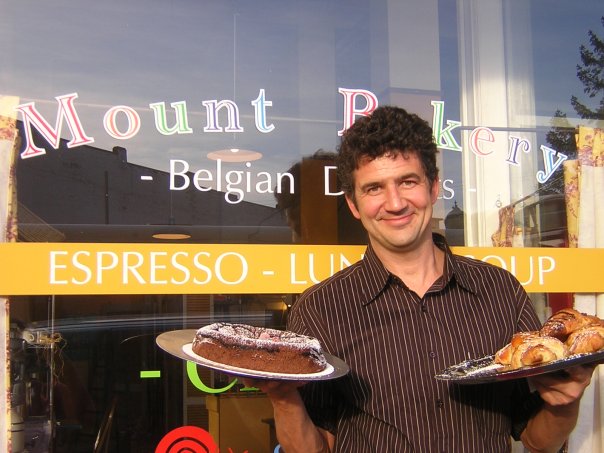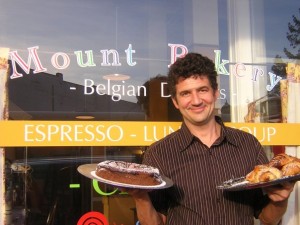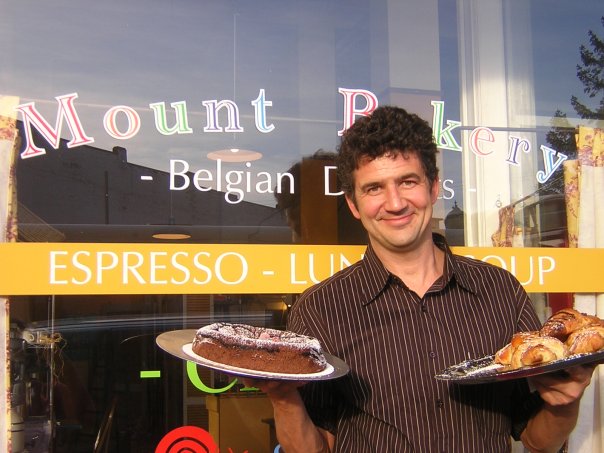 Current Mount Bakery owner Vince Lalonde came to the business in a roundabout way.
His family has been in Bellingham for six generations, but he grew up in Seattle; Lalonde moved to Bellingham in 1998 to take care of his ailing grandfather. He was (and still is) an artist, and originally kept an art studio upstairs at what is now Pickford Film Center.
"I was kind of a ne'er do well," he says with a smile. "I used to sometimes sleep in my art studio, after my grandfather passed away, and I'd get up at 6:30 a.m. and go to the Old Town to play guitar for my breakfast."
A friend who spoke French—and knew that Lalonde also spoke a bit of French—told him, "We're going to go speak French with this Belgian guy." The Belgian in question was Olivier Vrambout, who established Mount Bakery with his mother in 2000 in a small space on Champion Street, offering coffee and a few baked goods.
"He was unmatched," Lalonde say of Vrambout, with obvious affection for both the man and his culinary creations. "We became friends."
While Lalonde figured out his next move, he visited the bakery regularly, often offering to give Olivier and his wife a break from wrangling their toddler daughter while they worked.
"He'd say, 'Yes, I'll give you a sandwich.' Or, 'Wash the dishes; I'll give you a sandwich.' Eventually, he said, 'Why don't you just come work for me?'" Lalonde recounts.
Lalonde became the first non-family employee of the Mount Bakery on 2001. As the shop grew with more employees and an expanded menu (and space), so did Lalonde's responsibilities. In 2006, he became manager. In 2007, when Vrambout moved away from Bellingham, it simply made sense that Lalonde take over the business.
"I saw my job as maintaining relationships and the community—and to make it the best place to work," he says. "We've always had a really great group of people—they're so talented."
Lalonde has long likened taking over Mount Bakery to inheriting a big boat made by someone who knew a lot about some parts of boats.
"It's falling apart while you're moving, but you're finding people who can repair it," he says, waving his hands animatedly. "People are swimming up and asking, 'Can I get on the boat?' And every once in awhile you're like, 'I'm sorry, it's not working, you have to get off the boat.'"
Lalonde is the first to admit it's been steep learning curve—and he's still figuring some things out as he goes. But it's clear he's done a lot right, as business at Mount Bakery continues to climb, even after opening a second bakery in Fairhaven in 2011, which expand to a full café in 2016.
"It's a testimony to our great bakers, cooks and staff," he says. "The bakers were so good that for months after Olivier moved, people would say, 'Olivier must have made these!'"
Lalonde's favorite item on the menu is Crepos Rancheros, Mount Bakery's version of huevos rancheros, made with crepes, poached eggs, black beans, red onion, bell pepper, cheddar, and enchilada sauce.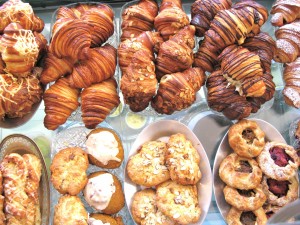 A favorite dish of downtown Mount Bakery general manager Morgan Peters is the Portobello Eggs Benedict. "We take whole Portobello mushrooms and marinate them in roasted garlic and balsamic reduction and then we roast them," she explains. "A lot of labor goes into it and the result is a nice marriage of the vinegar flavor with the hollandaise sauce."
Peters also loves the Mount Bakery's array of sandwich options.
"I love any of our sandwiches because I think our bread is really great," she says. "A lot of people don't know that we bake our own bread, because we don't sell it."
Both Lalonde and Peters feel fortunate that business continues to increase—even when it means weekend shifts come with more crowd control duties.
"When I first started managing, we had one or two coffee carafes up front," says Peters. "Now we have five. We're so thankful that people keep coming back. We work at such a fast pace and serve so many people on a weekend. I'm just really proud of our team."
Morgan was originally the general manager for both shops, having worked her way up from prep baker and through nearly every position. Now, Fairhaven's Mount Bakery is set to expand into what used to be Trek Video next door and Baltina Hong manages that shop.
Lack of space and ever-increasing output of amazing baked goods and meals prompted the Fairhaven expansion. All Mount Bakery baking is done there.
"We were so crowded downtown that I joked that our walk-in turned into the look-in, because you couldn't get in there," Lalonde says.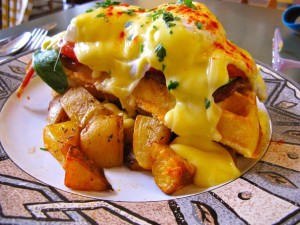 Before Fairhaven opened up, the downtown kitchen was shared by bakers trying to create gigantic amounts of pastries while cooks prepared enormous quantities of potatoes. Something had to give.
'We didn't miss a beat when we opened in Fairhaven," Lalonde says of the 2011 expansion. "And it actually made downtown busier, because we had more room and more of everything."
The goal at the soon-to-be-bigger Fairhaven bakery is to do exactly like downtown: serve delicious breakfasts and lunches to happy patrons, as well as top-of-the-line pastries, cookies, cakes and more. "The expanded Fairhaven space will be twice as big as downtown," Lalonde says.
"Our business continues to increase exponentially," Peters adds. "There's a bit of playing catch-up all the time, trying to keep up—but we couldn't be happier. Everyone here wants to work at a super successful place and keep putting out great food and giving great service."
Ask Peters what makes the bakery and eatery so special, and she gets straight to it: "Our food is amazing. It's certainly rich and has a comfort food feel; people know it's going to be consistent every time."
Chalk that up to Mount Bakery using only the highest-quality ingredients—and making absolutely everything from scratch. "It's a ton of work for our employees," says Peters, "but that's one of the reasons they work here, because the food is so good."
From roasting their own peppers to making their own salad dressings, Mount Bakery's offerings are in a league of their own.
Like Lalonde, Peters is also quick to credit the amazing team of 28 Mount Bakery employees with making the eatery stand out.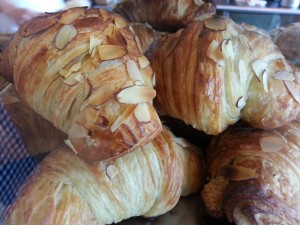 "We have a lot of long-term employees for the restaurant business, so it has that family feel," she says. "We're all in this to keep doing bigger and better things. I think customers recognize that and it keeps them coming back."
Well, that—and the amazing croissants, cookies, cakes, breakfast dishes, sandwiches, crepes, and much, much more.
308C W. Champion Street in Bellingham
1217 Harris Avenue in Fairhaven
Both locations are open 7 days a week from 8:00 a.m. – 3:30 p.m.
Follow The Mount Bakery on Facebook.