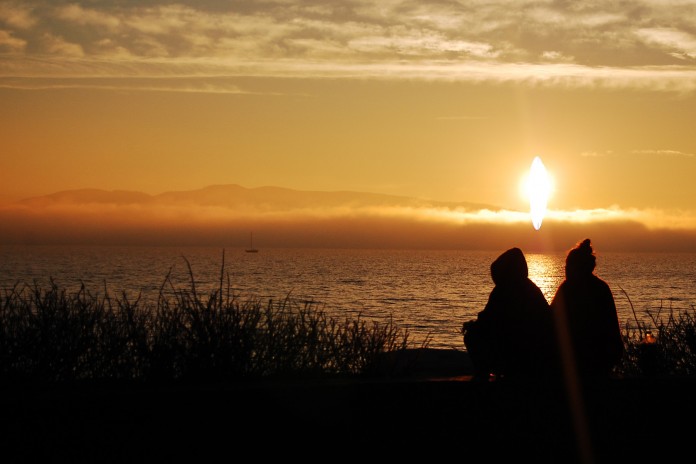 Some of the most popular and widely shared posts on our WhatcomTalk Facebook page are of searing sunsets slowly dropping down below Bellingham Bay. (Follow us to not miss a single image.)
Our Editor and Community Manager, Stacee Sledge, snaps nearly all of them and has a knack for capturing spectacular shots of our area's striking scenery.
"I always tell people that it's easy to take gorgeous pictures when you live in such a beautiful place," Sledge says.
Some of Sledge's favorite locations for sunset shots include Zuanich Point Park, Marine Park, and overlooking the ever-popular Taylor Dock (preferably taken while enjoying a meal or cocktail on the patio at Keenan's at the Pier).
WhatcomTalk recently spoke with Western Washington University student and talented photographer Shelby Payne—of Shelby Payne Photography—about her love of sunset photography.
"Sunset-chasing has been a hobby of mine for many years," she says. "I can't think of a better way to relax and unwind from the day than watching the sky paint a stunning picture. And the best part? It's constantly changing. No moment or sunset is the exact same."
Read on to learn some of Payne's favorite areas for enjoying—and capturing—our dazzling sunsets.
Clark's Point
Payne calls Clark's Point a hidden gem, tucked away behind Fairhaven Middle School.
"It's a wee bit difficult to find, but the views do not disappoint," she says.
Situated on a tall rock cliff that showcases views of the San Juan Islands and beautiful Bellingham Bay, Clark's Point is where you'll often find Payne setting up a hammock and quietly reading a book.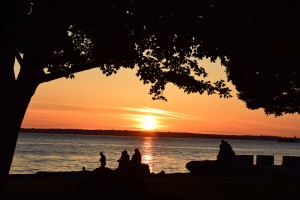 "It's much quieter than nearby Larrabee State Park," she says, "which is also amazing."
Table Mountain & Artist Point Trail
Clark's Point offers awesome views of the bay, while another Payne favorite—Table Mountain—gives gorgeous vistas of the North Cascades.
"Mount Baker and Mount Shuksan pierce the skyline and it's like you can reach out and touch them," she says. "Although Table Mountain is quite a drive from Bellingham, I highly suggest taking an afternoon to explore Mount Baker wilderness, and then finish the evening with a mile-and-a-half hike to the top of Table Mountain to watch the sun descend into the horizon."
Boulevard Park
A local favorite with easy access, Payne likes Boulevard Park because of its proximity to downtown Bellingham and Fairhaven.
"Boulevard has sandy areas to sit while you watch the sunset or, if you have little ones, they can play on the toys while you gaze," says Payne.
"If you want to stick to somewhere nearby, but without the crowds," she continues, "I recommend Marine Park, Cornwall Beach, or Squalicum Beach."
Locust Beach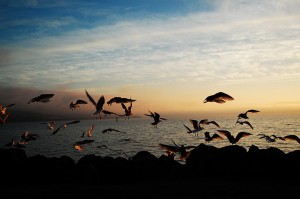 Watching the sunset from Locust Beach is amazing in its own right, according to Payne. "But why not watch other things happen, too?" she says with a laugh. "Locust Bach is a favorite spot for skim boarders and kite boarders—and if you're lucky you'll get a show."
No need for a fancy camera
While Payne loves to shoot with her DSLR camera, her favorite tool for taking sunset shots is her iPhone.
"It's easy, fast, light—and I can share the sights instantly," she says. "Bellingham sunsets are so amazing that fancy cameras aren't necessary; I simply snap with my phone and call it good."
A couple more tips from Payne: If you have a smartphone, try using the panorama setting. She's also a fan of GoPro cameras: "The wide angle seems to capture the whole sky."
Follow Payne's spectacular Instagram feed for awe-inspiring and inspirational shots of Bellingham, the Pacific Northwest, her world travels, and much more.
Please share with us some of your sunset images and favorite spots for watching the sunset at submit@whatcomtalk.com.