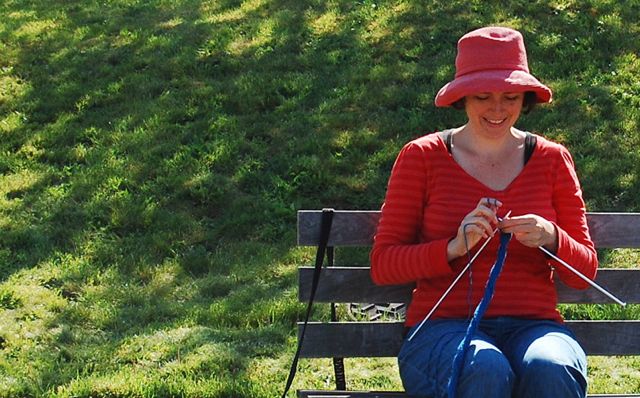 By Stacee Sledge
"I used to live in the red house on the corner," says Christen Mattix, nodding to a vibrant cottage-style home across from her perch on a bench at the intersection of 16th and Taylor Streets in Bellingham's South Hill neighborhood. "I would often sit here and just soak in the gorgeous view of the water."
Today Mattix is knitting on that same bench; something she's been doing since May of 2012. Not such an unusual sight – until you realize she's slowly creating a long, inky-blue rope of yarn that stretches down off her lap, past her feet, into and across the street, and disappearing out of sight down the steep hill that ultimately ends, more than six blocks later, in Bellingham Bay.
That rope – a "stream," as Mattix calls it – currently reaches nearly four blocks down the hill.
Mattix, an artist who has taught at Western Washington University, is knitting this stream down to the bay – a project that has entwined her with the community.
Though Mattix began the project two years ago, it started in her mind long before that.
"One day I was just sitting here and this idea just popped into my mind of a blue knit line that went all the way to the water," she says.
The idea pestered her for months. "I didn't want to do it," she admits. "I was like, 'they're going to think I'm crazy!'"
"I would wake up in the morning with this thought already presenting itself," she says. "Or I would be sitting in a meeting and the thought would come. My mind wouldn't be on it at all, and suddenly it would appear."
Mattix journaled about the project for a long time, thinking it through, and as decisions were made, it became a reality.
First she chose very long, vintage knitting needles. "I liked the old school needles," says Mattix, whose grandmother taught her to knit when she was seven years old.
She then chose an acrylic yarn that has proven resilient as it sheds dirt and rain well and stands up to being driven over by passing cars. She also landed on just the right shade of blue, which she wanted to match the color of the water on its best day.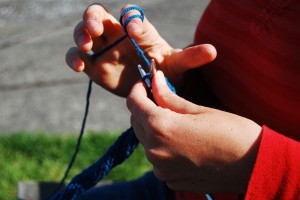 Now, two years later, you'll find Mattix in her familiar spot for at least an hour every day – rain or shine – during what has become her knitting season, between roughly May and November.
"I come and most days I stretch the rope down as far as it will go," she says of her routine. "I put my needles down on the bench and then I unwind it. That takes about 20 minutes, and then I climb back up the hill and I sit and I knit."
The length of the stream varies from day to day.
"It seems to shrink, and then get longer," says Mattix, whose theory is that the knitted rope gets a lot of torque in it from cars driving over it and from the way Mattix works. "Every time I turn my needles around, I put another spiral into it, so it gets really tightly coiled."
Twice she's taken her knitting up to a really high tower and let it go, watching the spiral spin free.
During 30 minutes of sitting alongside Mattix on a recent sunny morning, three people stopped by to talk and numerous folks waved and smiled from passing cars and trucks.
"That's one of the joys," Mattix says of the project, "the interaction with other people, folks driving by."
A young man wearing a Western Washington University t-shirt stops, pulls off his headphones, and politely asks what she's doing.
"I'm knitting a stream down to the bay," she says, smiling as she continues to work.
"I saw it; it goes pretty far. That's impressive," he says. "Is that your goal, to go for distance?"
"It's more about the process and the poetry of it," Mattix says.
The young man tells her about knitting a scarf when he was younger and how meditative he found it to be.
"That's what I like about it, too," says Mattix.
They talk for a short time longer, and then the young man continues on his way.
The soft clicking of Mattix's silver knitting needles makes a soft, rhythmic background music as we talk.
Mattix is a full-time artist during the week and an overnight caregiver on weekends. She's also started a business selling cards and prints. "I sell my cards at the Community Food Co-op downtown and my prints at the Whatcom Museum Store at the Whatcom Museum Lightcatcher."
"I paint, knit, do video art. I've done sculpture," she says. "This is kind of a performance piece if you want to get technical about it."
Mattix finds Bellingham ideal for artists. "I moved here from Seattle and I was just so ready to be done with the traffic jams and the noise of the freeway," she says. "This is such a peaceful place and there's so much beauty here. You can go anywhere and get inspiration."
It's also a supportive environment. "People are excited about creativity here," she says. Whenever she completes the knitting project, she'd like to have a street party and invite all the South Hill neighbors who have watched the knitted rope slowly inch its way toward the bay.
Mattix now has an apartment downtown and bikes to her knitting spot every day. At the end of each session, she winds up the rope on an old garden hose reel and stores it at a nearby house.
"I have to say that my favorite people are the regulars I see almost every day," says Mattix.
Just then, an older woman makes her way up the hill toward us. "Good morning," Mattix calls out to her.
The woman stops and asks questions in a lilting British accent, intrigued by what she sees. She and Mattix talk for a couple of minutes about the project.
"How do you make it?" the woman asks.
"I'm just knitting straight across," Mattix answers. "Do you knit?"
"I have in the past," the woman says, and then pauses. "I don't know how you came up with that idea!"
"I don't either!" says Mattix, and we all laugh.
"I told a friend of mine that an artist is the servant of the work," Mattix says. "This idea came to me like a gift and it said, 'Do it.' So I did!"
The woman wishes us well and continues on her walk.
Mattix loves the social interaction that comes with this project.
"I'm definitely an introvert and was way too reclusive before this project started," she says. "This has really broken me out of that. Walking around downtown, I want to say hi to people; I don't to want to just be in my shell."
Mattix can only guess how much longer the project will continue.
"It's a daunting thought," she says. "It's time to uncoil the line and see where it is. It's looking like another season, but I can't be sure."
However long it takes to complete, Mattix believes that the time frame will be perfect. "I have to trust that," she says. One of the things she realized early on in the project is that it's really about surrendering and letting go and accepting that time takes time.
"I'm hoping to befriend time through this project," she says with a laugh. "If I can only befriend time, it will be worth it."
Thinking about this stream that has slowly wended its way down the hill over these last couple of years, it's impossible not to imagine that moment when it finally reaches the lip of the bay.
"Some people say it's like a giant fuse," Mattix says, "and it's going to suck the water up the hill."
Learn more about Mattix and read about her daily experience with the project on her blog. Peruse and purchase her artwork at the downtown Community Food Co-op, the Lightcatcher Museum gift shop, or at her online shop, Connections Made Visible.