By Laura Rogers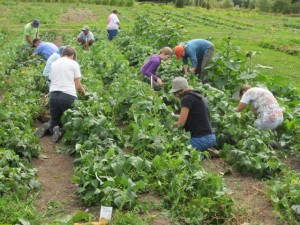 We truly live in the land of plentiful berries. Whatcom County on its own, produces 75% of our nation's raspberries. We may not be quite as famous for our blueberries and strawberries, but locals know, these tasty summer delicacies are just as amazing. So get out there and snag yourself some u-pick berries. And, just in case your summer weekends are already booked solid, farmers will be ready come fall, for all the apple and pumpkin goodness you could hope for.
Whatcom County has so many farms open to the public, that there is something for everyone – organic, no-spray, conventional, farm stand, u-pick, family-friendly, business and restaurant on-site, rustic DIY Style, and everything in between. To narrow it down a bit, I've chosen to focus on a few smaller, perhaps less well-known, no-spray and organic farms.
There is something a little magical to me about finding a farm that none of my friends know about, getting a sweet deal on ultra-fresh berries, and then leaving the cash and a hand-written note on the farm stand table. In fact, these off-the-beaten-path adventures nearly define summer for me. So, listen close, I'm going to share some delicious secrets with you.
Hannah Blueberries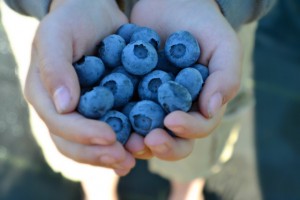 If you're looking for inexpensive, no-spray, fat flavorful berries, this is the spot for you. It's on the rustic side as far as infrastructure goes, but the abundance of gorgeous blueberries more than makes up for it. One thing I love about this blueberry farm is that it's possible to drive your car into the aisles between the blueberry bushes (or should I say trees? They're huge!). This makes everything just a little easier. Is your kiddo asleep in their carseat, not a problem. Too many water bottles and sunscreens to carry, no sweat. Hannah Blueberries is my personal favorite when it comes to berry farms. Last summer we quickly picked twenty-five pounds, which went straight to the freezer, lasting us through February (and our family eats a ton of blueberries).
Hannah Blueberries opened on July 2. They have nine varieties on six acres. Farm manager, Monty Buckley, let me in on the secret to their mammoth-sized blueberry plants: the bushes are between 80 and 100 years old! The berries are not sprayed at all and for u-pick, are only $1.50 per pound. Now that is a steal of a deal. Kids and well-behaved dogs are very much welcome.
Hannah Blueberries
7892 Enterprise Rd.
Ferndale, WA
Open 7:30 a.m. – 7:30 p.m., 7 days per week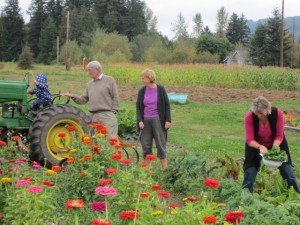 Most agree berries are amazing, but what if you could harvest fresh juicy berries, AND luscious leafy greens, broccoli, carrots, peas, potatoes, tomatoes, corn, pumpkins, green beans, and probably, whatever else your dream-garden holds? At Bellingham Country Gardens, they have all of this and more.
Bellingham Country Gardens is another no-spray farm, and owners, Sam and Donna Grubbs admit, "this takes a lot of weeding." But it's clear Sam and Donna love working their farm. "We have lived here for 45 years and the Garden is in it's 13th year. We enjoy showing people how their food is grown and consider it a teaching farm. It's a great u-pick farm for kids and grandmas and grandpas too, not to mention college students." 
Raspberries are expected to come on in July and go through August or September. Everbearing strawberries are still available, but aren't as prolific as they are earlier in the year. The great bevy of vegetables grown at Bellingham Country Gardens are available all summer long. Strawberries are $3/lb., raspberries $4/pint, and greens are $3 for a large bag. Children are welcome to come and pick berries, dig potatoes, and even play with toys in the dirt. Stay up to date on all the farm happenings and enticing photos at their Facebook page.
Bellingham Country Gardens
2838 E Kelly Rd.
Bellingham, WA
U-pick is open Wednesdays and Saturdays from 10:00 a.m. – 6:00 p.m.
Breckenridge is another fabulous Whatcom farm I can speak to from personal experience. The first time I headed up to find Breckenridge was a few years ago, and I had a toddler and a baby with me. We got a little confused by an early sign saying Breckenridge Farm (a different one). But trust me, keep going. It is majorly worth it, and at that point, you're almost there.
Around the bend, I found one of the most breathtaking scenes I can imagine. Sumas Mountain and the foothills, just beyond the blueberry field, are majestic and awe-inspiring. Upon arrival I was met by a sweet family who showed me around the rows of blueberries and pointed out some great kids toys that kept my toddler occupied for nearly our whole visit. There is also a sweet little shaded creek on the property, if you need to cool off.
The farm has always been no-spray, but it became certified organic last year, and is one of the very few berry farms in the county to achieve this distinction. And, at $2/lb. for u-pick berries, they are still remarkably affordable.
Breckenridge Blueberries opened their picking season in late June, which is about three weeks earlier than normal. Owner, Mariah Butenschoen admits "It's almost disturbingly early. I'm guessing the season will be over early, since it's starting so much sooner than normal."
Mariah ventured into blueberry farming nine years ago when she and her family planted 2,800 plants on their property. "I'd never even considered farming before then . . . so we've been learning this as we go." But judging by the absolutely divine berries I've tasted out there, she has it all figured out now.
Mariah is an English teacher at Lynden High School the rest of the year and her husband is a mechanic. They also have two young boys, so they are quite busy. But their love and dedication to their blueberries is very apparent. Mariah had this great tip to share, "If you don't wash your blueberries before you freeze them, they'll last twice as long in the freezer. The blueberry has a natural coating, called the bloom, that preserves the fruit in the fridge and freezer. Just pop your freshly picked berries in a ziploc bag, freeze, and you're done."
The 2.5 acre farm offers Duke, Bluecrop, Spartan, Chandler, Darrow, and Jersey varieties, and they ripen in approximately that order.
Breckenridge Blueberries
3595 Breckenridge Rd.
Everson, WA
Open 10:00 a.m. – 6:00 p.m. every day
Spring Frog Farm at Holistic Homestead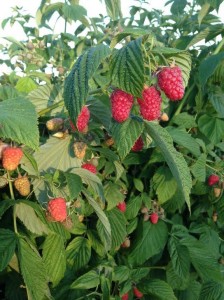 This sweet farm is one that you've probably seen at the Bellingham Farmer's Market or other stores around Whatcom Coutny. But taking a day to go out to the farm itself is not to be missed. The Holistic Homestead sits at the gateway to Mount Baker and is surrounded by the beauty of the valley, the towering foothills and trees. We've ventured out to the farm every summer for strawberries. I can attest, they are some of the sweetest I've ever tasted. And my kids were happily occupied by the power wheels on-site and other kids to play with.
Owner, Gretchen Woody, says (in unison with all the other farmers) that this year everything is early. Strawberries are likely slow this time of year, but u-pick is open every day when strawberries are on. Raspberries will stick around and are open for u-pick every Sunday. Pumpkin u-pick is coming up for the fall, beginning in late September through October.
Gretchen has been farming for 15 years and has her methods down-pat. She works hard to make sure her 18 acre farm is certified organic, grown local, and certified non-GMO. It's easy to feel good about supporting Holistic Homestead. And, being located at Nugents Corner, the proximity is handy for Bellingham residents.
Spring Frog is also excited to be participating in Haggen's Grown Local brand, which can be found at all five local Haggen stores. The brand features seven local, Certified Non-GMO farms.
Spring Frog Farm at Holistic Homestead
5709 Putnam Rd
Everson, WA
Strawberry u-pick: everyday
Raspberry u-pick: Sundays 10:00 a.m. – 4:00 p.m.
Pumpkin u-pick: open every day starting in the fall