Submitted by The Racket
Walking down State Street this summer, you might notice the clanks and dings of a familiar pastime, now enjoying a raucous comeback; Bellingham is now home to a 14-machine pinball lounge. Great food, craft cocktails and a large beer selection round out this new venture from the owners of, beloved music venue, The Shakedown.
Located adjacent to the club, at 1220 North State Street, The Racket was borne out of a demand for The Shakedown's Philly cheesesteaks and falafel pitas to be served all day. Hoping to cater to downtown's businesses, residents, and patrons,, the 21 and over establishment offers a full menu from 11:00 a..m to 11:00 p.m., and is open for drinks until 2:00 a.m. The dining area and bar (as well as an entrance to The Shakedown) are on the ground floor, while the pinball machines are located upstairs. It's relaxed atmosphere is equally suited to a casual business lunch, unhurried afternoon drink, or a lively get together with friends.
After years of hosting their pinball machines in different venues across town, the Bellingham Pinball Collective now has a permanent home for their iconic and vintage machines. A rotating lineup of 14 machines, as well as a 'claw machine' stocked with locally made stuffed animals and counter-culture ephemera, give the upstairs the feel of a boardwalk arcade from a time-gone-by. Add a basket of tater-tots, complete with a red checkered paper liner, and a breeze coming through the open-air back door, and the space seems perfect for relaxing after a day at the lake, or escaping whatever routine you find yourself in.
Downstairs, owners Marty Watson, Hollie Huthman and Spencer Willows set out to create a space that would be equally comfortable to students, bankers, drinkers, thinkers, punk rockers, realtors, sailors and all other inhabitants of this fine city. They wanted a place that "felt like an old diner that the rock club, next door, had taken over and spruced up a bit," says Willows. Huthman adds that "welcoming people seven days a week, regardless of what show was booked at the Shakedown, was a really important part of opening The Racket. So many music venues in Seattle, and other cities, have a cover-free annex, and we wanted to offer that, too." The ground floor has a main dining space, with seating for fourteen, dedicated outlets with USB ports at every table, excellent wifi, ample natural light, and sunset views across State St and past the iconic Daylight building. A 10-stool bar leads to a small, darker, lounge area, complete with a hand-stocked jukebox, and booth seating for ten. Drink rails, purse hooks, and extra-wide walkways encourage customers to intermingle, and create meeting areas where they see fit.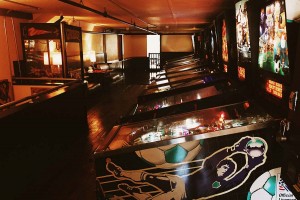 Another important element in creating the space was the use of reclaimed materials. All the tables and drink rails are made from bleachers, originally installed in the Anacortes High School in the 1920s. The 23' long (and 3" thick!) bar came from a support beam in the Collins Building; home to the North Coast Casket Factory, in Everett. Two booths in the pinball lounge spent part of their lives in the famous 3B Tavern, located 2 doors North of The Racket. These reused pieces of local history, along with the skilled work of many local artisans (the long booth downstairs was hand-made for the space, the State St. sign hand-painted instead of digitally printed, the tap-box that houses 8 of the 14 beer handles crafted out of the Anacortes bleacher-wood), fill the space with character and comfort; the kind of place that feels long-standing even on its first day. Watson remarks, "It's surprising how close to our original sketches the bar turned out. It is actually a clearer version of our original plan, and I'm extremely happy with how it all came together."
https://www.facebook.com/pages/The-Racket-Bar-Pinball-Lounge/