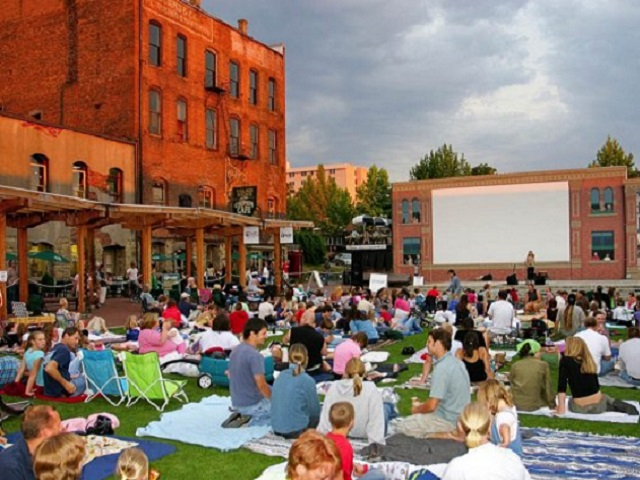 By Katie Atkins

A beautiful, mild, summer evening in Bellingham holds many possibilities. But if you're looking for something relaxed, low key and family friendly, outdoor movies are definitely something to make sure you check out.
Outdoor movies play a vital role in any town or city, and Bellingham is no exception. With the sun setting just after 9:00 p.m. movies usually start around dusk and depending which location you pick, you might find raffles prizes, beer gardens and even live music and entertainment before a show.
If you're not familiar with a typical summer night in Bellingham, you will want to experience it by cruising Fairhaven's boardwalk. The evening stretches on graciously and the light clings to the shreds of daylight for as long as it can. The sunset on the water is breathtaking. After you experience a boardwalk sunset, the Fairhaven Village Green is just a few minutes walk away. Fairhaven offers the perfect setting for a warm evening outdoor movie. Acme Ice Cream is just one block up, and gelato can be found across the street from the Green – the perfect treat before or after a show.
And, while you are hanging around Fairhaven, you won't want to miss a free event at Village Books on July 13 to celebrate the release of Harper Lee's new novel.  Watch To Kill a Mockingbird at the store at 9:30 p.m. and then catch the book release sale at midnight.  Complete event information can be found by clicking here.
Fairhaven is not the only outdoor cinema in Bellingham. The Rooftop Cinema at the Parkade (associated with the Pickford Film Center) is also a wonderful place to kick back and enjoy the view of downtown Bellingham from the top story of the Parkade on Commercial Street.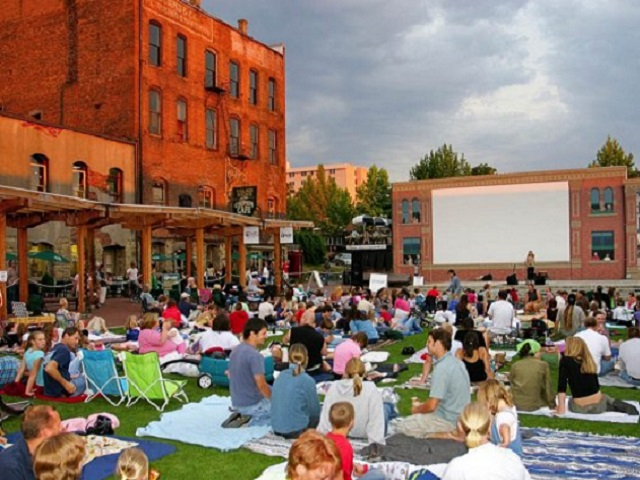 Make sure to catch Ferndale Flicks in the Park as well. Movie showings are at Ferndale's Historic Pioneer Park, two nights this summer in July and August.
Don't miss this opportunity to experience all that a Bellingham summer has to offer.
Bellingham's summer outdoor movie series in the Fairhaven Outdoor Cinema Presented by Ben Kinney & Keller Williams Realty. Weekly events feature outdoor entertainment and big screen movies in the park.
Village Green
1207 10th Street in Bellingham
"Since 2000, Summer Saturdays at the Village Green is the time for community entertainment with 10 or more movies showing each season. Bring your own blanket or lawn chair to sit on the grass or on the brick area. The evening opens with live entertainment on the village green stage, featuring bands from as far as Seattle. Food vendors are located on the brick area and you are free to bring your own food or non-alcoholic beverages."
Tickets: $5 includes admission, entertainment and raffle prize tickets
Movie Listings:
July 11 – Mean Girls
July 18 – Jurassic Park
July 25 – Big Hero 6
August 1 – The Hunger Games: Mockingjay
August 8 – Dirty Dancing
August 15 – Up
August 22 – Guardians of the Galaxy
August 29 – The Princess Bride
Pickford Film Center
1318 Bay Street in Bellingham
This summer, outdoor cinema returns to downtown Bellingham. Pickford Film Center and 92.9 KISM present Rooftop Cinema at the Parkade – five Friday nights of fantastic film – five stories high in the sky. Join us for 5 evenings filled with fun, local beer and food, live music too.
Movie Listings:
July 17 – Dazed and Confused
July 31 – Back to the Future
August 14 – The annual Bike in-movie
August 28 –  Enter the Dragon
September 11 – True Stories
Historic Pioneer Park
2095 Main Street in Ferndale
"Hosted and organized by the Ferndale Chamber of Commerce, Flicks in the Park is celebrating its 4th year entertaining children and adults. This community outdoor cinema takes place at the Historic Pioneer Park, twice a year during the summer. Entertainment starts with family games for people of all ages and children toys provided by event sponsors. The event has kept on growing since 2012. Seating is stadium style with blankets in the front and lawn chairs in the back. Food vendors are available."
Movie Listings:
July 10 at 8:00 p.m. – Hook
August 7 at 8:30 p.m. – Up
Free Admission