By Stacee Sledge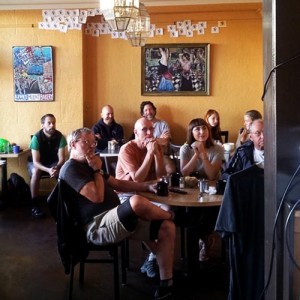 When Mount Bakery owner Vincent Lalonde hears that I've never watched the Tour de France, he suddenly gets very animated.
"Wait until you see it!" he says. "Visually, it's the most stunning sporting event—they're filming from helicopters, flying over the Alps. There are 100 bicycles riding at 45 miles per hour just inches from each other on a road cutting through a field of bright yellow sunflowers under a blue sky dotted with white clouds."
Lalonde wasn't always a Francophile bike racing fan, but that all changed after he met original Mount Bakery owner Olivier Vrambout.
After becoming Mount Bakery's first non-family employee, in 2001, Lalonde experienced his first Tour de France viewing party after Vrambout and friend Charlie Heggem dreamed up the idea. They brought in televisions to watch live coverage of the famed race for each of its 20 days—sometimes meeting at the bakery as early as 3:00 a.m.
"I'd go in to watch the Tour de France with them," Lalonde remembers, "and it was like watching a two-hour French travel video followed by a bike race."
Viewing the Tour de France at the Mount Bakery became a perfect fit for the business, which started as a Belgian bakery and expanded into a full café with both phenomenal baked goods as well as extraordinary breakfasts and lunches. A second location, in Fairhaven, opened in 2011.
"Olivier and Charlie just wanted to watch it," Lalonde says of the early race-watching days. "And then other bikers would show up—but it was super impromptu."'
Lalonde credits Heggem with growing the event. "Charlie's a big planner and he had a lot to do with promoting it," Lalonde recalls.
The casual gathering evolved into a highly anticipated event local bike-racing fans count on each year—and one Lalonde stresses couldn't happen without tremendous help from his employees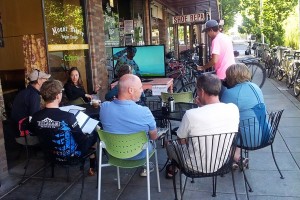 "I have to give a big thank you to my amazing staff that put in extra hours making all of the fantastic breakfasts and pastries possible," he says. "Without them, the Mount Bakery would be nothing."
Though the Tour footage can start as early as 3:30 a.m. to 5:00 a.m., Bellingham time, the Mount Bakery race day begins at 5:00 a.m. Each stage viewing ends between 8:30 a.m. and 9:30 a.m., depending on how fast the riders ride.
"We went through a period where we showed every single hour it was on," Lalonde says. "A very limited number of people would come and watch the whole thing."
In 2007, Lalonde took over ownership of the spectacular bakery and café and happily continued the Tour de France tradition—though now folks are asked to come by at 5:00 a.m.
"And even though we open that early, people can come in anytime," says Lalonde, who encourages those new to the event to come down around 7:00 a.m., to get a taste. "Whatever time you show up, you're going to see something beautiful and you're going to have the best food."
Unlike the regular restaurant setup, counter service is offered during the race rather than table service. "People come up and order, and then go sit down," says Lalonde. "And when ads come on, they jump up and refill their coffee."
Six large flat-screen TVs are set up inside and, weather permitting, out on the sidewalk, where it's not uncommon to have large crowds viewing the race. "We place the televisions so people are sitting in rows out front all the way down to the Temple Bar," says Lalonde.
Fresh croissants mingle with Hammerhead coffee and the cheering, yelling camaraderie of bicyclists, bike racing fans, and Francophiles.
The Mount Bakery does giveaways—from biking-related swag to day-old baked goods. Lalonde also designs a t-shirt every year to mark the occasion, which many folks like to collect.
"We have such loyal bike people and Mount Bakery people," says Lalonde. "It's the perfect joining of bike racing with fresh croissants—even fresher than they normally are, because we open even earlier—and fantastic local coffee, Belgian chocolate mochas, and our famous Benedicts."
The café normally opens at 8:00 a.m., and Lalonde says the only potentially negative aspect of the annual event is the confusion it can cause for unsuspecting patrons. "There's an hour gap where people show up and go, 'What's happened? You've turned into a sports bar!'" he says with a laugh.
At that point, Lalonde and his staff might yell out to the amenable bike crowd, "'Everybody go in that room! We're opening now!' Because on the weekends, it's madness," Lalonde says, still smiling.
But all the chaos of quick-changing the café from a Tour de France viewing party back to a regular restaurant is always worth it. "We can open up early and have a group of people we love show up and watch something they love and share it. It just goes with what we do."
Three gentlemen whom Lalonde dubs "the Board of Directors" have come for years and years—even when the bakery opened at 3:00 a.m.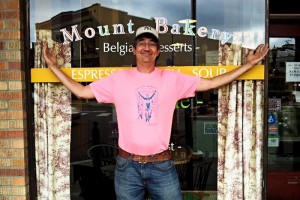 "They'd all ride their bikes in and would help me break down all the chairs. It would be an hour before anyone else would show up. They're always here and they're so nice," says Lalonde. "They take turns buying coffee and treats for each other, and then on the fourth day, I treat them all."
In the past few years, the final race day has been shown on the big screen at the neighboring Pickford Film Center, with a Champs-Élysées party. This year's final day party location has yet to be determined.
"By the time that last day happens, it's sort of like: 'We made it!'" says Lalonde.
Sponsors for this year's Tour de France viewings at the Mount Bakery include Yellow Jersey Sponsor Hammerhead Coffee Roasters, as well as Aslan Brewing, Kulshan Brewing, Fairhaven Bicycle, Fanatik Bike Company, and Trailhead Athletics.
Mount Bakery Café
308 West Champion Street in downtown Bellingham
360-715-2195
Mount Bakery
1217 Harris Avenue in Fairhaven
360-778-1261