If you've spent any time at all in Bellingham, you've likely seen Ben Mann's vibrant artwork: on the walls of Mambo Italiano or beckoning you to enter Mallard Ice Cream are just two of nearly innumerable examples.
Mann was born and raised in Bellingham and attended Silver Beach Elementary—the site of his latest work, a 600-square-foot mural made with the help of 500 students, staff members, and parents.
Made up of 15 panels that depict a local outdoor scene chock full of local wildlife and nature, this marks the tenth mural Mann has dreamt up for area grade schools to enjoy for years to come.
The Sehome High School graduate studied commercial art in San Francisco where, like many art students, he learned to wait tables.
"San Francisco is a very lucrative town for a waiter and I knew if I was going to cut that revenue stream I had to get out after I graduated," Mann says with a laugh.
He came as far as Seattle, where he spent a year before deciding it was a bit too urban for his tastes and moved back home, in 1996, to be closer to family.
When asked how he's created a successful career as an artist, Mann readily admits: "I've been incredibly fortunate to find an affordable workspace in Fairhaven, above Good Earth Pottery."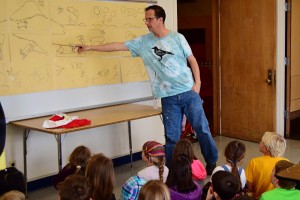 He's also found a strong following.
"It's one thing to have a community support art; it's quite another to have it support the artist," Mann says.
Mann readily credits his family and their role in his success. "Being the youngest of seven, life was modeled for me with a vast array of options," he says. "Had I been the eldest, my Dad might have said, 'That's nice that you like to draw; now go become a dentist and you can make art on the weekends.' Many stars aligned for my artistic and professional development. "
About 15 years ago, Allied Arts contacted Mann and suggested he would be a good fit in local grade schools.
"I had no education background, but if you cut me I bleed art supplies, right?" he says, smiling. "After all the years waiting tables—which is largely public speaking and improv—it turned out to be a natural fit."
Fifteen years later, Mann still regularly works with area school children—and he learns as much from them as they do from him.
"It's really impacted the way I perceive and depict the world," he says. "I might teach a kindergartner that red and white makes pink, but they teach me that the dog can be purple and the cloud can be yellow. That's been a major game-changer."
With his artistic roots deep in cartoon and caricature, Mann has developed a distinctive color palette and technique of working on a black surface, sketching out his designs in white chalk, adding paint, and then removing the chalk to boldly define shape and line.
Mann spent three full weeks at Silver Beach Elementary in the spring of 2015, teaching students his technique and receiving support from Silver Beach Art Enrichment Coordinator, Ellen Sheen.
Sheen and Silver Beach Elementary Principal Nicole Talley had entertained several ideas for a school-wide art project, but murals for the playground was the eventual winner.
"Initially, each class was going to create a mural that would be fastened to the fencing around the school playground," says Sheen. "But we decided the fences may not be strong enough. Enter the blank, rather boring brick wall."
First grade teacher Sharie Burdick suggested contacting Mann because he had attended Silver Beach. "How fun would that be to have an alum come and help beautify the school?" say Sheen, who reached out to the artist.
"Between Silver Beach testing—which is heavy during March through May—and Ben's busy schedule, there was an ideal opening," Sheen recalls. "It was truly meant to be and I think the mural is even more special because of Ben's history with Silver Beach."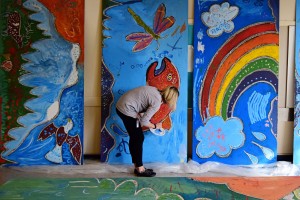 The first phase of the project found Mann spending 90 minutes in every classroom. He guided students to create their own painting in his signature style, which he describes as contemporary folk art.
"I would say the in-class instruction is more about the beret," he says. "Once we go into the mural part, it's a little more hard hat, where I have to lord over and really dictate that they stay on task."
The project moved from the classrooms to the school's annex area, where Sheen and parent helpers primed all of the 4-foot by 8-foot Hardie board panels with black paint, upon which Mann then drew the design's outline in chalk.
Mann likens devising such a massive piece to a giant page in a coloring book. "You're designing the layout, but you're pretty powerless when it comes to color," he says. "Because I knew the 15 panels were going to come together into one image, I needed to keep an eye on how the background for each would connect."
Each classroom took turns filling in the design with vibrant colors. Mann and Sheen helped guide the young artists, but also let their creativity flow.
"Life, if nothing, is going to be about cooperating with others. And so I love that they have the autonomy of the painting they made in class," Mann says, "and the cooperative nature of a mural that's crafted by 500 artists."
The final project was unveiled on Earth Day, a giant colorful masterpiece watching over the children as they laugh and play on the playground.
Sheen is delighted to have the project completed and hung for all to enjoy.
Everything really fell into place," says Sheen, who raves about her great helpers and the fun she had working with Mann. "To see the kids' excitement during the in-class sessions, while painting the mural and, most of all, when they saw it hung, was just priceless. I hope it brings joy to the kids, families, and staff of Silver Beach for many years to come."
"The mural is very much theirs," Mann agrees. "I got the lunch ladies and the principal to paint—even the P.E. teacher, who was the hardest to convince – but this is their school, their legacy. It's permanent."
Mann offers summer tutorials for groups and individuals, children or adults, and any configuration thereof for a flat hourly of $75 for 90 minutes, which includes all the art supplies. Learn more and get in touch with the artist at www.ben-mann.com.