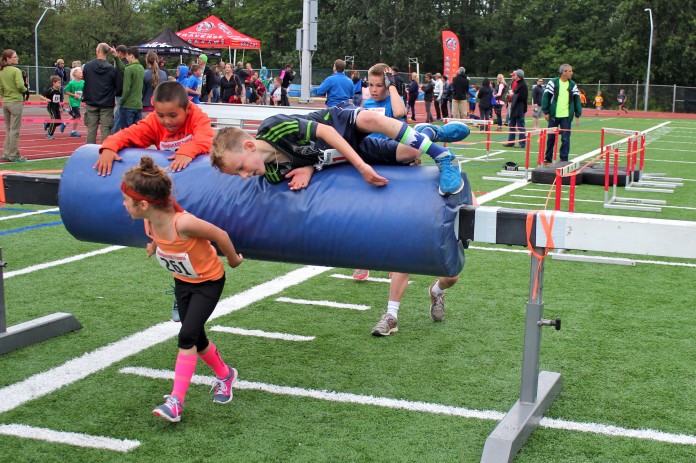 By Lauren Fritzen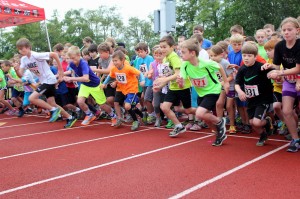 We love our multi-sport events here in Whatcom County. From Ski-to-Sea to the Lake Padden Triathlon to the Bellingham Traverse, we embrace the combination of adrenaline-pumping fun and team competition. And judging by the success of the Bellingham KIDS Traverse, we're raising a new generation of thrill-seeking athletes.
When the third annual Clay for Earth Bellingham KIDS Traverse takes place on Sunday, June 28 at Civic Field, hundreds of young competitors from ages 6-12 will run, bike and compete on an obstacle course. And like the adults, they do it for the challenge, the camaraderie, and mostly because it's a great time.
"We thought it was unfair for the adults to have all the fun," explains Todd Elsworth, executive director of Recreation Northwest, the local non-profit behind the event. Recreation Northwest also runs the Bellingham Traverse, a hugely popular relay event that takes place in September.
Celebrating the Salmon
Like its parent event, the KIDS Traverse celebrates the lifecycle of the wild salmon and its importance to our region. Participants can race in one of three categories: Chinook (solo), Coho (tandem), or Chum (relay team).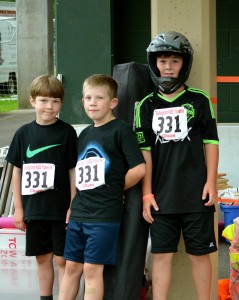 The course includes a one-mile run through Salmon Woods (yes, that its real name), followed by a 1.5-mile mountain bike through Civic and Geri fields, a half-mile obstacle course in Civic Stadium, ending with a quarter-mile team trek to the finish line.
There are multiple divisions in each category, including ages 6-9 and10-12, Family, multi-age Open, and Company Teams.
New This Year: Scholarships and More
Recreation Northwest is excited to offer scholarships for the KIDS Traverse this year. Thanks to the generous assistance of the Bellingham Fairhaven Lions Club, scholarships are available for three teams. "We want all kids to be able to participate, and we're really grateful to the Lions Club for their support," says Elsworth.
As the Traverse grows in popularity, Elsworth and his team look for ways to improve logistics. This year there will be two heats by age division. The 6-9 age group will race at 10:00 a.m., with the 10-12 and Open divisions starting at 11:00 a.m. "This makes it more manageable for the younger division," explains Elsworth.
Returning Racers Ready for the Challenge
The KIDS Traverse is definitely popular on my block, with both the competitors and their parents. Brothers Eddie and Nick Laughlin raced on relay teams last year, and plan to compete again this year. They're both mountain bikers, and ride regularly with their dad on Galbraith Mountain.
Eddie, 11, may try it solo this year. "My favorite part is the team trek at the end, when all the teams come in together," he says. Nick, 9, plans to mountain bike for a team again this year. "You really get a workout, plus it's fun to see your friends and compete," he says.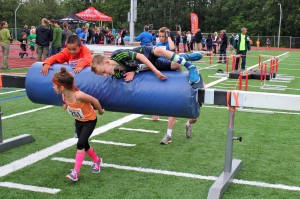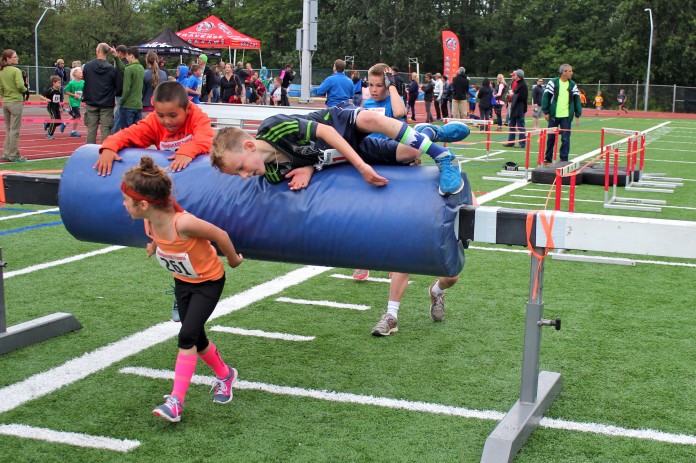 Mason Gyllenberg-Nabbefeld and Jake McNeely, both 11, are returning Chinooks (soloists). Jake says the final team trek is the hardest part: "You think you're done, but there's one more lap to go."
Mason sums up the spirit of the Traverse pretty well. "I like seeing all my friends, competing with them, and having fun," he says. His mom, Lisa Gyllenberg, finds the Traverse really well organized and executed. "It's a great community event, and the kids love it." Nick and Eddie's mom, Eileen Byrne, agrees. "It helps them push their limits in a fun, healthy way," she says.
Be Safe, Have Fun, Show Respect
This is the message Elsworth hopes all participants will take to heart. Safety is key in a kid's competition, and to that end, the race director is Whatcom County YMCA's Jen Gallant, director of Girls on the Run of NW Washington.
"The KIDS Traverse requires more volunteers than most events," says Gallant. "We need lots of help keeping kids safe on the course as well as in the transition areas between each of the legs. Parents, students, teachers, and athletes make great volunteers," she adds.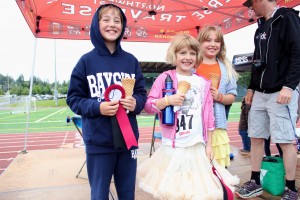 Not all kids do their race training on Galbraith, and Elsworth stresses that the traverse is very doable for any kid who is in decent physical condition. He personally recommends the Coho (tandem) category, with one kid running, one biking, and both doing the obstacle course. "Everyone should do the obstacle course, because it's really fun," he laughs.
Interested volunteers can contact Jen at jgallant@whatcomymca.org.
It all ends with Ice Cream
The final lap – with all teammates together and the crowds cheering in Civic Stadium – is the stuff race dreams are made of. This is also a special moment for race director Gallant. "My favorite part of the KIDS Traverse is the sense of camaraderie that develops through teams working together toward a common goal. Kids of varying ability levels are side by side for that final lap, cheering each other to the finish line! "
All competitors receive a ribbon, and the top three finishers in each division receive medals. And waiting at the finish line is the Mallard Ice Cream truck, with ice cream cones for all – the perfect ending to an awesome day of fun and competition.
For more information and registration details, go to http://www.recreationnorthwest.org/bellingham-kids-traverse/.