By Stacee Sledge
Pickford Film Center has been showcasing the best of independent cinema since opening its doors—at the original space, now the Limelight Cinema—in 1998. In 2011, it expanded into the stunning, dual-screened space on Bay Street, as the downtown Bellingham Arts District grew up around it.
But PFC is more than movies—it has continued to grow and change, bringing performing arts events, live scores, education outreach and more to our community.
"By regularly communicating with our audiences and listening to their feedback, we're becoming an even better fit for Bellingham and Whatcom County," says Pickford Marketing Manager Lindsey Gerhard.
Susie Purves has been PFC Executive Director since March 2014. Before arriving from Seattle, Purves was Executive Director of Spectrum Dance Theater and also helped grow the Northwest Film Forum, a Seattle art house cinema that also went through a big move, which she spearheaded.
"Susie has a diverse management background and she's pushing us forward," says Gerhard. "It's a great thing."
PFC has a staff of 15 full- and part-time folks, which includes six projectionists. Volunteers are integral to its success, and a core group of around 120 help run the box office and with special events; the entire roster includes more than 400 volunteers.
"I call our volunteers our Dream Team," says Gerhard, who began as a PFC volunteer herself. "We wouldn't be able to do any of our special events without them!" More helpers are always welcome—and everyone gets free movies and popcorn.
A mission-based organization, Pickford Film Center strives to do more than bring thought-provoking, innovative films from all genres to its three screens; here's a rundown of the many programs PFC's staff and volunteers work hard to bring to local arts fans.
Performing Arts
Including the performing arts in its repertoire isn't new at PFC, but the saturation of its offerings is.
"We've done it for a long time," says Gerhard of the inclusion of live ballet, opera, and stage productions on PFC's calendar, "but now we're seeking out even more programs."
Can't afford the plane ticket to Europe? It's almost like you're there with productions from around the world played on state-of-the-art equipment with stunning visuals and sound.
PFC carefully curates programming in response to community feedback. You can always check out the latest performing arts offerings on PFC's website, from the National Theatre Live, The Bolshoi Ballet, The Globe Theatre, and more.
A live showing of a Bolshoi Ballet performance from Moscow can easily pull in 40 to 50 patrons—even at 7:00 a.m. on a Sunday.
Live Scores
In 2014, PFC hosted a screening of the 1926 silent-film classic The Adventures of Prince Achmed, which was accompanied by Seattle string and accordion duo Miles and Karina, who created and performed a new score.
They have held similar showings of other silent films with live scores created by local bands, such as The Black Pirate with Rattletrap Ruckus.
"It's a scene we're exploring more," says Gerhard. "Being close to Seattle and Vancouver, we have a lot of opportunities."
One of PFC's longest-running and most loved series is its Masters of Japanese Cinema. "It showcases the work of some of the best classic Japanese directors," says Gerhard. "There are some well-known musicians with great contemporary scores to these rarely seen silent Japanese masterworks."
Popular Series & Annual Events
One of several popular PFC series is the monthly Rocket Sci-Fi matinee, sponsored by Rocket Donuts. A Saturday showing of the 1953 sci-fi B movie "Cat-Women of the Moon" became a multigenerational standing room only. "It's great to see that there's still the love for those more unusual films," says Gerhard.
And the hundreds who buy tickets every year look forward to PFC's always sold-out Academy Awards® celebration. Now named The Red Carpet Affair, PFC's shindig always offers a glamorous night out for lovers of film and the Academy.
Other popular annual events include the Bellingham Children's Film Festival and Doctober, a full month chock full of documentaries accompanied by filmmaker visits, special guests, pre-screening receptions, and guided discussions.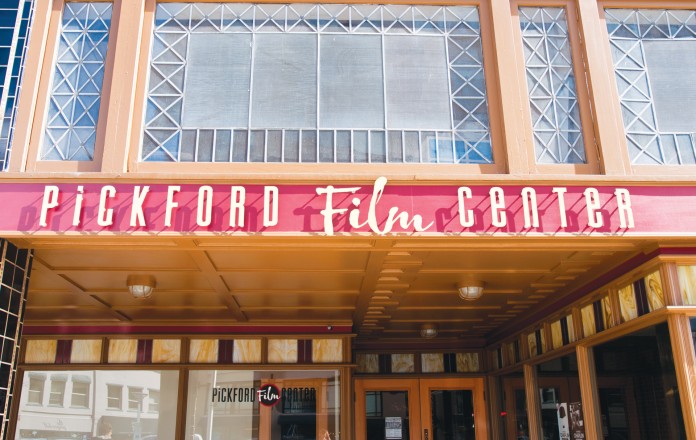 Education Outreach
Pickford Film Center is always available for class trips—from elementary schools to college students.
Executive Director Susie Purves successfully pushed for PFC to hire an education outreach coordinator to help work with local schools to cultivate visual literacy at a young age.
"We've always done the Guerilla Film Project, which is a three-day filmmaking competition for high school students," say Gerhard, "and we'll continue to cultivate that."
But a generous donation from an individual funder has also allowed PFC to bring classrooms in to see movies—at no cost.
"During Doctober 2014, we created a new program, Doc-ED," says Gerhard. "We chose five different films and reached out to schools to bring in more than 1,100 middle school students to watch the movies for free."
Pickford wants to up the ante for 2015 and try to bring every single Bellingham middle school student to a free Documentary during Doc-ED.
"Alongside the generous donation from the Mary Redman Foundation, we dedicated our spring gift appeal towards the Doc-ED program and are close to raising the full amount of funds we need to make this a reality," says Gerhard.
PFC also brings in children for free screenings during the Bellingham Children's Film Festival, which runs every May. Expanded programming includes a live score and filmmaker visits, plus two new series—Family Classics and Shelf to Screen: Movies from your Favorite Children's Books.
"We want to promote education at all ages and levels," Gerhard continues. "It's much more fun to come to a movie and enjoy demonstrations in the lobby or talks by specialists who can connect how topics in the film affect us at a local level."
Supporting Local Filmmakers & Bringing More Filmmakers To Town
Pickford Film Center loves local filmmakers. Just after Purves's arrival, PFC reached out to everyone they could find involved in local filmmaking and asked them what they wanted and needed.
"Anytime we can help showcase local work or be a resource for local filmmakers, we want to do that," says Gerhard. "Anything we can do to support them."
To that end, PFC continues to bring more and more filmmakers to come speak to audiences and answer their questions.
"We had over 15 filmmakers visit Doctober last year, which was pretty noteworthy," says Gerhard. Local filmmaker Craig Johnson—now living and working in Hollywood—returned to Bellingham and PFC to discuss his film The Skeleton Twins and help raise funds for the Whatcom Center for Early Learning.
"We'll continue to do more of that," says Gerhard, "which makes for even more of a robust film-going experience."
Pickford Film Center: More Than Movies
As the local independent cinema, PFC feels a strong responsibility to serve all of the community, not just particular pockets of it.
In 2014, PFC played 400 different films. "From the cinephiles and the tastemakers, to those who like classic films and those who like cult cinema," says Gerhard, "our programming covers all of that, and more."