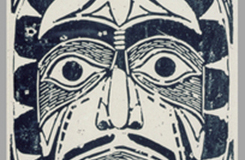 Submitted by Whatcom Museum
"Helmi's World: Symbol, Myth, Fantasy" presents 50 artworks —paintings, drawings, prints, carved linoleum blocks and ceramics — drawn from the Whatcom Museum's collection of artist Helmi Juvonen's work, which numbers 250 objects. The exhibition, curated by Barbara Matilsky, also contains a detailed biographical timeline and illustrated object labels. It will be featured at the Whatcom Museum's Lightcatcher Building June 27 through October 11, 2015.
Helmi Juvonen (1903 – 1985), known in her day simply as Helmi, was a prolific artist whose creativity embraced diverse media. She was particularly drawn to Northwest Coast native culture and developed a rapport with the chiefs of the Lummi, Swinomish, Makah and Yakama, who invited her to participate in their ceremonies. Native art and ritual nurtured Helmi's creative spirit, empowering her to transcend gender bias, poverty, and decades committed to an asylum for mental illness.
With her avid interest in anthropology, Helmi believed, as did the Seattle photographer Edward Curtis (1868 – 1952), in the importance of documenting Native American spiritual life. During the 1940s and 1950s, she lived with tribes in Washington, Vancouver Island, and South Dakota. Helmi also spent time studying and drawing ritual objects in the Washington State Museum, which later became the University of Washington's Burke Museum.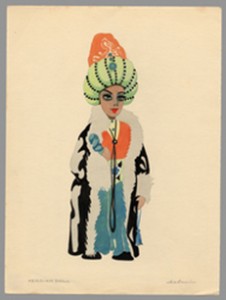 "Helmi's World" includes paintings of petroglyphs from Central Washington, watercolors of Lummi masked dancers, and linocut prints of the Makah Thunderbird and Wolf Dances, among others. The exhibition suggests the complexity of Helmi's vision by displaying some or her most unusual artworks, including a large, mixed-media drawing inspired by ancient Peruvian tapestries. The influences of Mark Tobey, Pablo Picasso, and Scandinavian Folk Art will also be highlighted. Helmi forged a unique style that merged aboriginal Northwest culture with modern art. The artist also conjured "imaginary things," and many of her works reflect both the dark and light sides of the human psyche.
"Although Helmi has not yet been recognized as widely as other Pacific Northwest 'mystics,' such as Mark Tobey and Morris Graves, she was, in many ways, ahead of her time," says Barbara Matilsky, the Museum's curator of art. "Her graffiti-like abstractions, mixed-media compositions, and paper cut-outs relate to trends in contemporary art and communicate easily with a new generation of viewers."
Born in Butte Montana in 1903, Helmi attended the Cornish School (now Cornish College of the Arts) and honed her skills as a draftsman at the Boeing Aircraft Company during World War II. Spirited and independent, she forged an unconventional path through life. Living on the edge of poverty, she later sold prints at the Pike Street Market for 50 cents apiece. The artist's talents were well-recognized and works were purchased by important Seattle collectors. Supported in part by Dr. Richard Fuller, the founding director of the Seattle Art Museum who acquired work for the collection, the artist was friends with many Northwest art world luminaries, including Morris Graves.
During the 1950s, a period of suppression and conformity in American life, a woman living alone as an artist proved difficult. Helmi's eccentricities, including living with dozens of cats, alarmed neighbors and family who disapproved of her creative career. For a period of time, the artist's obsession with Mark Tobey, the most renowned of the Pacific Northwest mystic painters, embarrassed Tobey as well as his many supporters.
Helmi was mistakenly diagnosed with schizophrenia (now recognized as manic-depression), and was committed against her will to Oakhurst Convalescent Home in Elma, Washington, where she lived the final 26 years of her life. Here, she continued to make art and welcomed artists and supporters, who organized museum exhibitions that she attended, including her 1985 retrospective at the Whatcom Museum thirty years ago.
Helmi and the artist Wesley Weir gifted many of the works in this exhibition. A large number of pieces were also donated by Dr. Ulrich and Stella Fritzsche.  Dr. Fritzsche, author of the book, "Helmi Dagmar Juvonen: Her Life and Work, a Chronicle" (2001), has contributed greatly to our understanding of the artist's biography.