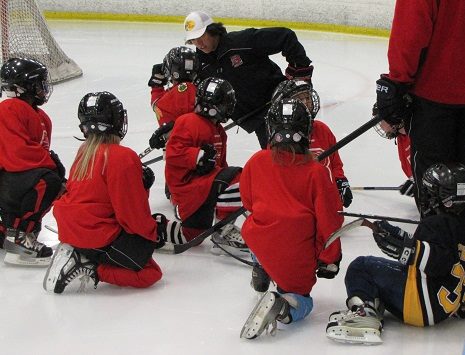 By Laura Rogers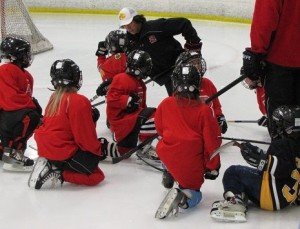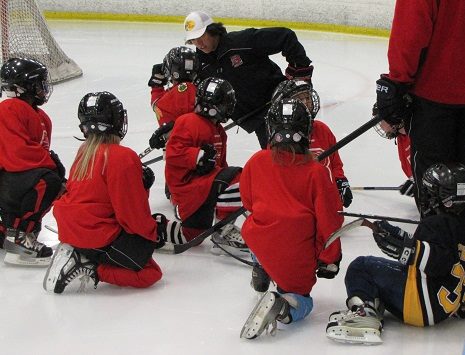 Kids are suiting up in hockey pads, helmets, and skates and hitting the ice at the Bellingham Sportsplex this spring.
The third session of the year is about to kick-off. Head coach, Mark Collins and fellow coaches, including Bellingham Blazers players, offer a Learn To Play hockey program starting at just three years old. The program aims to create a fun, low-pressure first hockey experience and build skills along the way. A new 10-week session is beginning soon for kids wanting to get their stick n' puck on.
It's easy to see why little ones are crazy about the sport. Not only is it fun to play a game on ice and wear cool gear, but the coaches know the kids by name and shout friendly greetings to them when they enter the Sportsplex. Their eyes light up when they see their favorite coaches and the coaches will even help the kids suit-up and get ready for practice. It's a very encouraging, easy-going environment for small children, which can definitely set parents' minds at ease, since for many, this is their child's very first sporting experience.
Collins is in his third year as Hockey Director and Head Coach of The Blazers at the Sportsplex. He has been assisting and coaching hockey for over 15 years in Bellingham, but has a lifetime of hockey knowhow. He began playing when he was just two years old. Three years ago Collins brought The Blazers, a Tier III Junior Hockey team, to Bellingham. The team has been very successful, winning two of the last three Northern Pacific Hockey League Championship titles. Mark Collins has revamped Bellingham's hockey program; both for The Blazers and for the Learn To Play participants. Now the two are closely intertwined.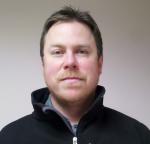 The Blazers' player-coaches are a unique part of Bellingham's Learn To Play program. Each practice, three to five members of the Bellingham Blazers coach the little kids. Coach Collins created this structure to integrate his players into the community and benefit the kids, simultaneously. "It's one of the prerequisites for my boys. When I bring them in, they sign a contract and part of their responsibility is to be in the community. We do reading activities and go to school assemblies, and things like that," adds Collins.  "Obviously the Learn to Play program is part of their responsibility because they need to realize they're a part of the community and the little guys and girls really look up to them. The kids will have favorite hockey players who are also their coaches and they can come watch them play in the games."
Hockey parent Lisa Enfield's four year old son, Henry, has been in the Learn To Play program since last fall, and they have been thrilled with their experience. "We didn't really know what to expect and it definitely started out with a lot of laying on the ice and not being able to stand up. But our son's always been willing. He wants to come. We ask him if hockey was good tonight, and he always says 'No it was great!' So we take that as a good sign."
Enfield is originally from Canada and doesn't even recall at what age she began playing hockey. "I'm from a hockey family, and we had a farm and the lakes would freeze over and we would all just play. So, I want that for them too." She plans to also enroll her daughter, Hazel, in the fall, when she will be three-years-old.
Though there are many families from hockey backgrounds, certainly not everyone has experience with the sport. Many families and kids are brand new. There is rental gear available so that kids can try out the sport without investing a lot of money in gear. "Most of the kids are brand new to hockey. We're getting them hooked. And we do that by making it so much fun for them that they keep coming back. I let the Blazers players do the fun aspects and I kinda play the more serious guy," Coach Collins, says with a laugh.
Parents may wonder how fast the kids will adjust to being on the ice, since learning to ice skate and play hockey are built into one class. Collins says this about how they've structured the classes: "This is hockey, and they have lots of pads on, so once they get past that fear of falling, and they don't really have very far to fall anyway, essentially they are learning the whole hockey process all-in-one by just playing games."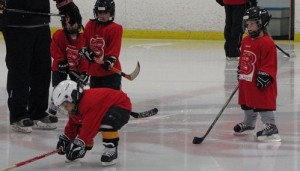 Keeping the tone relaxed and fun and the kids enjoying themselves is something at which the coaching staff works hard during Learn To Play. "We sometimes do things like fun relay races. In that relay race they're working on tight turns, falling down and getting up, puck handling. All of that's incorporated into the relay race and they're just having fun," says Coach Collins.
Practices are held Tuesday and Thursday evenings at the Sportsplex. Full gear is required and is available to rent for $55. During practice, the rink is divided into skill-levels: Intro Class (usually 3-4 years old), which meets from 5:00 – 5:30 p.m, and levels 1,2, and 3 which meet from 5:00 – 6:00 p.m., and are entered into upon successful completion of the previous level. Intro class is $175 and levels 1,2, and 3 are $235 for 10 weeks. Spring Session begins on April 14th. Parents can enroll their kids online or call 360-676-1919.