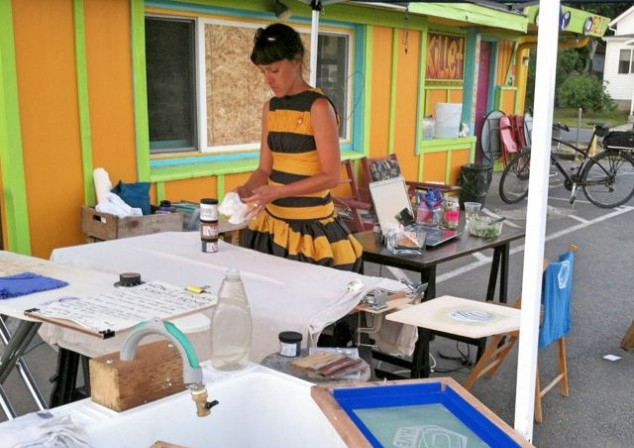 Submitted by The Hive
After a whirlwind summer of outreach and community-building events, The Hive, a new maker space, is poised to open its doors this winter.
The Hive launched an ambitious Kickstarter campaign in July and gathered more than $30k in pledges during the short four-week funding period. Although it did not meet its intended goal, and therefore did not receive any of the pledged funds, Hive founder Kendall Dodd saw that the Bellingham community was more than ready to step up and support this new project.
With a downtown warehouse space secured, The Hive will launch a new funding campaign on October 24. "What's so exciting to me about this campaign is having the chance to put into practice everything we learned the first time around." Dodd said. "The biggest lesson was choosing an online host for the campaign. This time we're using a tool that allows us to keep all of the money we raise right here in Bellingham, rather than paying a large commission to a platform like Kickstarter to promote the project nationally and internationally to potential backers who aren't necessarily interested in supporting highly local endeavors like The Hive."
Maker spaces come in many different shapes and sizes but the one thing they all have in common is right there in the name – they are places that enable making by bringing together people, tools and projects. Maker spaces are gaining in popularity throughout the country, and are even the subject of a new White House initiative to spur innovation and domestic manufacturing at the grassroots level.
The Hive will be a place where members can come to use tools, space and equipment to work on projects, learn and share skills. Starting with woodworking tools, sewing machines, sinks and large worktables, it will grow and adapt over time based on the needs and interests of the membership. "Bellingham needs a place like The Hive. This is a creative and self-reliant community that already has so many great resources for makers, tinkerers and artists of all kinds," Dodd said, "but unless you are lucky enough to have both room to work at home (or in a studio) and money for tools and equipment of your own, there aren't any other options for you."
The funds raised through this campaign will be used to establish a physical space for The Hive as well as to attract further investment. Not only does a crowd-sourced funding offer a way for project creators to raise much-needed startup capital, it also galvanizes support for new ideas by allowing backers to participate in the creative process, which dovetails perfectly with the community-building mission of The Hive.
"In Bellingham, people often find themselves inventing the job they would be best at, and for me, this is it." Dodd said. "I am a maker and an educator and I want to create a place where people can do projects, tinker, make art, repair things, practice and build their skills."
The Hive is partnering with Pickford Film Center to sponsor the documentary Art and Craft on October 25, as well as offering day passes to The Hive as prizes for filmgoers who see at least eight documentaries during the month. The Hive will also have open hours for makers looking to work on their Halloween costumes during the week of October 27-31 as well as a number of other events throughout November.
The funding campaign for The Hive goes live on Friday October 24 and runs through November 22. Those interested in supporting the project should visit www.makedolearn.org to learn more.