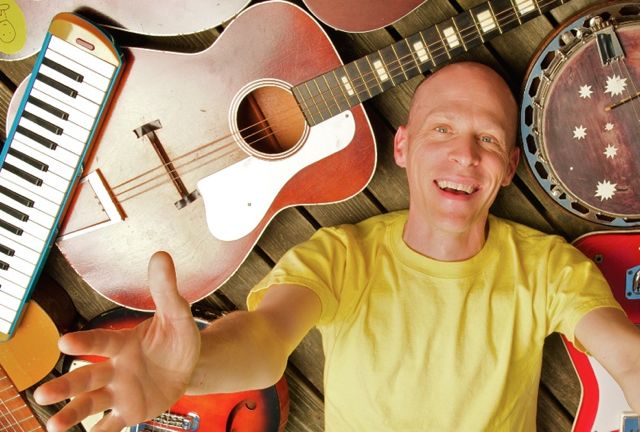 By Stacee Sledge
First, he was frontman for the popular indie rock band the Presidents of the United States of America – and then Chris Ballew became Caspar Babypants.
Both bands have placed Ballew onstage in front of enthusiastic crowds. But the Caspar Babypants fans are mostly of the under-three-foot-tall variety – accompanied by their equally keyed up parents.
On Saturday, October 11, Bellingham fans will get their first chance to see him perform here, as part of a celebration marking 40 years that Bellingham Technical College has offered parenting education to the community. Whatcom Educational Credit Union is a generous sponsor of the event.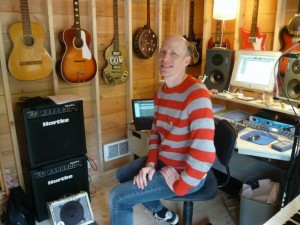 The move from louder to quieter
Ballew, a Seattle native, found indie rock fame in the 1990s with infectious Presidents hits that included "Peaches" and "Lump."
"The entire time the Presidents were happening, I was extremely happy, of course, for the success," Ballew says now, "but a little voice in the back of my mind said, This is not it. This is not your final destination. This is not the magic formula for how you're supposed to be making music in the world."
Over time, Ballew says, he got quieter; the music more simple. And then he met his wife, collage artist and illustrator Kate Endle.
"Her art was innocent and folksie, full of animals and brightly colored and simple," he says. "I wanted to make music that sounded like her artwork looked."
Inspired, Ballew did exactly that.
"And then I listened to it and went: 'Oh, it's kids' music,'" he says. "I was so close the whole time, but wasn't quite hitting it."
Through that process, Ballew found what he calls his actual voice. "I've moved on to doing just that all the time now and it's fantastic," he says.
And the name, Caspar Babypants?
"It's an old nickname that I had in the early 1990s," Ballew explains. "I was in a jam band and I used to wear baby pants on my head for a winter hat. The kids in my neighborhood started calling me Babypants." Ballew came up with Caspar, put the two together, and his new musical moniker was born.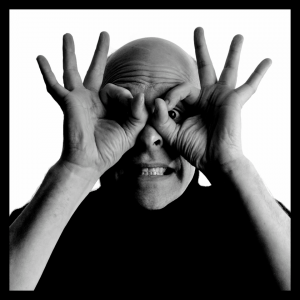 Not really children's music
Ballew often tells people that he doesn't make children's music – he makes parent's music.
"But there's no category for parent's music out there," he says, "so I have to call it family or children's."
The spry 49-year-old often has parents in mind when creating new music. "Maybe a little more than 50 percent of the aesthetic decisions I make are because I want the parents to be taken care of."
It's clearly working, as Ballew regularly receives emails from folks who say they happily keep the music playing even after they've dropped off the kids at preschool.
And Ballew has his own interests at heart, at least a bit. "I'm a grownup and I have to play this stuff over and over and over," he says, laughing. "So I have to like it, too."
Prolific production
Ballew released the first Caspar Babypants record, Here I Am! in February 2009. His eighth and latest album, Rise And Shine! came out in September. Endle's artwork gorgeously graces each cover.
Caspar Babypants is prolific, to be sure. Two more records are nearly complete and will hit shelves – both literal and virtual – next year.
"One, in March, is going to be a kind of mellow, sleepytime record," he explains, "and then another high-energy record in September 2015."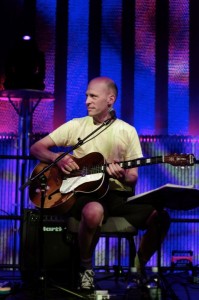 Ballew credits at least part of the wealth of output to the fact that he listens to old, traditional music – nursery rhymes, folk songs, work songs, chain gang chants, and such – and uses it as seeds for new material.
He likens it to shaving off a little DNA from fantastic music from long ago and constructing new beings out of it.
"There's a certain percentage that comes directly from my brain and a certain percentage that comes from this amazing wellspring of high-quality, public- domain stuff that's out there," he says.
Ballew has two children – now 17 and 14 years old. What do they think of their old man's music?
"They think it's okay," he says. "They appreciate the aesthetic and what I'm doing." Both kids participate, helping Ballew to sometimes write songs, and his daughter co-produces many of the videos he makes himself.
"They're both very musical and have great taste in music," Ballew says. "We turn each other onto music."
It's the same thing he's after for the families who hear his work. "I want to help little kids and their parents genuinely share an aesthetic experience, where they both go, 'I love this song!' So they can have a bonding time over quality music."
In the early days of Caspar Babypants, Ballew hired other musicians to play live shows with him. Now he plays solo – and prefers it that way.
"The band got a little noisy, a little out of control. The shows were changing and I was losing the newborns," he jokes. "All of a sudden the age range started to creep up and I was all no, no, no, no – I don't go above six years old."