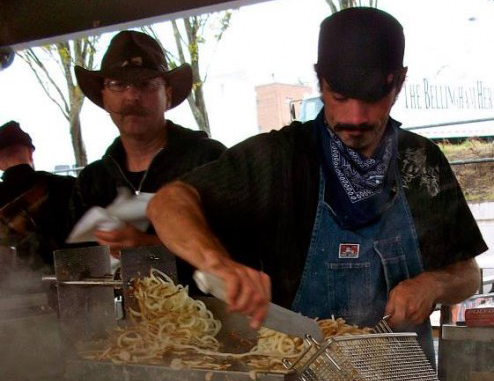 By Stacee Sledge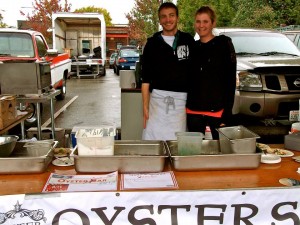 You might want to skip breakfast on Sunday, Sept. 14. That's the day the Downtown Bellingham Partnership throws its 9th annual Bite of Bellingham – from noon-4 p.m. at the Depot Market Square – and you'll want room to taste every nibble on offer.
"The Bite of Bellingham is a festive and unique way to experience the wide array of delicious food available in the Bellingham area," says Lindsey Payne, events manager with the Downtown Bellingham Partnership. "And not only do attendees get the opportunity to sample a variety of eateries in once place, they also get to vote for their favorites."
Last year's event drew a crowd of more than 3,500 hungry taste-testers.
This year's Bite will also feature a beverage garden for attendees ages 21 and older, which will highlight the plethora of diverse, delicious beer found in and around Bellingham – including the collaboration brew from this year's Bellingham Beer Week.
Classic rock favorites will be streamed by 92.9 KISM and a Play Lab Kid's Corner will add another layer of fun for the younger set.
Sponsored by several community sponsors such as WECU, Comcast, Silver Reef Casino, and Banner Bank, the Bite encourages attendees to indulge their taste buds from a selection of more than 20 Whatcom County restaurants, with cuisine ranging from Cajun and pub fare, to modern American and Asian.
Payne's favorite bit at previous years' Bites?
"How it embodies community," she says. "It's fun to see restaurants come together in friendly competition while providing mouthwatering samples to attendees."
Just a few of the participants you can look forward to at this year's Bite of Bellingham include: Bayou on Bay, Silver Reef Casino, Mi Casa Catering, Pure Bliss Desserts, The Green Frog, and the Slo Pitch Sports Grill & Casino. Many more eateries will be announced before the big day.
Admission to this all-ages event is free, with food and beverage tickets for sale at $1 per ticket. Attendees can vote for Bellingham's "Best Bite," "Best Drink," "Best Sweet," and "Best Gluten-Free Bite" categories.
Last year's Bite of Bellingham winners included The Steakhouse at Silver Reef Casino, which won "Best Bite" for its Ahi Takosu. "Dreamiest Drink" went to India Grill's chai tea, and Pure Bliss Desserts won two top spots: "Sweetest Sweet" for its chocolate salted caramel cupcake and "Best Gluten-Free Bite" for its Nanaimo bars.
Don't miss Bite of Bellingham 2014 – where you can eat your way through the competition, and then help decide who gets top honors this time around.
Bite of Bellingham
Sunday, Sept. 14, noon-4 p.m.
Depot Market Square
210 Lottie St
Bellingham, WA 98225
All photos courtesy of the Downtown Bellingham Partnership