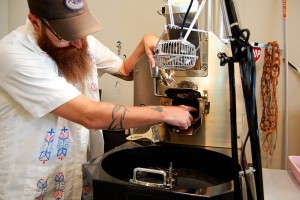 Rather than competition, you could call it coopetition.
"Yes, we're direct competitors," Maniac Coffee Roasting co-owner Alexarc Mastema says of Hammerhead Coffee Roasters who, a couple months ago, began to share a warehouse workspace in the Sunnyland neighborhood.
"I mean, we both have our eyes on some of the same people," Mastema continues, speaking of Hammerhead owners Scott Hartwich and Mary Burwell. "But we also realize that working together gets us further than working against each other. I'd rather Scott have an account that I can't get than some other roaster in the area. "
"I have to agree with Alex," says Hartwich. "I'd rather I get the account, too."
Huge laughs erupt from Mastema, his partner and Maniac co-owner Teri Bryant, Burwell, and Hartwich, as they stand in the spacious, sun-filled room flanked by two coffee roasters perched on opposing walls.
Hartwich and wife Burwell have been roasting coffee in the Whatcom County since 2007. The couple originally entered the caffeinated game in Portland, Oregon, in 1990, with an espresso cart and coffeehouse.
Mastema and Bryant opened downtown Bellingham's Black Drop Coffeehouse in 2002, adding the complementary coffee roasting business a few years later, before selling the shop to a longtime employee and focusing full-time on roasting.
Both companies have operated out of different locales over the years.
Maniac started just down the street from the Black Drop, but lost its lease last fall and went in search of what would ultimately be bigger, better digs.
Hammerhead began in a warehouse out on the Guide before moving two years later, in 2009, to Greene's Corner, where they operated both the roastery and an espresso bar out of a 250-square-foot space within the popular pizza and sandwich shop, its wall of coolers chockfull of an impressive array of microbrews.
When Mastema first got wind of Hammerhead, back in 2007, he went digging for information about his newest competitor.
"I'd go up there after they'd closed and spy on them," he says. Again, everyone laughs. You get the feeling that happens a lot on under this shared Maniac/Hammerhead roof.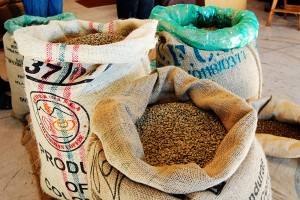 "You were doing market research!" says Bryant, smiling. "Eventually we found out their names and I realized they were customers."
"I was working downtown and would come into the Black Drop every Friday," says Burwell.
Hartwich jokes that all the Hammerhead location held at that time was Homer – the coffee roaster named after Hartwich's grandfather – and five 160-pound bags of coffee. "So when they were spying on us, they were probably going, 'It's empty in there! There's nothing in there!'"
"There's a bunch of stuff in the middle, but I can't see what it is!" Mastema chimes in with a laugh.
Over the course of a couple of years, the four became friends.
"One or the other of us would run out of green [coffee beans] or bags – or one of our machines would go down," says Mastema. "We'd get in touch and help each other out."
As Bryant and Mastema's stressful search for a new roasting room continued, they eventually happened upon a tiny, handwritten "for rent" sign in the window of what would become their – and, eight months later, Hammerhead's – new home.
"We were like zombies at the gate," Mastema says, remembering the moment they found the building but couldn't get past its locked gate to get a close-up look. "We came by a few times and poked our heads in and thought,' This place is awesome, but it's too good to be true.'"
Eventually they called and found out it was affordable. They also really liked the owner, who wanted to learn about the roasting process – and also wanted to first check with neighbors to be sure they'd be fine with a coffee roaster as a tenant. Everything fell into place.
"Suddenly we had all this space – 2,700 square feet – and didn't even use half of it," says Mastema.
A spacious upstairs area currently houses several desks and a kitchen area, while downstairs is made up of an ample storage room, bathroom, mostly empty front room – which may someday become a cupping room/coffee museum – and finally the roasting area itself, a giant space with a mammoth, commercial garage door that rolls open for green coffee bean deliveries.
"We all talked pretty regularly and would meet for beers or dinner," Mastema says of the friendship he and Bryant developed with Burwell and Hartwich. "I was like, 'You're in a space that's too small and we're in a space that's too big. We're all paying separate rent, Internet, and utilities.'"
Maniac and Hammerhead source from the same importers, though they choose different types of coffee for their roasting. They began to imagine the savings on shipping.
"The thing about Greene's Corner – which we loved in many ways – was that our space was tiny and it kept getting hit by cars," Hartwich says. (There were two incidents last year – one of them quite serious, where two good Samaritans pulled a man from his burning car after it careened into the building.)
Hartwich and Burwell loved Mastema's idea, launched a successful Kickstarter campaign to raise funds for the big move, and in June, were happily settled into the space.
"It still feels too good to be true," Hartwich says.
Mastema demonstrates how coffee is roasted on his machine – dubbed Croooow, named after the character from Mystery Science Theatre 3000 – that is similar and yet different from Homer.
"Scott's isn't necessarily pretty, but man, it will never break down," Mastema says. "Mine looks pretty, but it breaks down every week. They're roughly the same age, but made by different manufacturers."
Mastema describes a coffee roaster as half clothes dryer, half barbecue grill – and to that end, the space, certainly in the warmer months, is sweltering.
Luckily their location makes it easy to cool off at one of two nearby breweries.
"We have a fondness for – dare I say it – beer," says Hartwich.
"Yup," agrees Mastema. "And we can mosey on over to Wander or hoof it up to Kulshan."
Clearly, sharing a space hasn't hurt their friendships – or their businesses.
"We don't consciously go after existing accounts that generally use local roasters' coffee," says Hartwich. "And I think Alex and Teri are the same way. We're not really aggressive about our sales approach; oftentimes people come to us."
He admits that they're competitive, but calls it safely competitive, with different flavor profiles in their products.
"If someone tells me they want a really good lighter roasted coffee, I know the man who is the most meticulous in the world at doing it," Hartwich says of Maniacs' output, joking. "If they want something that's over-roasted and burnt, I mean, Hammerhead is the place to go."
Mastema jumps in to clarify and boost up his roasting roommate. "Scott focuses on full-bodied, heavy coffees with darker roasts, and in the Northwest that's super popular," he says. "I focus on a lighter, more delicate roast that brings out some more nuances in the coffee. It's definitely a harder coffee to sell. But that's what I enjoy."
So now that Maniac and Hammerhead are successfully sharing their workspace, what's the future game plan?
"We're committed for at least three years with option of one more year, I think," says Hartwich.
One might say they're still in their honeymoon phase. When jokingly asked if someone might walk in here a year from now to find Hartwich and Mastema wrestling on the floor, Bryant interjects, laughing: "Well, they do that already!"
"So far, so good," says Hartwich, smiling. "It's going to be a long-term thing."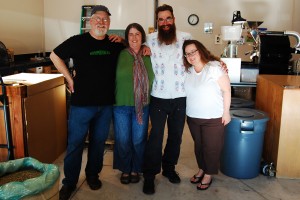 Maniac Coffee Roasting
2000 Franklin Street, #101
Bellingham, WA 98225
360.738.8348
2000 Franklin Street, #101
Bellingham, WA 98225
360.393.5247