Submitted by Jordan Mahoney, Financial Advisor with Waddell & Reed, Inc.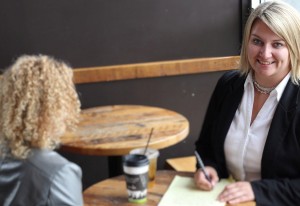 Life insurance: Security and peace of mind for you and your family
When acrobats perform, they don't leave their safety to chance. Although they're experienced professionals, they always use a safety net. In much the same way, life insurance acts as protection against unexpected calamities. Without insurance, your untimely death can cause severe financial consequences for your family. Money alone can never fill your shoes, but it can—in the form of life insurance—provide a resource free from income tax for meeting your family's needs. With careful planning, life insurance can allow them to continue leading comfortable lives.
Safety and security
A properly structured life insurance program can provide for immediate final expenses, such as unpaid medical bills, funeral expenses and estate settlement costs. Also, life insurance should ensure that your family has the money to meet the day-to-day costs of running a household. Besides daily financial needs, life insurance can also help assure that your family's long-range financial goals are met, such as retirement income and college educations.
How much is enough?
In general, financial planning experts agree that a life insurance policy's death benefit should be from three to 10 times an individual's annual earnings. Of course, the amount of life insurance you need will depend on your financial situation and objectives. For example, an individual with a greater number of dependents might consider a larger policy that will adequately cover the entire family. As you plan your insurance coverage, consider your family's expected expenses and future goals, such as college. (Note: Please speak to your financial advisor before settling on a face amount.) 
What kind of life insurance do I need?
Although many different types of policies exist, there are two main types of life insurance: term and cash value. The one that is best for you depends largely on your personal situation. Term life insurance typically offers a large death benefit with a relatively low premium. However, premium payments usually increase as you age or when the policy is renewed. Term policies function as a safety net for your family, not as an investment. They generally do not have a cash value or a savings component. Cash-value insurance policies tend to have higher premiums that remain steady throughout your life. The policy accumulates value as you pay your premiums and functions as a form of investment. Cash-value insurance may also allow you to borrow against the capital accumulated in the policy, although such borrowing will reduce your cash value and death benefit. Life insurance is one possible way to protect life's most precious treasures against the unforeseen. Most importantly, it can protect against hazards that would likely be insurmountable without an appropriate and sufficient "safety net." For more information, please call your financial advisor.
(Waddell & Reed advisors are able to offer insurance products through arrangements with insurance companies.)
This article is meant to be general in nature and should not be construed as investment or financial advice related to your personal situation.  Please consult your financial advisor prior to making financial decisions. Investing involves risk and the potential to lose principal.
Jordan Mahoney is a Financial Advisor with Waddell & Reed and is licensed to offer securities and insurance in WA.  She can be reached at 360-734-4728 ext.: 123.   Securities are offered through Waddell & Reed, Inc., Member FINRA and SIPC.  Insurance products are offered through insurance companies with which Waddell & Reed has sales arrangements. (06/14)